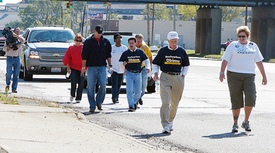 Two conversations about race are taking place in our country. One is reviving the ugly past. The other is looking to a brighter future.
Stirring a lynch-mob atmosphere reminiscent of the worst in our nation's history, Sarah Palin is using barely concealed racism to whip up a jingoistic frenzy among the far-right's shrinking base of supporters. At her rally in Clearwater, Fla., a participant must have thought he was back in Jim Crow times, yelling a racial obscenity at an African American TV sound man and telling him, "Sit down, boy!"
Meanwhile the McCain campaign is airing a leering ad suggesting that Barack Obama wants to teach sex to kindergartners, conjuring up the vicious racist images of Black men that shamed our nation with Scottsboro and "Strange Fruit" lynchings.
Appeals to racism by the far-right are not new in presidential campaigns. The "Willie Horton" ads used by Bush Sr. against Michael Dukakis in 1988 are one infamous example. But the McCain-Palin campaign is taking it to new depths as, like a trapped beast, the ultra-right lashes out, trying to hold onto power and stop the nation from electing its first African American president. It's the stench of fascism.
But there is another much more important conversation about race going on in union halls, over dinner tables and on front porches across the country.
Last month, Ohio AFL-CIO President Joe Rugola called on Ohio trade unionists to confront racism and elect Obama.
"We cannot allow silence on this question to overtake us and prevent the election of Barack Obama," Rugola said. He called it "a fight for the future existence of the labor movement, a fight to preserve 50 more years of democracy in America."
Last weekend, Rugola kicked off a "Walk for Economic Recovery" across Ohio. At one of the first stops, in economically devastated Niles, Gov. Ted Strickland said, "If you're going down the river without a life jacket and there's a man standing on the bank, you don't care if he's black, white, purple or green. You only care if he's got a strong arm to pull you out. Barack Obama has a strong arm, and he will pull us out of the mess the Republicans have created over the past eight years."
In an unprecedented speech that is now racing around the country via YouTube, e-mails and web postings, national AFL-CIO Secretary-Treasurer Rich Trumka electrified 3,000 Steelworker convention delegates in June when he declared: "There is no evil that has inflicted more pain and suffering than the evil of racism in our country."
"We have a special responsibility to fight this evil," the union leader said.
"There are a thousand good reasons to elect Barack Obama and only one really, really bad reason to vote against him and that is the color of his skin," he said.
"We can't let stupid bigoted wisecracks go unchallenged," Trumka, a former mine worker leader from Pennsylvania, told the Ohio federation convention last month. "We can't ignore the claim that the United States is not ready for a Black president. We need to make it personal. We need to confront every expression of bigotry and prejudice."
And in Massachusetts, state AFL-CIO President Robert Haynes brought the audience to its feet at the Greater Boston Central Labor Council's Labor Day breakfast, declaring, "Barack Obama's skin color isn't what matters in this election." He continued, "I'll be damned, and I know you'll be damned, if I let racism … scare this country into voting for John McCain."
Haynes said he wanted to give union members something to say in response to racism on the campaign trail, the Boston Globe reported. He told them they could emphasize the economy and workers' rights. They could point out that Black union members have been voting for white Democrats for president all their lives.
When all else fails, Haynes said, "You've got to look them dead in the eye. Can you imagine telling your kid in this day and age that you're not going to vote for someone because of the color of their skin?"
After his speech, union members, white and Black, approached Haynes to shake his hand, slap him on the shoulder, and thank him, the Globe reported.
This is a conversation about the future. It's the conversation we need, about the change we need.
CORRECTION: In an earlier version the Walk for Economic Recovery was misnamed. We regret the error.