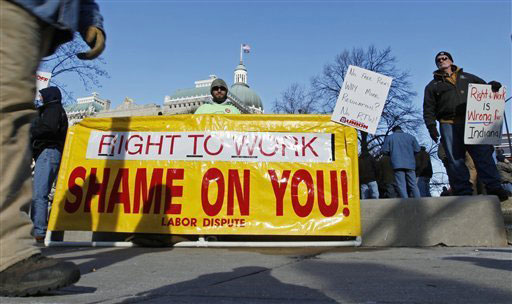 HARRISBURG, Pa. – If you want any further proof that state elections have consequences for workers, all you have to do is look at the latest legislative actions in Pennsylvania and Colorado.
Because one contrast says it all: The GOP majority in the Pennsylvania state capitol in Harrisburg is pushing a so-called "right-to-work" law in the Quaker State. And a state senate committee in Denver, Colo., sent an identical statute into a legislative coma by a 3-2 vote, killing the scheme in the Democratic-run Centennial State.
The GOP campaign in Pennsylvania will be a top topic at the state AFL-CIO's legislative conference in mid-February. The Pennsylvania drive is part of a national campaign by big business, the radical right and their GOP puppets to deprive workers and voters of their rights, their voice in political decisions and their middle-class standard of living. Six state GOP lawmakers reintroduced "right-to-work" on Jan. 22.
Symbolic of business' role in the right-to-work drive nationally is the millions of dollars that billionaire Dick DeVos pumped into right-to-work in Michigan. A successful rush campaign passed it in the GOP legislature's lame-duck session in December. DeVos, a failed GOP gubernatorial candidate and former state party chairman, is also known as CEO of the shady direct-mail sales outfit, Amway.
"I think the Republican Party is being driven by the extreme right wing, and they were able to strong-arm people," Michigan Democratic state Rep. Marcia Hovey-Wright of Muskegon told an outstate TV station after the legislation passed.
Pennsylvania AFL-CIO President Rick Bloomingdale and Secretary-Treasurer Frank Snyder see the same trend there.
"Rev. Martin Luther King, in leading the civil rights movement and collective bargaining rights for all workers, warned people of being fooled by 'false slogans' such as right-to-work," their state fed said. "It provides no rights and no work. Its purpose is to destroy labor unions and freedom of collective bargaining."
"We urge our elected officials not to be fooled. Right-to-work for less does not create jobs nor economic growth," Bloomingdale added. "We urge them to start concentrating on protecting and creating good jobs and growing the middle class not attacking our collective bargaining rights."
"It's the same old recycling of the big lie," Snyder commented. "These laws aren't about workers' rights. They're about robbing workers to give to Wall Street. They're about business 'wrongs,' where some employers put corporate greed above all else, including workplace justice and equality."
The corporate community's arguments didn't persuade a majority in the Colorado Senate's Labor Committee. They voted down a right-to-work bill introduced by a Tea Party-GOP freshman on Jan. 23 – and took all of 21 minutes to do so.
Colorado lawmakers dismissed arguments by the head of the state branch of the anti-worker Associated Builders and Contractors. He claimed right-to-work would create jobs.
Studies of right-to-work states, notably Oklahoma, which adopted it a decade ago, show higher-than-average job losses and workers' wage losses of $7,000 each, yearly. Other Colorado businesses stayed away from the hearing and the issue.
Photo: Indiana also became a right to work (for less) state because it elected a Republican state legislature. Darron Cummings/AP