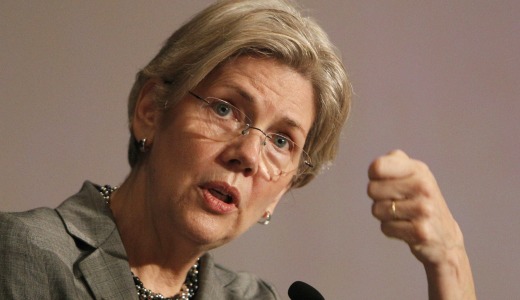 After months of vituperation, spleen, slanders, intrigue and calumny hurled at her, Republicans and their Wall Street lobbyists appeared to have finally nullified the appointment of Elizabeth Warren to head the new Consumer Financial Protection Board (CFPB).
Ms Warren was a Harvard Law professor when she rose to national prominence as chair of the congressional panel charged with public oversight of the TARP bank bailout fund. She has been proved a passionate and unyielding advocate for consumer protection. The CFPB is her creation and inspiration. Millions of mortgagees and borrowers were sold financial products with huge hidden and disguised charges, a built-in disaster in motion if the housing market ever stopped rising. Which it did, precipitating the great 2008 financial crash.
Ms Warren championed both transparency and public accountability in the structure of the new agency so that future frauds of the kind that caused the crash are restrained. She has insisted, as a key issue in accountability, that the agency must have a single director who is publicly accountable. Republicans and the banking lobbyists are insisting on "a commission". I think it not accidental that a "commission" supervising a regulatory agency would be much easier to compromise by those they regulate than is a single director. Certainly this regulatory capture combined with lack of transparency were big factors in the failure of regulatory agencies to prevent the crash.
Obama's nomination of Richard Cordray, a well respected and aggressive financial system reformer, in place of Ms Warren, will also be rejected by Republicans, because he represents no change in position on supporting a strong and independent CFPB.
The president may pay a price among some Democrats, because Elizabeth Warren represented the moral opposite of the decadence in Wall Street that nearly ruined, and may yet ruin, the whole nation.
Nonetheless, the personal attacks on Ms Warren from the Republicans are neutralized and the Republicans real issue is exposed, which is not Ms Warren but financial reform itself. For financial services investors and brokers, information is power and wealth – none of the investing class wants to share any of it. Thus they oppose transparency. Thus they oppose public accountability.
It is interesting that Obama has held the line on the key issues behind the CFPB, despite sacrificing Ms Warren, whereas he has made major concessions to Austerity Economics in debt negotiations with Republicans. When he made his 'pivot' toward the banks after the 2010 election, he has kept the CFPB as leverage to maintain his own independence from domination by Wall Street.
The Republicans may well live to regret their opposition to Ms Warren. First, the president may simply make a recess appointment of Mr. Cordray and survive criticism with strong opinion poll backing of constructive financial reforms. Second, Elizabeth Warren is probing a run for Senate in Massachusetts against Republican Scott Brown, and politicos rate her chances strong.
The current status on the CFPB is stalemate – another matter, which awaits the judgment of the people in November 2012, their next opportunity to recall the mandate some thought they were giving the Republicans to fix unemployment, and give it to progressives and Democrats who will keep their promises on financial reform. The matter could not be more serious. The financial crisis in Europe is still unwinding, and the debt overhang on US housing and commercial real estate is still huge – both make the recently "recovered" financial system highly vulnerable to any repeat of "bubble" practices.
Photo: Elizabeth Warren, assistant to the President, speaks during a summit on consumer protection by the National Association of Attorneys General in Charlotte, N.C., April 11. (AP Photo/Chuck Burton).