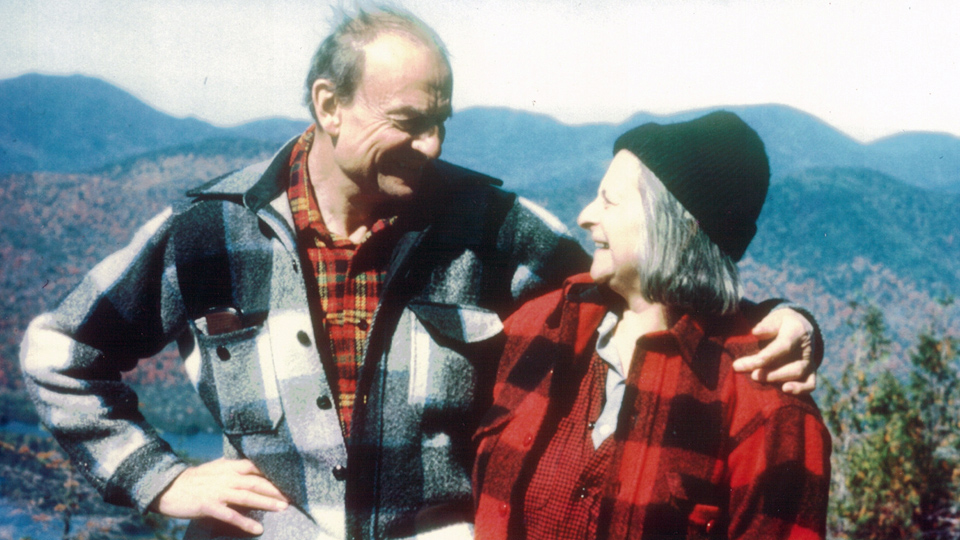 When, as a student, she walked on the campus of the University of Wisconsin in the 1930s even her best friend didn't want to be seen with her. That was because Ellen Perlo often walked and talked with S.I. Hayakawa, a linguist who was, at that time, a young teacher at the university.
It was a time of intense anti-Japanese racism but Ellen ignored the social consequences of associating with someone who was Japanese. Then, as for the rest of her life, she was an advocate for equality, peace, justice, and socialism. Then, as for the rest of her life, she never flinched in these beliefs or in doing what she had to do to back them up.
Ellen Perlo was born March 23, 1916. She died peacefully this month toward the end of her 102- plus years of living.
When I was 21 years old, in 1971, I had the privilege of working with Ellen Perlo on the staff of World Magazine. There, during talks at lunchtime and in the office all day long, actually, I learned about her involvement in so many of the important struggles of the 20th century.
Her first plunge into politics took place in the mid and late 1930's when she worked tirelessly to build support in the United States for the democratic government of Spain. The people of that country were heroically resisting an attempted takeover by their own military which was operating with the open support of Italian fascists and the Nazis in Germany. The Spanish Civil War raged on from 1936 until 1939 with the eventual victory of the fascists. "We were deeply involved in that fight," Ellen told me and my co-workers, "because we were terrified that fascism if it was not stopped in Europe, would surely come to our shores here."
By 1942 much of the world was engulfed in World War II. It was then that Ellen married Victor Perlo, who went on to become a famous and internationally-known Marxist economist. When the war ended the right-wing politicians and the big corporations in the U.S. launched a horrific red scare. It was their desperate attempt to stop the growth of what was becoming a powerful and growing movement in the U.S. of the working class and its allies. Ellen's husband, Victor, was blacklisted from employment, harassed by the FBI and dragged before congressional committees. He was denied the right to travel abroad.
"None of that scared me one bit. It made me angry though and it made me more anxious than ever to fight," she told us during those lunchtime discussions. "They thought we might stop working for and with the American Labor Party," she said. "But I continued my involvement with it. I went out of the house and actively worked to defend all the Smith Act victims."
The Smith Act victims were members of the Communist Party and leaders who were jailed not for any actions they had taken but simply for their beliefs.
Ellen was always there, it seemed, on the front lines when putting herself on the line could make a difference. When Paul Robeson and people attending his concert were attacked in 1949 in Peekskill, New York, Ellen, of course, was there, unafraid and standing up to the right-wing mobs who attacked the concert-goers.
She was unafraid again to stand up when the Rosenbergs were being persecuted and when they were executed on false charges. She protested their execution in the nation's capital itself as well as at frequent rallies and demonstrations across the country.
Needless to say, all of these activities did not help alleviate the extreme financial hardships with which she was faced. But yet she remained unafraid and strong.
And when the repression and the attacks were at their worst, in the 1950s, her actions were at their boldest and strongest. Unafraid again, she joined the Communist Party as had other heroes like W.E. B. Dubois in those years. Ellen told us during those lunch hours, how much of a hero he was to her.
Ellen was far more than a devoted and loving wife to Victor, her husband. She was all that but she was also a full-fledged partner in his research and work. Between 1951 and his death in 1999, the two produced countless books on the U.S. economy and U.S. imperialism, the economics of militarism, the economics of racism, and comparative studies of socialism and capitalism. Ellen edited volumes of Victor's works, even after his death.
There was a second Ellen Perlo. That was the artist side of her. A graduate of NYU with a degree in fine arts, Ellen painted spectacular landscapes in watercolor, later moving on to ceramics, textiles and other media
She put those talents to use in so much of the literature we produced when she was, with me and many others, involved in the movement for friendship with the German Democratic Republic.
Travel bans and scares? What travel bans and scares? No sooner had the Supreme Court restored Victor's right to travel in 1960 than Ellen and Victor both were traveling all over the socialist world, including to the socialist countries to which travel had been restricted. Ellen was a force for bringing artists and their work to the socialist countries and vice versa. She was responsible for literally helping to explode the myth that there was no real art in the socialist world and in the process she brought people together, helping lay the foundations for peace rather than war.
Ellen was a lifelong peace activist, and from the 1960s forward, a member of Women's Strike for Peace, Women's International League for Peace and Freedom, and WESPAC (Westchester Peace Action Coalition). Ellen chaired the artist's club of the Communist Party in New York in the 1970s and 80s and later chaired the Northern Westchester club.
As young activists all those years ago we benefitted from her leadership. As seasoned veterans, we cherish her memory and try to live her legacy. As a human race, we are all better for having had Ellen Perlo among us.