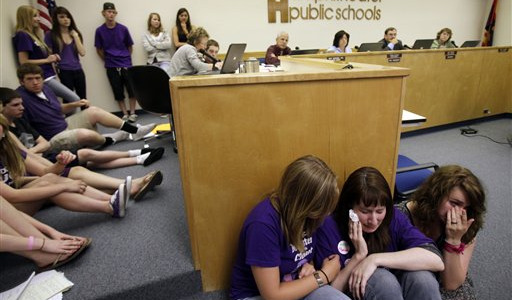 In Elgin, Ill., School Superintendent Jose Torres has had to eliminate early childhood classes for 100 children, cut middle school football, raise high school class sizes from 24 to 30 students, close swimming pools to save on the cost of chlorine, and lay off 1,000 school employees, including 700 teachers, The New York Times reported this week.
And he thinks next year will be worse.
As state and local governments grapple with shrinking revenues and soaring budget shortfalls in the continuing fallout from the national economic crisis, public schools are among the top targets for cuts, even as they face new pressure to produce higher test scores.
Tens of thousands of teachers and other school staff are facing layoffs across the country for the coming school year, with school districts projecting slashed programs, larger class sizes and shortened school weeks.
The 2010-2011 school year "is shaping up as one of the most austere in the last half century," the Times report says.
In California, 22,000 teachers have gotten layoff notices. Illinois officials predict 17,000 public school job cuts. New York threatens nearly 15,000 teacher layoffs. In Michigan, 8,000 teachers may be cut, and 6,000 in New Jersey.
In Iowa, all-day kindergarten programs are being cut to half days. In Minnesota, at least one district is looking at cutting the school week to save money on school buses.
School slashes announced by California Gov Arnold Schwarzenegger propelled actress Megan Fox and her husband Brian Austin Green to make a semi-humorous online video urging Californians to protest the cuts. In the video, Fox goes into a classroom where students are fooling around. "Wait, you guys don't have a teacher?" she asks. "She was laid off," one girl replies. "And then they combined art class with another teacher's class," another says.
It's no joke.
San Francisco has announced plans to lay off nearly one-fifth of its teachers – 811 teachers – and 277 teacher aides at the end of this year.
Third-grade teacher Kenny Yee, who has been teaching at the city's Sunnyside School for four years and loves his job, is among the eight of 13 teachers at his school who have received pink slips – almost two-thirds of the staff. "It's very unfortunate but also demoralizing," he said.
Yee is one of several teachers, school outreach staff and parents who tell their stories on Put Our Children First, in a campaign launched by United Educators of San Francisco, to involve parents and the community in the struggle against the cuts. UESF is the joint AFT/NEA union representing more than 6,000 teachers and other professional staff in the San Francisco school district.
"In the past two years, $21 billion in education funding has been cut from the state's budget," Put Our Children First says. "These cuts have been felt in San Francisco, and in every other city and town in California. We need to invest in our children, instead of repeatedly selling out their futures for a short-term budget fix."
Los Angeles School Superintendent Ramon Cortines has sent layoff notices to 5,200 of the district's 80,000 employees. Some layoffs will be avoided by an agreement between the district and unions to cut five days from the school year, meaning a pay cut for teachers.
Cortines cut LA's $12 billion school budget this year by $1 billion, has another half billion in cuts for next fall and is looking at a $263 million deficit for the following year.
"I've been superintendent in five major school districts, and had responsibility for cuts for years – but not this magnitude, not this devastating," Cortines told The New York Times.
"You name it. Teachers, administrators, counselors, school nurses, cafeteria workers, support personnel are part of an exodus forced by financial realities," Cortines said at an April 14 Senate appropriations hearing led by Sen. Tom Harkin, D-Iowa.
Harkin has introduced a $23 billion emergency funding bill, The Keep Our Educators Working Act (S 3206), to help states avert these layoffs. The House approved a similar bill in December.
Harkin's bill got strong backing from Education Secretary Arne Duncan, who estimated that education layoffs could total from 100,000 to 300,000 unless Congress acts.
The bill currently has 18 cosponsors. With hundreds of thousands of teachers across the country facing layoff and worrying how they will keep up mortgage payments, health care and grocery bills, the National Education Association warns that "without broad support from their Democrat and Republican colleagues, this crucial aid will not reach the teachers growing increasingly panicked about what waits in less than eight weeks."
The American Federation of Teachers has a web page that will connect you with your senators to urge them to co-sponsor Harkin's bill.
Photo: In Tucson, Ariz., in a very crowded Amphitheater School District board room, high school French teacher Leigh Thomas, bottom center, cries with students as the school board votes to approve budgets that involve cutting a large number of teachers, April 13. (AP/Arizona Daily Star, David Sanders)