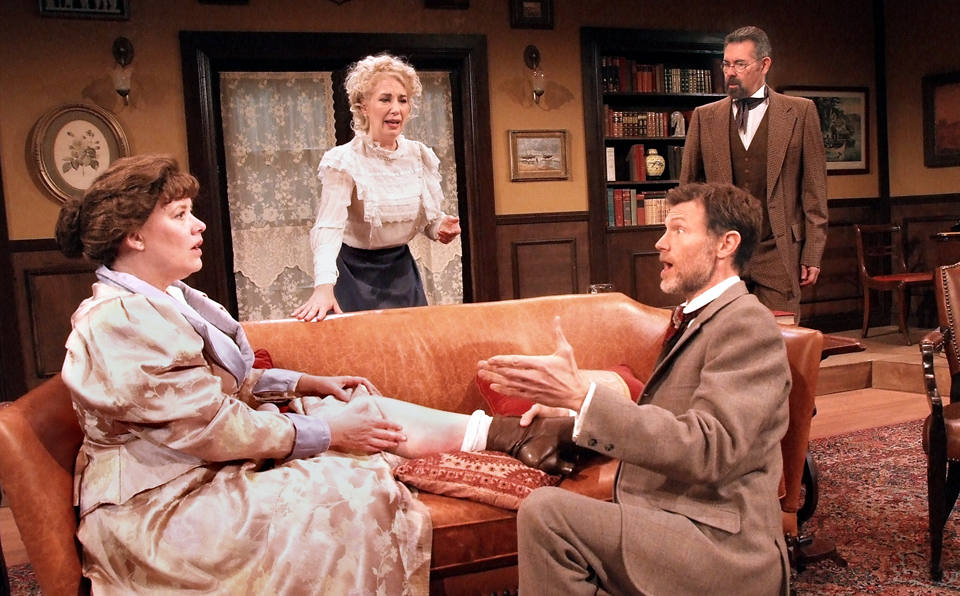 BEVERLY HILLS—If this were a romantic comedy about a normal big-city white-collar, petty-bourgeois love affair, I'd have passed it up as likely not of gripping interest to readers of People's World. But being as how at least three of the four characters are committed socialists, and the fourth too by the end of the play, that put a somewhat different twist on things. Do socialists fall in and out of love, or stay in love, differently from other folks?
These are not even ordinary socialists anyway. As the title reveals, playwright, socialist agitator and vegetarian George Bernard Shaw (1856–1950), played by Grinnell Morris, is the name draw, and he is courted by Charlotte Payne-Townshend, wealthy Irish heiress, played by Jennifer Lynn Davis, who is surely his intellectual peer. A quick glance at Wikipedia tells you right upfront that Shaw married CPT in 1898, a year or so after the action of Engaging Shaw begins. He was almost 42, and she six months younger. They remained married until her death in 1943.
The other two characters are a delicious couple still after many years sweetly dedicated to one another, the writers and intellectual leaders Sidney and Beatrice Webb (Warren Davis and Susan Priver respectively), founders of the Fabian Society—and also of the London School of Economics, which they have no trouble getting CPT to commit a yearly stipend to support. For them socialism was mainly "the progress of democracy," not a Leninist formulation to be sure, yet how welcome that would be here and now! Marriage, to them, was the perfect cellular model in which the future ideal of the tight social nexus between people could be developed.
John Morogiello's Engaging Shaw, now receiving its Los Angeles premiere (seen March 16), is actually not the first fact-based play about this marriage. Shaw himself in 1933 wrote A Village Wooing based on their courtship. This play, apparently not widely known or produced, concerns a writer and a woman he meets on a cruise. They only become a couple after conducting an extended conversation about how this relationship will work in practice.
Another reason I was eager to "Engage" with this play is that Morogiello wrote the play The Consul, The Tramp and America's Sweetheart, which was totally brilliant, also at Theatre 40 back in 2016. In the program I also learned that two of the actors, Morris and Jennifer Lynn Davis, appeared in last year's moving Late Company at Theatre 40. This little company rocks!
It's 1897, and we meet the Irish playwright, not with the lordly gray beard of the late years, but with a taut cropped growth of facial hair that makes him look quite modern—he's only 41 that year. The setting is mostly the Webbs' very nicely appointed country cottage in Stratford where Shaw has repaired for the summer to write. And I must say that given my exposure to Theatre 40, their set designs (this one by Jeff G. Rack) are remarkably solid, detailed and efficient.
Shaw in those years was respected and coming into his own, but his plays had been artistic more than commercial successes. He probably had more renown as a political activist promoting the gradualist reform socialist views of the Fabian Society. He was a popular soapbox speaker who used hyperbole and strongly worded language to rouse the masses to new ways of thinking about class, the roles of women and men, the military, education, and other themes that he pointedly raised in his extensive catalogue of plays.
Despite being a notorious flirt with women, whom he dazzled with his bright, suggestive repartee, Shaw was not especially interested in sex. It seemed to bore him too much to bother with. "Our feelings are nothing more than a pleasant distraction from work," he says. Perhaps more to the point, his analysis of marriage in Victorian England, as in much of the rest of the world, led him to believe that given the inequality of the sexes, the institution was little more than a legalized, sanctified form of prostitution, a means of depriving a woman of what little independence she had as a single person and subjecting her to the whims, not only sexual but social and financial as well, of her husband.
Regarding Charlotte Payne-Townshend in particular, he feared that with her personal wealth, people would think the good socialist Shaw had gone and married her for her money. He kept women at a distance owing to his oversized ego: "I have no intention of sharing the glory of Shaw."
But Charlotte is not quite like other women whom Shaw has encountered. She recognizes before he does that the unique bond they share is that of two freethinkers who can yet love, help and appreciate one another to mutual advantage. She aspires to marriage not so much as a sexual arrangement but as domesticity and companionship.
Melanie MacQueen directs this farrago of epigrammatic wit and ricocheting ideas with well-timed aplomb. Indeed, Morogiello's version of these two later-in-life Irish lovers is itself very much in the Shavian mode. He expects his audience to follow along as four sharp minds joust and parry without surcease.
If the Webbs are more emotionally transparent than their playwriting comrade, they are nevertheless both intellectual and happy. With Shaw we see a Nietzschean superiority of intellect that would become tiresome if he were not so damned witty and polished all the time. Perhaps the best way to deal with him is to let him have things his way, but without enabling his anti-social, anti-marriage impulses. Left to stew in his own juices, he might come around to some accommodation that both parties can live with.
A bit talky in patches, like some of the title subject's stage works, Engaging Shaw is generally a playful mental exercise that turns over some of the most established rules of society and asks that we "engage" with their less pretty underside. It's not as if these aren't still relevant questions.
Engaging Shaw is performed through April 15, Thurs., Fri. and Sat. at 8:00 pm, and Sun. at 2:00 pm at Theatre 40, 241 S. Moreno Dr., Beverly Hills 90212. The venue is on the campus of Beverly Hills High School. There is ample free parking beneath the theatre. For tickets, call 310- 364-0535, or visit the company website.