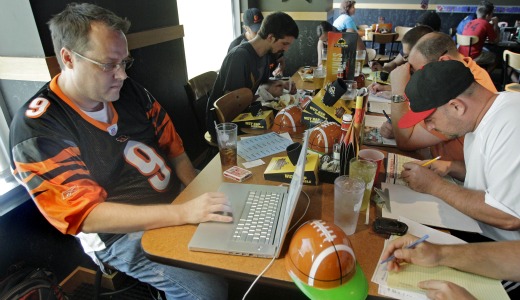 Anti-Semitic language was quickly removed from ESPN's online Fantasy Football League this week after members of the Simon Wiesenthal Center brought the problem to the attention of the sports domain, one of the country's largest.
Team and league names such as "Jews are Immoral," "Jews are Terrible" and "Burn Jews Wherever Possible" were discovered on ESPN's popular fantasy football league's website. "Jews Love Pennies" was another distasteful name and even listed President Obama as its creator.
"They may have been Fantasy Leagues, but the hate is all too real," said Rabbi Abraham Cooper, associate dean of the Simon Wiesenthal Center, a leading Jewish human rights organization, in a press release.
Cooper is in charge of the groups Digital Terrorism and Hate Project.
"This is another example of bigots leveraging Internet portals to demean their 'enemies' and recruit for their causes," he added. "Unfortunately, the targeted enemy in this case was a Jewish father who was about to sign up his son to ESPN Fantasy Football."
After ESPN was notified, the leading professional sports news company quickly took down the offensive and anti-Semitic language.
In a statement, ESPN Vice President of Communications Josh Krulewitz said, "Offensive hate speech like the examples discussed here have absolutely no place on our site. While we have systems in place to minimize the possibility for inappropriate team and league names, clearly with millions of users and deceptive ways around the safeguards, we can never completely eliminate it. We very much appreciate when it's brought to our attention, and when it is, we pledge to move swiftly to address each case…the entry period for fantasy football is ending soon so no additional entries will be allowed. We will use that time to reflect on how we can improve this going forward. Thanks so much for your valued input."
After ESPN took swift action to correct the problem, Cooper concluded, "ESPN responded quickly and in good faith to our concerns and we trust that ESPN will take all necessary steps to make it as difficult as possible for any racist or anti-Semite to leverage their popular site."
Fantasy football is an interactive, virtual competition in which people manage professional football players versus one another. Fantasy football allows people to act as general managers of a pseudo-football team. The team that an individual is able to manage is composed of professional NFL players. The different actions people are able to make are: drafting, trading, adding/dropping players and changing rosters. Due to the growth of the Internet, fantasy football has become far more popular in America today than ever before. Over 19 million people compete in public and private leagues online nationally.
The Simon Wiesenthal Center is one of the largest international Jewish human rights organizations with over 400,000 member families in the U.S. It is an NGO at international agencies including the United Nations, UNESCO, the OSCE, the OAS, the Council of Europe and Latin American Parliament.
Photo: This Aug. 30, 2010 file photo shows Brian Sherman, left, using his laptop to record moves in his team's fantasy football draft, at a Buffalo Wild Wings restaurant in Cincinnati. Fantasy football is widely popular, and an $800-million per year industry. (AP Photo/Al Behrman)