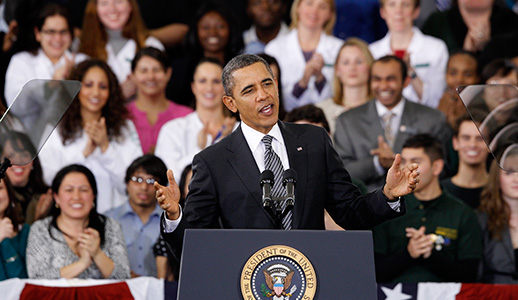 A range of progressive groups are pointing to key positive directions in President Obama's 2013 budget.
Top among them, in our view, are the plan to invest more than $350 billion in job-creating measures, and the moves to tax the rich to pay for it.
Make no mistake: these are going to be the core battleground issues for the Republican right. Their number one priority is to defend the super-rich, and to oppose any government spending for the public good.
Notable job-growth measures in the president's budget include:
* "An upfront investment of $50 billion from the surface transportation reauthorization bill for roads, rails, and runways to create thousands of quality jobs in the short term."
* "Project Rebuild, a series of policies to help connect Americans looking for work in distressed communities with the work needed to re-purpose residential and commercial properties, creating jobs and stabilizing neighborhoods."
* "$30 billion to modernize at least 35,000 schools and $30 billion to help states and localities retain and hire teachers and first responders."
* A new tax credit for small businesses that add jobs.
* A Pathways Back to Work Fund to support summer and year-round jobs for low-income youth.
* Increased funding for non-military research and development.
* Ending tax breaks for shipping jobs overseas.
* Expanded funding for inter-city passenger rail transportation.
Other important elements include new funding for child care, community college programs, college affordability, and teacher training and compensation.
Tax-the-rich measures include:
* Ending the 2001 and 2003 Bush tax cuts for the super-rich.
* A new Financial Crisis Responsibility Fee on the largest financial institutions, to offset the cost of the bailouts these firms enjoyed.
* Elimination of 12 tax breaks for oil, gas, and coal companies.
Business Week moans: "Under Obama's plan some taxpayers [meaning those with the top incomes] would pay 43.4 percent in federal taxes on their dividends next year. That's almost triple what they now pay and comes on top of corporate taxes."
We say, "It's about time." But Republicans, ever in the service of the wealthy and corporate CEOs, will be saying, "No way." In the coming months, as Congress debates the actual appropriations bills that will implement spending for the next year. the Republicans will be fighting tooth-and-nail to block these measures.
There are many other positive aspects of Obama's budget, including measures to promote a green economy – which are also job-creating.
There are also negatives, as others have pointed out. These include cuts in federal workers' pensions, and a 14 percent cut for some important social programs. Such cuts, the president said, were not his preference but an attempt to deal with the budget cutting requirements of the Budget Control Act – a bill passed last year at the height of the right-wing deficit/budget-slashing campaign.
In addition, many of the positive measures don't go far enough.
Meanwhile, many of the cuts in military spending are really just cuts in planned increases, not "real" cuts.
Both the positives and the negatives of the budget plan underscore the need for greater organizing and action by working class people:
* to demand that Congress passes funding for these job-creation and tax-the-rich measures, and more, and
* to defeat the reactionary Republicans at the polls in November.
Photo: President Barack Obama speaks about the $8 billlion Community College to Career Fund that is included in his 2013 budget, Feb. 13, at Northern Virginia Community College in Annandale, Va. (AP/Charles Dharapak)