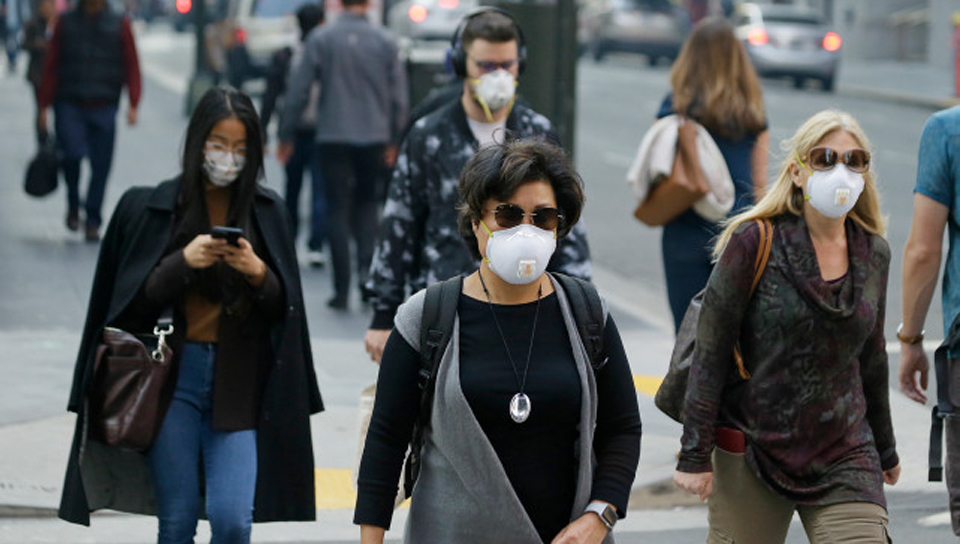 WASHINGTON—Presenting solid facts and contradicting GOP President Donald Trump's rosy assurances, federal health officials are warning the country to take precautions against the spread of the coronavirus in the U.S. — and a warning signal went up just after Trump's press conference this week on the looming medical emergency.
Meanwhile, two experts on infectious diseases and preventing their spread told  People's World that government and businesses should be doing more in practical terms to protect both workers and patients.
And Rep. Mark Takano, D-Calif., raised an alarm, following a complaint from an in-house federal government whistleblower, that federal workers sent to meet the plane carrying infected people home from the Orient were not properly protected themselves.
The analyses and warnings came after Trump convened a press conference with federal experts on efforts to control the coronavirus, which has produced tens of thousands of infections in its original site, China's Hubei province, and thousands more worldwide. Since then, the Chinese have locked down cities in with millions of people, Japan has shut down its schools for at least a month and some forty plus countries around the globe have slapped restrictions on travel and public gatherings.
There have been 60 reported cases so far in the U.S., and all 60 people have been quarantined. In other developed countries, thousands have been tested daily while here in the U.S. the number of those tested daily is in the teens. The obvious question is then how much larger the number of confirmed cases would be in the U.S. if there was adequate testing?
Trump previously predicted the coronavirus would run its course by mid-April, and told the press on Feb. 26 the U.S. has had "tremendous success" in containing it. "One day it could disappear like magic," he said.
But his own Centers for Disease Control and Prevention (CDC) director, Robert Redfield, told Congress earlier that day that "it's prudent to assume this pathogen will be with us for some time to come."
Scientists at Trump's own press conference knocked down his rosy scenario. And one of the 60 reported U.S. cases, in Northern California, cannot be traced to contact with a prior infected person, from China or anywhere else, Trump Health and Human Services Secretary Alex Azar told Congress.
One expert People's World interviewed, Dr. Gail Povar, a retired professor of internal medicine at George Washington University, whose practice included many flu and viral sufferers, said the common-sense precautions to prevent the spread of coronavirus infection include thorough hand-washing, self-quarantine – people with symptoms should stay home except for doctors' appointments – and, if you develop symptoms, avoiding crowds.
She also said businesses could really help out by sending sick workers home and telling them to stay, with pay – and not docking them or penalizing them for not showing up to work.
Peter Dooley, a certified industrial hygienist and senior safety and health manager for the union-backed National Council for Occupational Safety and Health, agreed. Such paid sick leave "needs to be part of a larger response" to the virus, he said in a telephone interview.
That's because infections "are likely to continue to happen in the future," he said, agreeing with Redfield's testimony to lawmakers.
Workplaces are likely sites for infected individuals – who don't know they're sick because the virus has an incubation period of at least two weeks – to unknowingly spread the illness. But workplaces are also the best sites for gathering and distributing accurate information to large groups of people, the workforces, about how to prevent the coronavirus's migration from person to person, Dooley said.
"That's one aspect of the (overall) plan: Educating the workers, preparedness information, and taking the practical steps to reduce the risk of infection," he added. "But unfortunately there are a lot of things they (businesses) aren't doing."
One action they should take, Dr. Povar strongly urged, is to send the sick workers home, with pay, and without being disciplined, so they can quarantine themselves, recuperate and not expose others unnecessarily.
"We should plead with employers to not punish someone who is doing something to protect others" and who contracted the coronavirus or the flu "through no fault of their own. Don't force someone to come to work when they're ill" by docking their pay for being out after the workers have used up their sick leave – if they have it. Most don't.
And 44% of workers eligible for 12 weeks of unpaid leave, under the Family and Medical Leave Act, cannot afford to use it and lose their earnings, even if FMLA orders employers to give them their jobs back afterwards.
Face masks "are only of modest benefit," but not absolutely 100% protection, said Dr. Povar. She also stressed flu is a lot more common and deadlier in the U.S., but the precautions are the same for both. Her practice involved treating many sufferers of both the flu and of illnesses similar to the coronavirus.
The masks wear out quickly, she noted, "and there's a need for fresh ones to be available." Dr. Povar also cautioned against panic purchases of the masks, given their incomplete protection, and added hand sanitizers don't help much either. Like federal officials, she emphasized thorough hand-washing, but even more, "stay home when you're sick."
Dooley added the government has "tremendous lessons that were learned from previous outbreaks of similar viruses, which could be put in place to protect workers." Both Dooley and Dr. Povar cautioned against panic, fear or prejudice in responses.
Instead, Dooley directed people to NACOSH's website and its list of resources.
"We need to be doing anything possible as a society to use that experience. Putting it into play is to be prepared" for the coronavirus's spread, Dooley said. NACOSH said such measures and experience include not just quarantines, but personal protective equipment for workers – such as doctors and nurses – exposed to viral patients.
"It's very, very important to explain practices that people can't do" because they would expose themselves to the virus.
Positive measures also include protecting whistleblowers from retaliation. The Chinese, Dooley noted, retaliated against the first physician to raise the alarm about the coronavirus and its dangers, last November. They arrested him and shut him up. After his release, the doctor later contracted the infection, from working with patients, and died.
Potential retaliation against whistleblowers also upset Takano. So did lack of protection for the federal health workers sent to meet the plane carrying infected people to air bases in California for quarantine.
"According to the whistleblower complaint, HHS employees were not properly trained on safety procedures prior to engaging with evacuees" – infected people arriving on the plane – "and they failed to wear proper safety equipment while monitoring the health of these individuals. These allegations are very serious and must be investigated given the potential consequences this could have on the public health of our community and communities across the country," Takano said.
There are other measures people could take to minimize the risk of catching or spreading the coronavirus, Dr. Povar said. "If you do smoke, don't. If you're elderly and feel feverish" or feel you have flu symptoms, "contact your doctor early. And when you go to the doctor, tell the staff immediately, so they can isolate you away from others in the waiting room."
"But we also have a lot of experience in developing anti-viral medicines, from the development of medications to treat HIV and the Ebola virus," she added. "Those medicines should be reserved for those who are the most seriously ill."
Trump also did not mention, nor did Azar, that U.S. health care facilities are testing few sufferers daily, unlike those in Italy, where Milan alone has reported more cases of coronavirus than the entire U.S.
Even as Trump declared "we've had tremendous, tremendous success" in containing the coronavirus in the U.S., he sought a $2.5 billion emergency appropriation to fund development of a vaccine. Senate Minority Leader Charles Schumer, D-N.Y., promptly proposed more than tripling the figure, to $8 billion. "We'll take all we can get," Trump later said.
All of the Democratic Party candidates for president have called for clearing up the problems with testing so that large numbers of people can be tested regularly. They all note that mass testing is critical now and is more important than making false or unfounded promises about the development of cures and vaccines. They note that any plan to battle the virus cannot succeed without the data and information needed to determine what we are facing.  They have also demanded that the Trump administration cease its attempt to muzzle the scientists by insisting that they clear any and all information through Vice President Trump before they release it to the public.
Dr. Anthony Fauci, head of the National Institutes of Health,  said the money from Congress will go to developing a vaccine to combat the coronavirus. He put no time frame on when the vaccine would be available. Dr. Povar told Peoples World it would take a year and a half – if it's developed at all.
Developing drugs costs millions of dollars and pharmaceutical firms do not do so unless they can see a profit, she pointed out. That's where the $2.5 billion Trump seeks would come in, as reimbursement to the firms to push them to develop anti-coronavirus vaccines.
Even then, she added, the firms could still be cautious. If the coronavirus follows the same course as the monstrous Spanish flu epidemic of 1917-18, which killed millions worldwide, all the sufferers had become ill and recovered – or not – before drug firms then could even start developing vaccines.
Another analogy would be so-called "orphan drugs," Dr. Povar said. Those are medications for illnesses with so few sufferers that for years pharmaceutical firms refused to even research potential drugs, much less produce them – at a loss. They can now seek federal subsidies to do so, under a law enacted by a Democratic-run Congress decades ago.
Food and Drug Administrator Stephen Hahn warned Congress on Feb. 26 that China presents another problem besides the coronavirus itself: Many basic ingredients for a wide range of drugs in the U.S., and some of the drugs themselves, are imported from China. Hubei alone has 44 drug factories, making pharmaceuticals or ingredients not just for vaccines, but for other medications.
The coronavirus epidemic in Hubei shut those plants for weeks, disrupting the pharmaceutical supply chain, FDA officials told lawmakers. The FDA tracks sources of the finished drugs, to make sure they meet U.S. standards, but not the ingredients, they added.
Meanwhile, the Trump response to the coronavirus became something of a political football, too. Trump named Vice President Mike Pence, to chair the interagency effort to deal with the coronavirus.
Takano promised to convene an informal congressional hearing about the workers' exposure and the whistleblower complaint. Former New York City Mayor Michael Bloomberg, a presidential hopeful, spent thousands of dollars on an ad titled "pandemic," criticizing the administration's slow response. In a Public Broadcasting System interview, he criticized Trump for dismantling federal science infrastructure, whose members could have combatted the virus.
By contrast, radical right-wing radio propagandist Rush Limbaugh charged on his show that Democrats and Communists are conspiring to blame coronavirus on Trump.
In the last televised Democratic hopefuls debate, in Charleston, S.C., Sen. Amy Klobuchar, DFL-Minn., gave out the CDC's website, www.cdc.gov, for information. And former Vice President Joe Biden declared "We increased the budget for NIH and the Centers for Disease Control and he (Trump) has wiped all that out. We also set up an office to stop Ebola and deal with pandemics." Trump's budget for the fiscal year starting Oct. 1 proposes 9% cuts for each NIH institute.