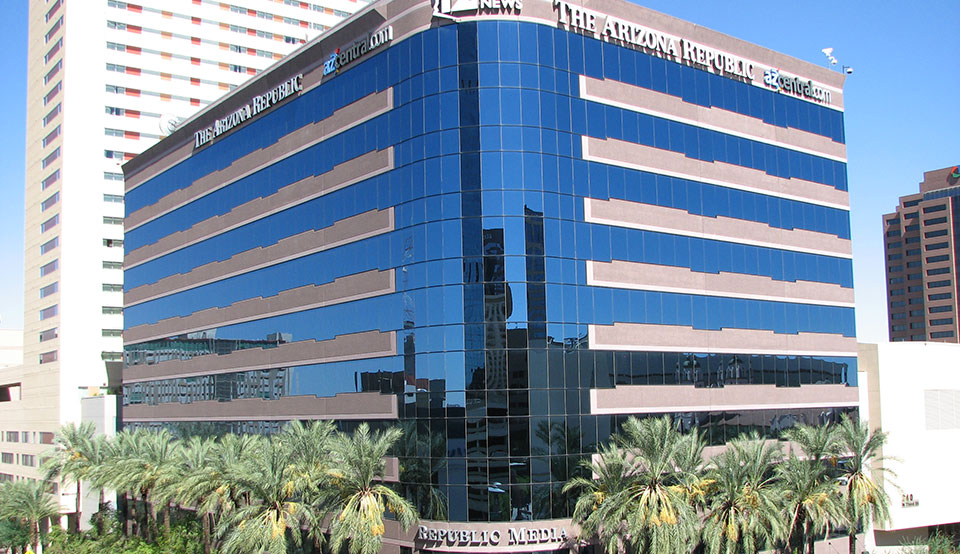 PHOENIX (PAI)—Faced with the threat of a media mega-merger that could cost them even more jobs and quality than they and their paper have already suffered, staffers at the Arizona Republic plan to unionize with the NewsGuild, a CWA sector.
The staff, which now numbers 130 – down from a peak of 425 in 2007 after deep cuts by Gannett, Inc., the current owner – has collected a majority of National Labor Relations Board union election authorization cards.
The organizing committee declared they want management to voluntarily recognize the NewsGuild as the staffers' representative. If it doesn't, they'll file for an NLRB-authorized election.
The paper's current management responded to the September 4 announcement with hate, intimidation, and harassment.
The paper's Human Resources Director called consumer reporter Rebekah Sanders, a member of the organizing committee, into a closed one-on-one meeting, nastily berated her and seized her work cellphone, which has her list of contacts.
When Sanders asked "How am I going to do my job without my phone?" the reply was "You won't." And the HR boss didn't say when Sanders would get it back.
"This is why colleagues and I are organizing at the Arizona Republic," Sanders tweeted. "At unionized publications, employees have substantial protection from these tactics."
The paper's executive editor went over the top in a newsroom-wide e-mail, the NewsGuild reported. He "compared union supporters to mob bosses and child molesters."
The Republic is Arizona's largest daily newspaper and the only one with statewide circulation. Its management has also been right-wing for years. Indeed, as far back as the 1970s, the best way to find a balanced view of what was going on in Arizona was to also read the Tucson Daily Star, whose editorial stands – and topics it covered – were more progressive.
But despite the slant in management and its editorials, the Republic's news columns improved over the years. The paper has walked off with six Pulitzer Prizes for excellence in newspaper journalism. It also suffered a noted murder in 1976 of reporter Don Bolles, who was probing ties between developers, officials, and the Mob.
It's the threat that the Republic and other Gannett papers would be sold in a $1.4 billion mega-merger with GateHouse Media, which has a reputation for slashing staff, lowering quality and decimating newsrooms, that led the remaining Republic staffers to turn to the Guild.
That, too, is a trend: the NewsGuild has been emphasizing preserving quality, community-oriented journalism in its organizing drives for the last decade – and winning wide community support and union recognition votes in the face of such financially oriented mega-mergers as a result.
That still doesn't stop bosses from firing reporters nationwide. Gannett has already slashed the staff so badly that the Republic's regional bureaus closed and only one reporter must cover Maricopa County (Phoenix) county and city government combined.
That lack of staff is important. Arizona in general and Maricopa, in particular, are growing so fast that the Phoenix metro area now houses more people than the Twin Cities – whose papers are unionized with NewsGuild and remain better-staffed.
"A shifting media business has chipped away at our newsroom's strength. The company's merger with GateHouse Media likely means deeper cuts," the Republic NewsGuild mission statement reads.
"Annual layoffs, stagnant salaries, swelling healthcare costs, and high turnover weaken local journalism. Our newsroom needs a large, diverse staff to tell the stories of our community. Our newsroom needs a seat at the table."
"We can't be sure that whatever company owns us will care about journalism. But we can work to make sure they provide some basics for journalists," said 25-year features reporter Richard Ruelas. "It took me a while to stop thinking about what was in this for me, and start thinking about what was in this for all of us."
"As a consumer protection reporter, I fight on behalf of readers when businesses treat them badly," added Sanders, who's been at the Republic for 12 years. "Now, I am fighting on behalf of my coworkers. Our hardworking newsroom deserves fair wages, affordable health care, decent layoff severance and a voice in the decisions being made about our future. The future of local journalism depends on all of us standing up to protect our newspapers."
Democracy depends on journalism.