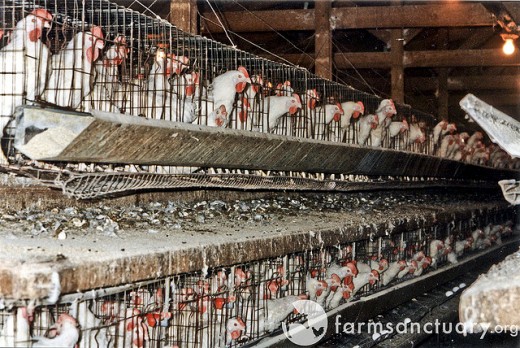 WASHINGTON—The recall of half a billion eggs blamed in a nationwide salmonella outbreak has pushed to the top of the Senate agenda enactment of a long-stalled bill to strengthen federal food safety enforcement.
But it has also thrown a sharp spotlight on an underlying cause: giant, corporate-owned factory farms.
More than 1,300 people have been infected with the salmonella traced to two farms in Iowa: Hillandale Farms and Wright County Egg. Wright is owned by Austin "Jack" DeCoster, who has paid millions in state and federal fines for violating food safety, occupational safety and health, equal employment opportunity, immigration and environmental laws over the past 20 years.
Ohio-based Mercy for Animals recruited undercover investigators who got jobs at DeCoster farms in Maine. They took photographs, shot videos, and accumulated vast documentary evidence of DeCoster's criminal enterprise. Their report, "DeCoster Animal Factories: Decades of Endangering Workers and the Environment," states, "DeCoster's record of environmental devastation has been matched by a long record of violations against the most basic rights of workers."
MFA spokesman Daniel Hauff told the PW in a phone interview the current salmonella outbreak flows inevitably from the cruel system of "battery-cage" egg production on DeCoster's factory farms.
"Normally, 4 to 6 chickens are crammed into a cage," he said. "They are so tightly confined they can't even stretch their wings. There is no ventilation." Thousands of chickens die, he said.
The battery-cages are stacked four high and run the length of huge warehouses. The stench of manure mixed with rotting dead chickens is so toxic that three State of Maine inspectors sent to the DeCoster farm had be rushed to the hospital, poisoned by ammonia fumes.
"The workers are forced to breathe these fumes every day," Hauff said.
The MFA report points out that many of DeCoster's workers are undocumented immigrants forced to live in filthy, rat-infested housing. DeCoster paid fines for violating federal child labor laws and forcing workers to handle chicken carcasses with their bare hands.
He settled an EEOC complaint in Iowa by women workers who charged that male supervisors sexually assaulted them.
Mercy for Animals urges people to switch to a vegetarian diet as the ultimate solution. But Hauff stressed, "There is a huge connection here between the cruelty to animals on these factory farms and human rights violations. We went in to expose the cruelty to animals but we also found violations of workers rights, environmental laws, and food safety laws," he said.
The DeCoster operations are typical of 95 percent of egg production in the U.S., he charged.
"In the last eight years, there has been a 50 percent higher chance of a salmonella outbreak in facilities like this. It is literally a breeding ground for salmonella. We are also creating swine flu and bird flu by cramming animals in facilities like this. They are fed antibiotics to keep them alive."
Rep. Rosa DeLauro, D-Conn., founder of the 23-member Safe Food Caucus, said, "This urgent nationwide recall is very disturbing, not only because it appears to have been preventable but also it may have been the result of an inefficient and unresponsive food safety system."
DeLauro is one of the main sponsors of the food safety reform bill approved by the House in July 2009 that increases federal inspections of farms and food processing while also granting the Food and Drug Administration authority to order a recall of tainted food.
Currently, FDA must rely on voluntary recalls by food producers.
DeLauro pointed out that food safety enforcement is split between the FDA, U.S. Department of Agriculture and 13 other federal agencies. DeLauro is author of a bill to create a single Federal Food Safety Agency.
Kaelan Richards, an aide to DeLauro, told the PW she hopes the Senate will soon approve a companion food safety bill.*
A majority of Republicans in the House voted "No" when the measure was approved by a vote of 283 to 142 last year.
Republican crackpots like the far-right blogger "Politically Incorrect" have denounced the food safety legislation as "the most dangerous bill in the history of the U.S." imposing "a global system of control over food."
FDA chief Margaret Hamburg urged the Senate to follow the House lead.
"We need better abilities and authorities to put in place these preventive controls and hold companies accountable," Hamburg said.
Senate Majority Leader Harry Reid announced that he wants the food safety legislation approved before the Senate recesses for the 2010 midterm elections. That means it would be voted on in September.
The so-called "Managers Amendment" to the Senate version weakens the House-passed bill which requires annual FDA inspection of "high risk" farms and food processors. The amended Senate bill cuts that to only once during the first five years and once every three years after that.
Shockingly, current law mandates inspections once every 10 years.
Photo: FarmSanctuary.org/CC
*Correction: In a previous version of this story Ms. Richards' comment was misinterpreted. She asked that we make clear 'I am not speaking for the Senate.' We regret the error.