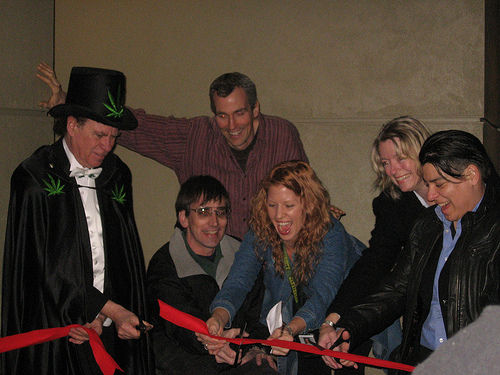 OAKLAND, Calif. – With a City Council vote July 27, Oakland became the first U.S. city to authorize industrial-scale production of medical marijuana.
The plan, to take effect in January, calls for licensing four production facilities to grow, package and process medical marijuana, and includes labor, environmental and product safety standards.
The facilities are to be sited in industrial areas of the city. To qualify for a permit, applicants must meet guidelines for cutting electric power usage, greenhouse gas emissions and pesticide use. The facilities must pay the city $211,000 in annual permit fees, carry $2 million in liability insurance and be ready to pay up to 8 percent of their gross sales in taxes.
Supporters cite the problems of regulating and taxing existing growers, and safety issues when pot is grown indoors with improperly wired fans and lights.
Opponents worry that small growers will be driven out of business and that large-scale growing could hurt the environment, reduce quality and cut the number of strains that are grown.
Supporters also see industrial marijuana production as an important revenue source for the cash-strapped city.
Though pot is illegal under federal law, California is among more than a dozen states now allowing its use for medical purposes. California's Prop. 215, passed in 1996, lets patients and their designated primary caregivers to possess and cultivate marijuana for their personal medical use with a California-licensed physician's prescription.
The Obama administration has said it will not make enforcing the federal ban a priority when dispensaries operate within California law.
Alongside several medical marijuana dispensaries, the city also boasts the nation's first-ever "cannabis college," Oaksterdam University in downtown Oakland, which opened in 2007 "to provide students with the highest quality training for the cannabis industry." The school, which says its faculty includes "the most recognized names in the California cannabis legalization movement," says thousands of students have taken classes there, hoping to enter "the budding cannabis job field."
In May, Local 5 of the United Food and Commercial Workers union announced that nearly 100 workers at Oaksterdam University and its subsidiaries had voted overwhelmingly for union representation.
Calling the state's medical cannabis industry "a huge enterprise," Local 5 said it plans to continue organizing efforts throughout the rest of the industry, and said it hopes the employer neutrality that obtained during the initial campaign will continue.
Statewide, the UFCW is supporting Prop. 19, on the November ballot, to legalize possession of up to one ounce of cannabis for pot users ages 21 and older, and to allow local governments to regulate and tax it. The measure would ban providing marijuana to minors, and bar smoking in public, on school grounds and around minors. It would leave it to cities and counties to regulate retailers.
Prop. 19 doing well in the polls, 52 percent in favor, 36 percent opposed. At the same time, opinion is sharply divided among political leaders and activists. San Francisco District Attorney Kamala Harris, who supports medicinal pot, calls the ballot measure "flawed public policy." State Attorney General and Democratic gubernatorial candidate Jerry Brown expresses concerns about state-federal conflicts. U.S. Senators Dianne Feinstein and Barbara Boxer both oppose the measure.
The California Democratic Party and California Labor Federation are staying neutral.
On the other side of the ledger, the California Young Democrats are endorsing Prop. 19, as are the state NAACP and U.S. Representatives George Miller, Pete Stark and Barbara Lee – all Democrats. A number of retired law enforcement officials and judges also favor legalization.
Meanwhile, other California communities are also looking to pot as a revenue source. Berkeley has placed an initiative on the November ballot, to approve six large medical cannabis production facilities, which must meet basic environmental and organic standards. Sacramento voters will decide on a business tax on medical marijuana. And Richmond is considering allowing large-scale medical pot production.
Photo: A ribbon-cutting ceremony with Oaksterdam University founder Richard Lee, far left, and Oakland City Councilmember-at-large Rebecca Kaplan, far right. (Ryan Van Lenning/CC)