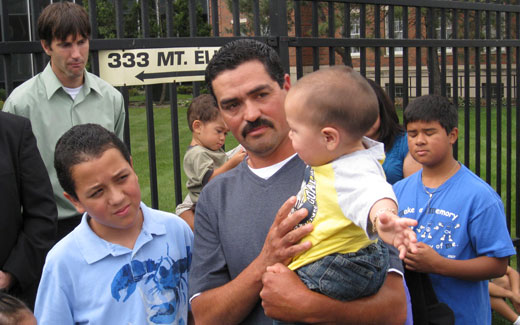 DETROIT – A few hours after Wednesday's press conference to protest the Friday deportation of Florencio Avila Cachu, word was received the case will be reviewed.
Alliance for Immigrants Rights and Reform organizer Jonathan Contreras said the case will be reviewed in October but for now "he will be with his children and family next week. He is ecstatic."
Contreras and others at the press conference welcomed the August 18th new immigration policy announcement by President Obama where the administration committed itself to a case-by-case review of the 300,000 cases in its deportation docket. The new policy indicates the Department of Homeland Security would use its limited resources to focus on real problems such as terrorists and others that had committed criminal acts.
Mr. Cachu's case fits the profile of deportations needing to be reviewed. At the press conference Mr. Cachu said, "I pay taxes, obey the law and work as a landscaper. I have done my best to learn English." His lawyer, Carrie Pastor, added that her client has no criminal record and had been granted legal work status that had been inexplicably revoked the previous day.
The deportation case against Cachu seemingly came out of the blue. His Pastor, Rev. Christopher Talbot, called him an asset to his church and the community. He said this past weekend Florencio had helped erect a tent for the parish picnic, unaware he would receive a deportation notice in a few days.
What had particularly upset and worried those attending the press conference was that Mr. Cachu's has young, U.S. citizen children with serious medical conditions whose care would be endangered by their father's deportation.
His eleven-year-old son Adrian was born with a hole in his heart. Lizbeth, his eight-year-old daughter, has type 2 diabetes.
Another case profiled at the press conference was that of Maria Marin, who has been in the country for 21 years. She too has worked, paid taxes, and has no criminal history. Her nineteen-year-old U.S. citizen daughter Jennifer has had six surgeries, each one growing in its complexity. Jennifer said it is her mother who has "kept me fighting for my life."
While Contreras welcomes the delay in Florencio's deportation he cautioned that new cases are cropping up. Following the press conference he received word from an attorney that a person whose history and profile is similar to Florencio's had received a deportation notice.
Why isn't the August 18th change being felt in Detroit?
Contreras said local the ICE officials are using the excuse he policy hasn't been "officially implemented." Contreras is hopeful that will end next week when Director of Homeland Security John Morton and representatives from ICE meet with Congress and others to discuss implementation.
The need to put the changes into practice quickly is highlighted by the Cachu case. If he is forced to leave, his children will grow up without a father. His son Adrian is a sixth grader who loves math and is a top student in his class. He wants to become a lawyer. When asked why he replied, "I want to help people."
His father's deportation would mean Adrian's bright future and ability to contribute his talents to the larger community would be in jeopardy.
Contreras said all deportation cases should be placed on hold until a concrete plan to review cases is in place.
PW photo by John Rummel