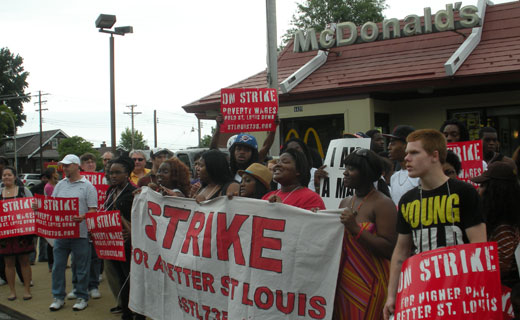 ST. LOUIS – "We deserve more. We deserve $15 and a union. We work hard. We deserve more money," Jeanina Jenkins, a McDonald's employee, told the People's World. She was among 100 low-wage fast-food workers and union and community allies who rallied outside a south St. Louis McDonald's at noontime July 29.
Jenkins, 20, has worked at McDonald's for nearly two years, and makes $7.72 an hour without benefits.
She says the recent nationwide low-wage fast-food strike wave is proving a point.
That point: "We're not alone. People support us everywhere," Jenkins said. "People believe that we deserve more, that we deserve to be treated better."
Recent reports support her conclusion. There is broad-based support for low-paid fast-food workers and their demands across the country. And there is also a growing body of data challenging fast-food corporation assertions that they simply can't afford to pay more or provide better benefits.
In fact, a recent study conducted by a University of Kansas business student, Arnobio Morelix, sheds some pretty damning light on McDonald's claims. According to the researchers, if McDonald's "doubled the salaries" of its employees to $15 an hour, the McDonald's Dollar Menu would only increase by 17 cents and the Big Mac would only increase from $3.99 to $4.67.
If wages went up by 50 percent, the study added, the Dollar Menu would cost "less than a dime more, at $1.08."
These findings are based on financial modeling with data from McDonald's own Annual Report to shareholders and investors.
McDonald's made $1.4 billion in profits last quarter.
A second rally was held around 4 p.m. Monday at another McDonald's in north St. Louis County.
On July 30, more low-wage workers and their supporters rallied in both St. Louis and Kansas City, Mo. According to Shannon Garth-Rhodes, a STL Can't Survive on $7.35 organizer, at least 150 workers walked off their jobs at over 60 different restaurants.
Strikers in St. Louis, Kansas City and New York will be joined by strikes in Chicago, Detroit, Flint, Mich,. and Milwaukee later this week, making this week's actions the largest fast-food worker mobilization in U.S. history.
Derek Wetherall, 23, a member of United Food and Commercial Workers union (UFCW) Local 655, supports the fast-food workers, because "everyone should have a union."
Wetherall serves coffee and runs the cash register at a union grocery store here. He told the People's World, "Since I have a union, I make $12.65 an-hour with guaranteed raises. If a local grocery store is able to pay me $12.65 an-hour to serve coffee, McDonald's can afford to pay their employee at least $15 an-hour. McDonald's is one of the largest, most profitable corporations in the world."
Wetherall, like Jenkins, is excited about the recent wave of strikes. He said, "Each time it grows. People feel empowered. They are expressing their collective strength."
"If we can raise the wage-floor for low-wage fast-food workers, it'll get better for everybody. A rising tide lifts all boats," Wetherall concluded.
Surprisingly, there has only been one documented case of a striker being fired for their activities: a Brooklyn Domino's employee.
The Rev. Martin Rafanan, a minister here, said, "Every case of possible employer retaliation in St. Louis has been met with swift and decisive action by St. Louis Jobs with Justice, local unions, community leaders and politicians. Every case so far has been resolved in favor of the workers."
Additionally, he said, "Workers are beginning to reach out across stores," building solidarity and making connections in the broader community.
Rafanan, who serves as the St. Louis Workers' Rights Board co-chair, added, "This is the beginning of a movement."
Justin Johnson, another McDonald's worker, couldn't agree more. Pointing to the assembled activists during the noon rally on Monday, he told the People's World, "They've got my back. And we've got everyone's' back. And we're going to keep going until we get what we deserve."
What's that? he was asked. He replied, "$15 and a union!"
Photo: Fast-food workers stage noontime protest in St. Louis, July 29. Tony Pecinovsky/PW