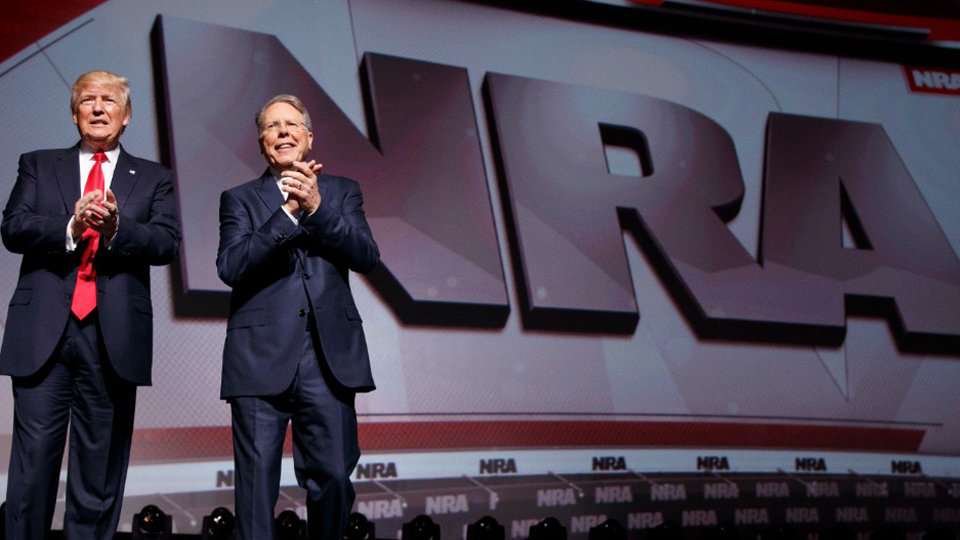 WASHINGTON—On July 18, Russian spy Marina Butina will enter a plea before U.S. Magistrate Judge Deborah Robinson about allegedly violating federal laws by failing to register as an agent of the Russian Federation.
But that technical violation—and it started years ago—won't be news to Butina, to her Russian handler, or to her back channel to the GOP: The gun lobby.
Otherwise known as the National Rifle Association.
Butina was arrested July 15, at her D.C. area home, after FBI senior agent Kevin Helson filed a sworn affidavit and detailed charges against her with Judge Robinson. The arrest, announced the next day, came just before President Donald Trump's meeting with Russian President Vladimir Putin.
Helson outlined Butina's contacts with the GOP and the NRA and her plan to set up "back channel communications" between the Russian Federation's government and the GOP via the gun lobby.
Her objective: Turning the Republicans away from their traditional hard line against Russia and its predecessor, the Soviet Union. Helson says there's more evidence to come. Butina's lawyer called the charges "overblown."
Though Helson doesn't ID the gun lobby by name, his affidavit's description—calling it the largest gun rights organization in the U.S. and "a major influence" on both the GOP and in congressional elections—makes it obvious who he's talking about.
What's missing is how much money Butina funneled from Russia to the GOP via the NRA. Under pressure from Sen. Ron Wyden, D-Ore., several months ago, NRA's general counsel admitted Butina's Russian handler/sponsor, Alexander Torshin, deputy governor of the Russian Central Bank, is an NRA life member.
The NRA said it found a total of less than $25,000 in income from people with Russian addresses, most of it in subscriptions and annual dues. Understandably, after Butina's arrest, Wyden's staff questions if the NRA is telling the truth.
And other campaign finance sources point out the NRA was a major donor of so-called "dark money" to the Republicans in general and the Trump campaign in particular throughout the 2015-16 election cycle, to the tune of $30 million.
"Because it is illegal for foreign nationals to spend money in U.S. campaigns, obscuring funds coming from, say, an agent of the Russian government—by funneling them through an organization like the NRA—would be akin to money laundering," say two analysts of money laundering and money in politics for the Center for American Progress, Alex Tausanovitch and Diana Pilipenko.
Helson's affidavit, and material gathered by pro-gun control groups, make it clear Butina's project linking the GOP to the Russians via the gun lobby was not just an election-year connection. Needless to say, the gun control groups are having a field day with the NRA, the Russians, and the GOP, while the gun lobby is completely silent about it.
"Saying we have serious concerns about a Russian national with deep ties to the NRA, an organization that helped fund and elect President Trump, being arrested on charges of espionage doesn't go nearly far enough," stated Avery Gardiner, co-president of the Brady Campaign To Eliminate Gun Violence.
"The NRA says it is the president's 'most unflinching ally,' and we demand the NRA's leadership answer, at once, long-standing questions about their organization's Russian connections, especially as to the 2016 campaign," he added.
Everytown For Gun Safety not only ran details of the Butina-NRA linkage, but provided visual evidence, too: A picture of her posing with NRA Executive Vice President Wayne LaPierre, the extremist power who actually runs the gun lobby.
Before that, Everytown said, Torshin—Butina's later handler—became friends with then-NRA President David Keene in 2011 and joined the group a year later. Both Russians set up an NRA-model Russian gun rights group, even though Russian law bars private gun licenses.
And after a 2013 conference of their group in Moscow, Butina and Torshin got a top U.S. speaker—John Bolton, now Trump's National Security Advisor—to record a pro-Russian gun rights video.
"And in 2014, Butina attended her first of three consecutive NRA conventions. Torshin and Butina's
attendance at NRA conventions gave them access to prominent Republican figures, including Donald
Trump, (Wisconsin) Gov. Scott Walker, (former Pennsylvania Sen.) Rick Santorum and (Louisiana Gov.) Bobby Jindal." Walker, Santorum, and Jindal also sought the GOP presidential nomination in 2015-16, but dropped out early. Trump, of course, won it.
Helson's affidavit traces Butina's plan back to early 2015 and includes a forecast that year the GOP would win the White House in 2016, so that working through the NRA to get to the GOP made sense for the Russians.
It said Butina kicked off the influence plan in a March 24, 2015, e-mail to an unnamed U.S. political official, after going over her plan with her handler. Other sources identify that U.S. political official as a Florida GOP campaign consultant.
"A major U.S. political party, hereinafter referred to as political party 1, would likely gain control over the U.S. government after the 2016 elections," she e-mailed. "That political party 1 is traditionally associated with negative and aggressive foreign policy towards Russia. However, now with the right to negotiate [it] seems best to build konstruktivnyh relations; and that central place and influence in the political party 1 plays the gun rights organization."
That phrase is immediately followed by the details which make clear the gun rights organization is the NRA. The gun control groups said Helson's affidavit understates the case, if anything.
Helson's affidavit goes on to detail how Butina carried out her plan, with mentions of the NRA, usually as part of her contacts with GOP leaders. The pro-gun control organizations, however, dug up her direct contact with Trump.
Butina posed as a reporter during a 2015 Trump press conference in Las Vegas. "Do you want to continue the politics of sanctions that are damaging both economies?" she asked. His reply included "I know Putin. I believe I would get along very nicely with Putin, OK? I don't think you'd need the sanctions."
Like free stuff? So do we. Here at People's World, we believe strongly in the mission of keeping the labor and democratic movements informed so they are prepared for the struggle. But we need your help. While our content is free for readers (something we are proud of) it takes money — a lot of it — to produce and cover the stories you see in our pages. Only you, our readers and supporters, can keep us going. Only you can make sure we keep the news that matters free of paywalls and advertisements. If you enjoy reading People's World and the stories we bring you, support our work by becoming a $5 monthly sustainer today.