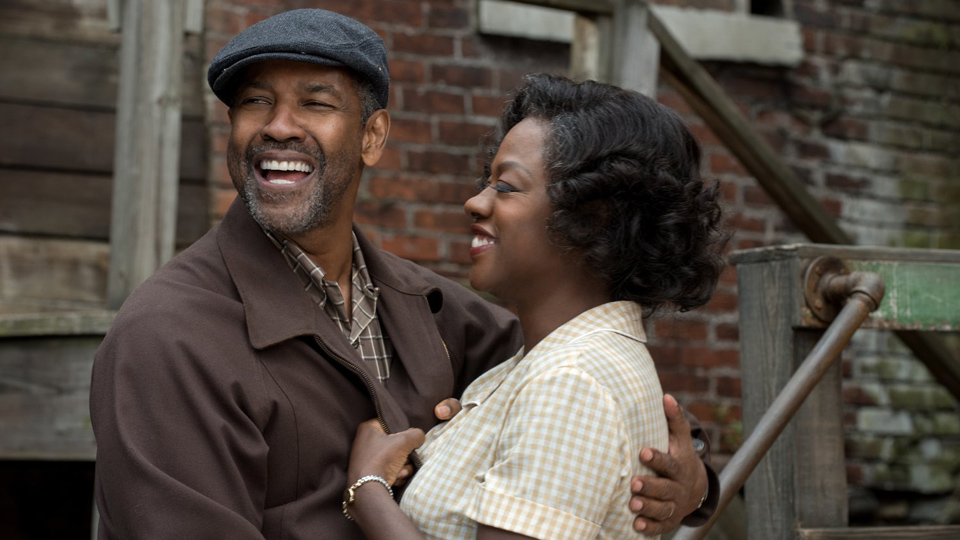 It looks like Hollywood is digging itself out from the all-white blizzard so remarked upon in recent years. Some fine new films featuring African-American subjects, actors, and directors include The Birth of a Nation, Moonlight and Loving. On Christmas Day, the film version of August Wilson's 1987 Pulitzer Prize- and Tony Award for Best Play-winning Fences opened in movie theaters nationwide.
Translation from stage to screen opens up the proscenium to reveal the larger community surrounding the characters. In the film we see the Maxson family house, and the small yard behind it, where all the significant action takes place, and also the patriarch's workplace; we drop in at a local bar, and observe the active street life in Pittsburgh's Hill District, where the drama is set and where it was filmed in 2016. Fences is part six of Wilson's ten-part "Pittsburgh Cycle" (one for each decade of the twentieth century — this one represents the 1950s), a legacy to the American theatre that is virtually unsurpassed in its expansive compass. Eugene O'Neill conceived such a multi-play historical project as well but little came of it beyond A Touch of the Poet.
It's hard to accept that August Wilson has been gone since 2005, since his powerful work is still so omnipresent on the American stage. He completed the film script for Fences shortly before he died. One can only hope that each of the other plays in his cycle will be accorded similar stellar treatment. Fences has already been nominated for several awards. The American Film Institute has chosen it as one of the top ten films of 2016.
When the film opens we see Troy Maxson (Denzel Washington, who also directed) on the back end of a city sanitation truck with his work companion Jim Bono (Stephen McKinley Henderson). Black workers do the heavy lifting of garbage cans, while their white co-workers sit up front as drivers. They're all represented by a union, but until now the job categories are still segregated.
As is typical with an August Wilson play, he focuses on the domestic, personal and intimate lives of his complex characters, but the historical and material circumstances of their lives are ever-present and of the essence.
Troy, the protagonist who sucks up all the oxygen in his environment, grew up dirt poor in the South under plantation-like conditions, never got proper schooling and in fact cannot read, did some jail time, played in the Negro League, but aged out just as major league baseball was starting to integrate. He's a twisted skein of thwarted ambitions, unmediated rage at any and all who challenge his authority. As a garbageman with a unionized job in the North, however, he has in some ways turned his life around, developing a highly evolved work ethic, with a sense of manly responsibility, duty, and obligation to provide for his wife and family. He also used a government payout to his severely disabled older brother and WWII veteran Gabe (Mykelti Williamson) to buy a home, even though by now Gabe has moved out on his own.
Denzel Washington's performance is ferociously loyal to his vision of this troubled but nobly flawed character.
Troy's wife Rose Maxson (Viola Davis) is the very model of a long suffering woman who, as in many families, is the moral center keeping everyone else in balance. She keeps the household accounts, she maintains as much of the peace as possible with such a volatile spouse, and tries to protect her son Cory (Jovan Adepo) from Troy's abusiveness. The love for her man is solid and unquestioning, but her refuge is her clutch of church women and her faith. A decorative plate with the image of Jesus occupies a prominent spot in her kitchen.
The Oedipal conflict is in full bloom in this home, as Cory has his own dream of being a football star. But Troy kiboshes Cory's meeting with a college recruiter, on the basis that the world has not changed so much, and that Cory will face the same kind of racial discrimination that Troy is convinced he confronted. Or is Troy mostly just jealous of the possible success Cory might have had, overshadowing the father? In the end, Cory chooses another career, but one that also pulses with masculine command.
There's Troy's first son hanging around, too, by a previous liaison, Lyons (Russell Hornsby), who appears disinterested in Troy's steadfast career dedication. He plays jazz and comes around on his father's payday for periodic loans. But Troy won't even make the effort to check out Lyons' club to see what his own son does with his life.
In time, a third child comes along, little daughter Raynell (Saniyya Sidney), the issue of Troy's out-of-marriage affair. The mother has died in childbirth and, regarding the image of Jesus, Rose makes the decision to raise the innocent, motherless babe as the flesh and blood of this family.
I recall seeing Fences on stage and feeling convinced of the rightness of Wilson's metaphor of Troy building a fence around his property — to keep others out as much as to keep his own family in. Somehow in the film, perhaps with so much more visual information to take in, the fence seemed less symbolically potent. More effective as metaphor was the baseball suspended in mid-air for batting practice in the back yard that reminded us of unrecoverable dreams and hinted at potential violence.
Wilson's genius is in language, the pure, vernacular, fanciful, exuberant cascade of storytelling words. His delight in the flights and the depths of human speech, and in the turnings of the mind, truly makes him the African-American Shakespeare. With just an occasional explanatory voiceover, the script would work almost as well as a radio drama. But it is magnificent to see such accomplished actors at the peak of their careers impersonate these richly endowed roles. Wilson anoints these characters not with the holy oil of saintliness — far from it! — but with the honey of forgiveness and a most generous grace.
The cast (and director) are steeped in this material: Mykelti Williamson, Russell Hornsby and Stephen McKinley Henderson were all in the 2010 Broadway revival, as were Denzel Washington and Viola Davis, who each won a Tony for their performance.
Wherever these actors have been, wherever they will go, Fences will sit at or very near the top of their résumés. These are memorable characterizations that will stand the judgment of time. The trailer can be seen here. Bladder alert: The play had an intermission; the film does not.
Fences
Paramount Pictures
Directed by Denzel Washington
Writer: August Wilson (screenplay), August Wilson (based upon his play)
Stars: Denzel Washington, Viola Davis, Stephen Henderson
PG-13, 138 mins