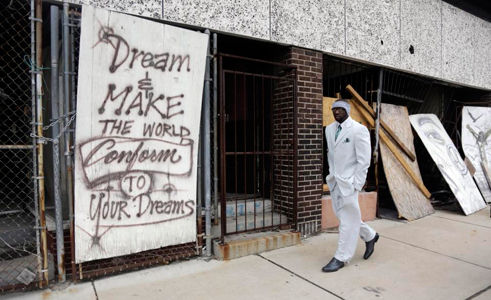 St. LOUIS – Hundreds of demonstrators carrying signs that read "Black Lives Matter" and wearing "Justice for Mike Brown" t-shirts gathered at the Old Courthouse downtown Monday morning. Listening to speakers, holding hands, and chanting "this is what democracy looks like" demonstrators prepared to reclaim the legacy of Dr. King, who stood for direct action and peaceful civil disobedience.
This year's march followed months of tension in the aftermath of multiple police killings of young African-American men across the nation. In Ferguson, near here, it was Michael Brown who was shot to death by the now-retired police officer Darren Wilson.
At 11 a.m., demonstrators from Ferguson, who set out ahead of other demonstrators, turned off the main route and marched to the New Life Evangelistic Center while the official parade continued on its way to Harris-Stowe University. The New Life Evangelistic Center is a local homeless shelter slated for closure after the city board ruled it a nuisance.
Demonstrators held a four-and-a-half-minute moment of silence before passing out hot soup to the homeless and chanting, "Homeless lives matter!"
"I just hope we keep true who and what Martin Luther King stood for," explained Johnetta Elzie, 25, who has been active in the Ferguson protests since August 2014.
After the march that day some of the demonstrators marched on the Ferguson Police Department without incident or arrest.
Photo: Conditions on Martin Luther King Jr. Drive in St. Louis – vacant lots, boarded-up stores and crumbling businesses – don't reflect the hopes and dreams of people who participated in the demonstrations here. AP Photo/Jeff Roberson)