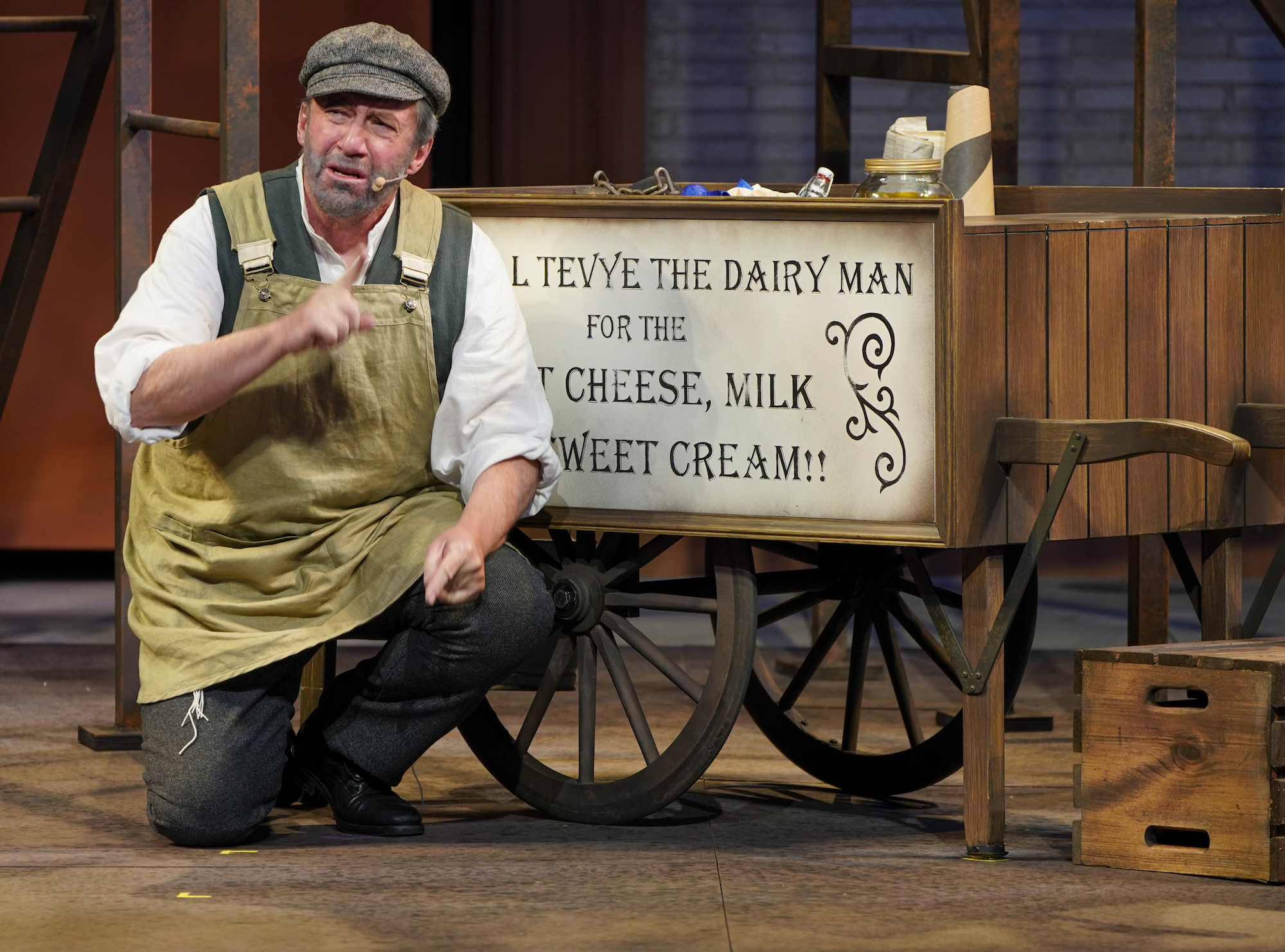 BEVERLY HILLS—The last we saw renowned Yiddish writer Sholem Aleichem's touching character Tevye the Milkman, he was exiting the stage escaping an anti-Semitic pogrom in Russia headed for parts unknown. People like him wound up in France, England, Canada, Mexico, Argentina, Brazil, South Africa, Australia. Many found themselves in New York and other American cities big and small, even spread out through rural states where Jews started general stores.
Tom Dugan's play Tevye in New York!, now receiving its world premiere one-man production at the reopening Wallis Annenberg Center for the Performing Arts, takes place on Delancey Street on New York's Lower East Side. The date is July 4, 1914, and the perennial hard-luck Tevye is out on the street with his ice cream cart as the crowds (Jews, Irish, Italians) gather for the parade to start. The theme this year is a salute to the immigrants. Problem is, his child Taybl (who since the voyage to America five years earlier has been going by the name Abel and dressing in men's clothes) and "their" close friend Maria, an Italian immigrant they met on the boat have gone off to Ellis Island to meet the just arriving eldest daughter (remember, Tevye and Golda had six daughters), her husband and son, but Maria has the ice cream cart key! So all Tevye has to offer are pickles.
For the next 90 minutes Tevye, played and directed (with Michael Vale) by the author, regales the crowd with the only other thing else he has to offer besides pickles—his enchanting stories, some sad, some humorous, some good luck, a lot of lousy luck. Kids, poverty, hunger, daughters with their own minds about what they will do with their lives, work, romance, fateful chance meetings, faith, and hope. The single set, a vast jungle gym upon and around which Dugan climbs and scrambles (scenic and costume design also by Michael Vale) is filled out with the ice cream cart that doubles as Tevye's milk wagon as he converses with his unseen old horse Ulysses (sound design by the appropriately named Cricket S. Myers).
This being an open-air performance in accordance with current coronavirus protocols, the noises, including cars, firetrucks, and voices from the nearby streets on Beverly Hills, were not so much intrusive but more ambiance for the pop-up urban setting of the play.
Tom Dugan is well-known for several of his previous plays, including Jackie Unveiled, about Jackie Kennedy Onassis, and Wiesenthal about the famous Nazi-hunter. He seems to be drawn to the one-actor format, which in the right hands (like his, for example) can be fully as evocative and memorable as a cast of many characters.
The Wallis's Artistic Director Paul Crewes says, "I am very happy that our first live performance in our outdoor theater is Tevye in New York! by Tom Dugan. Tom is part of the Wallis artistic family…. Through Tom's great writing and captivating performances, he continues to explore Sholem Aleichem's most celebrated character, and his journey and life in the Lower East Side of Manhattan."
For many descendants of immigrants, the "homeland" is often not the geographical place a continent or two away they've never seen nor set foot in, and know little about, but the community in the U.S. where the family settled and became acculturated. The appeal of a play like Tevye is nostalgia for the first difficult years of reestablishing lives in the new land, learning the mores and language, working to make a better life for the next generation, and in many cases forming unions in the shops where thousands from many other corners of the globe are your workmates in auto, steel, garments, and in the next decades, teachers, social workers, nurses, journalists. Tevye features the 1911 Triangle Shirtwaist Factory Fire and the police riots against strikers as part of his "acculturation" to America.
Tevye himself, a dairyman in the Old Country, a maker of milk and cheese products, might be called an artisan in the sense that though he works hard, he owns his own business modest as it is. He has not become proletarianized, but neither is he petit bourgeois. In America, he aspires a little higher, and by the end of the play, he finishes with a climb up one more step of the American success ladder, evolving from pushcart to fixed brick-and-mortar store. His is an "origins" story such as many immigrant families can tell, though not everyone becomes an entrepreneur or homeowner, to be sure.
The genius of the American experiment, owing much, later on, to the New Deal, was to create a vast middle class based on union jobs and benefits—though one must remember that farm and domestic workers were excluded from this picture. And owing to pervasive racism, which the New Deal did not eliminate, most communities of people of color, notably African Americans, Asians, Native Americans, and Mexican, and other Latin Americans were also barred from success.
Dugan writes quite traditionally. There's not much that's experimental, radical, eye-opening, or dramatically fresh and inventive in this work. I don't necessarily mean this as a slur, but it has "commercial" aspirations for popularity written into its bones—as, by the way, Sholem Aleichem also wrote. The disjointed, wandering narrative is not a theatrical distraction, but rather the quaint word portrait of a lovable, poorly educated but humane and well-intentioned combination character of fool and saint. Dugan peppers the script with knowing references to the songs of Fiddler on the Roof, one of Broadway's most successful shows ever, that has found a place in the hearts of theatergoers worldwide in many languages. Tevye has become a universal Everyman.
What is refreshing here is the introduction of a mass-appeal LGBTQ theme in the romance between the "tomboy" Abel and their girlfriend Maria—Abel threw away their dress and Maria was expelled from her family for refusing an arranged marriage—and now Maria is considered like one of the family.
What seems missing is especially striking the more we hear now about how American fortunes—and even that stored vast middle-class life—were amassed on the backs of enslaved, indentured, imprisoned, underpaid, cheated, and undocumented men and women who never accumulated equity in the system they built. All well and good for Tevye to be a friendly neighbor to the Italians and Irish, but these groups, like him, did not have the curse of color on their foreheads. The nostalgia, kitsch, and schmaltz make an audience feel warm and cuddly as we revisit our shared immigrant experience, but it's so easy to forget that this was not the case for other groups, including many born and raised in the U.S. yet not considered full citizens.
What did Tevye think about the African Americans he encountered in New York? Could he relate, and how?
I can't help but find a story like this, playing in über-toney Beverly Hills, critically lacking in this respect in this day and age.
Thoroughly enjoyable, if not especially deep and probing, audiences will appreciate the charming "update" on a beloved literary character so heartwarmingly played. Dugan might have kept the message of the book and musical Ragtime closer to heart, teaching us that success for one group can often exist alongside or even determine the downfall of the other. Case in point right now that has my blood boiling: All of a sudden a few of the super-rich (looking at you, Jeffrey Katzenberg) are all hot and bothered about the homeless issue. If it weren't for the extraordinarily generous tax benefits that have flowed over the past 50 years to the oligarchic rentier class, depriving federal, state, and regional governments of the financial wherewithal to create public housing (and much more), we wouldn't be in the fix we're in today.
Tevye in New York! plays each night except Monday through Sun., July 25, at 8:00 pm. For further information and to purchase tickets, please visit TheWallis.org/Tevye or call 310.746.4000 (Tues.-Fri., 9:30 am-2:30 pm). The Wallis is located at 9390 N. Santa Monica Blvd., Beverly Hills 90210.