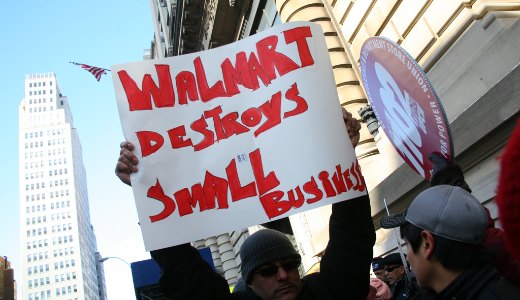 Walmart, the monster retailer known for its always-low wages, always-bad benefits and always-negative impact on local businesses, is again trying to invade Chicago and New York, and has added Washington, D.C., to its list. And the United Food and Commercial Workers are once again campaigning against the anti-union, anti-worker behemoth. The UFCW is also picking up community support.
In Jan. 27 rallies nationwide, including one near Logan Square in Chicago, union members told communities of the retailer's record and urged opposition to Walmart – even if Walmart scaled back, in Chicago and New York, from its usual "superstores."
In all three cities, the retailer is courting lower-income communities, often heavily minority, with the promise of jobs – without saying anything about Walmart's below-poverty wages, expensive health benefits, anti-worker attitudes or offsetting job losses.
The UFCW and, in New York, its Retail, Wholesale and Department Store Workers Union affiliate, are countering the retailer's push with a massive publicity campaign about its abuses. They're also reaching out to faith groups and political leaders.
Meanwhile, Wal-Mart signed a 5-year agreement on Feb. 2 with the New York City Building and Construction Trades Council to say that any Walmart built or renovated in the Big Apple would be constructed with union labor.
Pat Purcell, an assistant to the president of UFCW Local 1500, said the union "supports them (building trades workers) getting whatever work they can get." The project labor agreement "goes to prove that Walmart is quite capable of paying union wages and benefits," Purcell added. And if Walmart thought the PLA would split New York's labor community, Purcell argued it would not work. "Walmart is not going to divide the labor movement or others over this issue," he told the AFL-CIO Building Trades Department.
In Chicago, "We held a press conference with community groups – including the Lakeview Chamber of Commerce – outside of the location in Logan Square," on the North Side, "to send the message that we are for economic development, but development with living wages," UFCW Local 881 spokeswoman Elizabeth Drae said.
Wal-Mart wants to develop a former factory there as a smaller store, not a superstore. That would allow it to evade local zoning battles and city council approval. It's trying the same tactic in New York, too.
Wal-Mart has already become an issue in several Chicago City Council races. One mayoral contender, former Democratic Sen. Carol Moseley Braun, has already said she is very dubious, at best, about more Walmarts in the Second City, Drae reported.
And local papers report that cashiers at Costco, the unionized chain that has a store just up the street from the potential Walmart site, earn $44,000 annually after three years on the job. Equivalent full-time Walmart workers would earn only $18,500.
The fight in New York will come to a head at yesterday's city council hearing, after a demonstration at City Hall. In New York, Walmart is trying to use an "as-of-right" loophole in city law to get a store into East Brooklyn – a mostly minority neighborhood – without having to get council approval, says RWDSU President Stuart Appelbaum.
RWDSU lined up community and civil rights groups in opposition to Walmart's expansion plans for East Brooklyn, and expects more, says union editor Levi Nayman. "The wolf is back, sporting new sheep-like clothing," warns Appelbaum. "Walmart's promise of low cost comes at too high a price, devastation of the middle class."
"The retail behemoth is considering opening smaller 'mini-Walmart' stores that aren't subject to the same zoning restrictions as their trademark superstores," he explained in a column. "Opposition to their plans to enter the city continues to grow, and New Yorkers remain firm in their belief that the city is not a Walmart town."
"One thing is clear: While the proposed size of the stores may have changed, Walmart's anti-worker, anti-union and anti-community policies haven't," he said.
"It's a corporate culture that seeks to lower the standards of all retail workers, and fights tooth and nail any efforts by its workforce to raise those standards."
D.C.'s "Living Wages, Healthy Communities" coalition lobbied city lawmakers. "Wal-Mart wants to open four stores in D.C.," the coalition stated. "But will it operate like it does elsewhere – paying poverty-level wages with few benefits, driving competitors out of business, forcing the loss of better jobs and sending our communities into deeper poverty — or will it respect its workers and its new neighbors?"
"We want to ensure no Walmart is built here unless the company shows it respects D.C. by agreeing to an enforceable community benefits agreement guaranteeing it will treat its workers with dignity, provide full-time living-wage jobs with affordable health and retirement benefits, and help our neighborhoods improve their economic standing and quality of life," the community coalition added.
The D.C. group cites an internal Walmart memo about its low wages, showing Walmart's national average wage is $11.75 an hour, or $20,774 a year – 2.5 percent below the average retail hourly wage in the whole industry and 6 percent below the poverty line.
Image: Brennan Cavanaugh // CC BY-NC 2.0