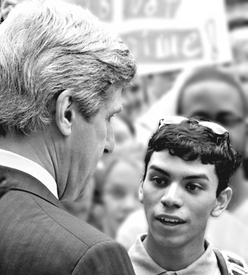 BOSTON — Mario Rodas graduated from Chelsea High School last year with honors and hoped to go to college to study computer science. But that was not to happen for the 19-year-old Guatemalan youth. Immigration and Customs (ICE) agents arrested Rodas for being an undocumented immigrant.
Rodas said the ICE agents were not even looking for him. "They were looking for a man who had a prison history," he said. But since Rodas did not have immigration papers, he was arrested.
"They want to send me to a country I hardly know. All my friends are here," said Rodas, who came to the U.S. with his mother and sister when he was 12, to reunify the family. His youngest sibling, Kevin, was born in Massachusetts.
Rodas has not only earned the support of people who know him, but also of other immigrants as well as people and organizations fighting for the rights of immigrants, documented and undocumented.
"I have the support of my Chelsea High School teachers, my friends, and members of the Chelsea school board, and council members," Rodas said. He is also backed by other public officials from different parts of Massachusetts.
At a June 26 "We are all Mario" picket line and press conference at Boston's JFK Federal Building, called by the Massachusetts Immigrant and Refugee Advocacy Coalition, Irish Immigration Center, Student Immigration movement and other groups, high school teacher Deidre Collins, who taught Rodas, said, "People like Mario continue to enrich this country."
Another of his former teachers, Karen Tompros, said the youth's interest in her Advanced Placement government class and his civic participation showed his commitment to the U.S.
Clergy, peace and justice activists, state Sen. Jarrett Barrios and Lawrence School Committee member Martina Cruz joined Rodas' teachers and friends from Chelsea High School on the picket line the day before he was scheduled for a hearing before an ICE administrative law judge. The hearing was postponed when Rodas showed up.
Supporters have been phoning, e-mailing and writing to Massachusetts Senators Edward Kennedy and John Kerry, asking them to intervene to stop the deportation. They are also asking Rep. Michael Capuano, whose congressional district includes the city of Chelsea, to intervene.
After the press conference Rodas approached and thanked Kerry, who had been giving a speech on energy policy a few blocks away, for asking the Department of Homeland Security to reconsider the deportation.
Kennedy highlighted Rodas' case during the immigration reform debates.