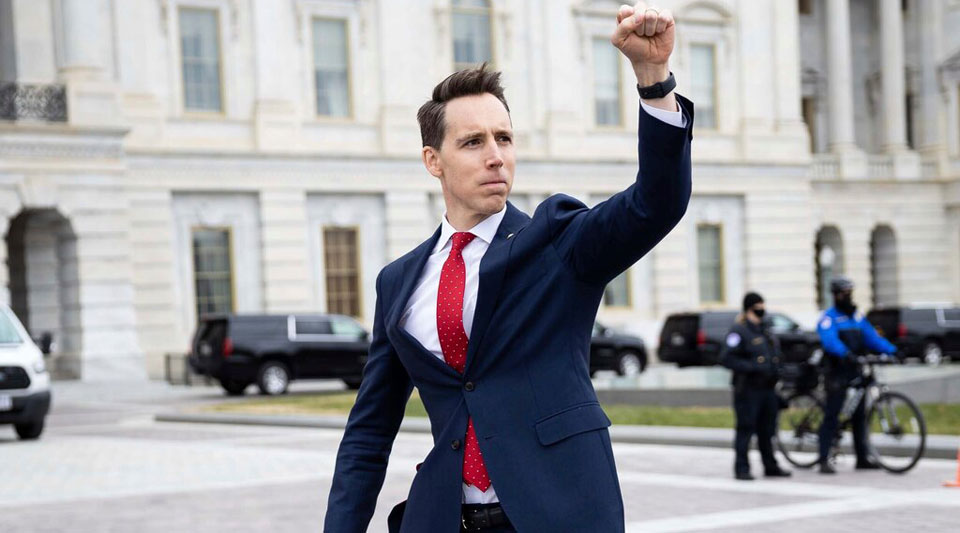 WASHINGTON—-The nation's largest union and progressive allies of the labor movement are fully on board with the growing nationwide push to immediately remove Trump from the White House.
They are also demanding close examination of how the most secure building in the world could be successfully breached by violent right-wing mobs acting at the behest of the president.
The three-million-member National Education Association has issued a call for Trump's ouster that has been joined by civil rights, church, civic, Democratic, and Republican groups, NEA President Becky Pringle said. The NAACP started an online "Impeach Trump now" petition.
The coalition shows the increasing momentum for getting rid of Trump. An ABC News poll reported on Jan. 10 that by a 56%-43% margin, respondents want Trump evicted immediately.
"Trump and his allies refuse to accept the will of the people and have endangered Americans and American democracy," said Pringle, an African American science teacher from Philadelphia.
The NEA critique also covers die-hard Trumpites in Congress, notably Sens. Ted Cruz, R-Texas, and Josh Hawley, R-Mo., and House Minority Leader Kevin McCarthy, R-Calif.  Citing the dead from the invasion, now including two Capitol Police officers, the Kansas City Star declared Hawley "has blood on his hands."
Meanwhile, the FBI nationwide, drawing on evidence from the insurrectionists' own social media boasting, started arresting invaders, including one in Iowa, another in Florida, two in Texas, one in Tennessee, and another in Arkansas. Only 50 or so were arrested after the invasion itself.
The Arkansan invaded House Speaker Nancy Pelosi's office and propped his feet up on an aide's desk for a selfie. The Floridian carried away her portable rostrum, which was later recovered.
Speaker of the House, Nancy Pelosi, said Congress would first try to convince GOP Vice President Mike Pence to convene the Cabinet to invoke the 25th Amendment, covering presidential disability or inability to serve, to set Trump aside.
A "deranged" president
On 60 Minutes,  Pelosi called Trump "a deranged, unhinged, dangerous president of the United States" who should be immediately removed.
Pence has already said he won't invoke the Constitution to set Trump aside, leading to the impeachment vote on two charges against Trump: Inciting the invasion, which was a coup attempt, and illegal pressure to overturn the 2020 election results, thus keeping himself in the Oval Office.
"In protecting our Constitution and our democracy, we will act with urgency, because this president represents an imminent threat to both. As the days go by, the horror of the ongoing assault on our democracy perpetrated by this president is intensified and so is the immediate need for action," Pelosi wrote to her colleagues.
"We're also talking about complete barring of the president–or rather of Donald Trump–from running for office ever again," Rep. Ocasio-Cortez said on ABC's This Week. "And in addition to that, the potential ability to prevent pardoning himself from those charges that he was impeached for."
The Trump invaders trashed the Capitol, damaging artworks, smashing windows and doors, spraying graffiti, parading with Confederate flags, uttering threats against Pelosi and Pence, wrecking furniture, stealing computers, files, and even Pelosi's podium, taking selfies with Capitol Police and posing in triumph in her office and in Pence's U.S. Senate presiding chair.
Lawmakers, staffers, and reporters were forced to run, duck for cover or barricade themselves inside offices. The Capitol Police erected minimal security fences, which were quickly overrun. They were also barred from calling for outside help by both their own top leaders—the House's and Senate's sergeants at arms–and by Trump until it was too late.
After the invaders were finally repelled, both houses of Congress, as the Constitution requires, certified at 3:45 am on Jan. 7 that Democratic presidential nominee Joe Biden beat Trump in that tally, 306-232.
Concern for safety on Inauguration Day  
Biden's inauguration is scheduled for Jan. 20, with the ceremony at the Capitol's West Front, but with only selected attendees. Trump has already said he'll skip it, the first president to do so in 152 years. Pence will attend.
Plans are afoot for much more massive security than the ineffectual Capitol Police force provided.
That's necessary, given that white Capitol Police were filmed taking selfies with the invaders—and that police departments as far away as Oakland, Calif., are questioning their own officers who were reported to have flown to D.C. for the pro-Trump invasion.
"We were telling them"—the officers who were part of the invasion—'to back up and get away and stop, and they're telling us they are on our side, and they're doing this for us, and they're saying this as I'm getting punched in my face by one of them," one Capitol Police officer, who asked to stay unidentified, told BuzzFeed News.
"That happened to a lot of us. We were getting pepper-sprayed in the face by those protesters—I'm not going to even call them protesters—by those domestic terrorists."
The few Black Capitol Police also drew the contrast between how the white nationalists were treated on Jan. 6 and the heavy use of force, including officers in riot gear, who confronted and often assaulted peaceful Black Lives Matter protesters from coast to coast during the summer.
"There's quite a big difference when the Black Lives Matter protests come up to the Capitol," one told Buzzfeed. "Some officers were catering to the rioters." The selfies of white officers with the invaders especially upset him "because I was on the other side of the Capitol getting my ass kicked."
"If you're going to treat a group of demonstrators for Black Lives Matter one way, then you should treat this group the same goddamn way. With this group, you were being kind and nice and letting them walk back out. Some of them got arrested but a lot of them didn't. Everyone who came into that Capitol should have been arrested regardless if they didn't take anything."
And one question that has yet to be raised is who financed the white nationalist and extremist websites where the invaders organized their insurrection, for weeks. Ginni Thomas, wife of GOP-named Supreme Court Justice Clarence Thomas and a conservative lobbyist, tweeted her love for the Trumpites. One tweeter from San Diego posted a report that Ginni Thomas, a favorite of the right-wing Federalist Society, also financed 80 buses to transport them to D.C.
Massive road closures planned
The Washington Post reported the extra security would include massive road closures from Capitol Hill to the White House and beyond, importing 6,000 armed and riot-gear-clad National Guard members to help provide protection, and erection of a seven-foot fence around the Capitol grounds—far higher than the bike-rack-like barriers the invaders broke through or tossed aside.
And Washington Mayor Muriel Bowser (D) asked Trump's acting Homeland Security Secretary, Chad Wolf to cancel all demonstration permits through Jan. 24. Wolf has yet to reply, the Post reported. That's even though, the paper added, some online Trumpites vow to return starting on Jan. 17. One tweeted, in caps, for "AN ARMED MARCH ON CAPITOL HILL & ALL STATE CAPITOLS."
The invasion itself and its threat to the continuation of the U.S. as a functioning democratic republic led to the NEA's pro-impeachment stand. The stand is notable because the NEA is a nationwide union, including in red states Trump carried in 2016 and 2020. NEA drew largely supportive tweets.
"Our nation is based on a promise that every single person—Black, Latino/a/x, Asian, Native, White, regardless of wealth—can pursue a better tomorrow. That promise is in jeopardy because President Donald Trump and his allies refuse to accept the will of the people and have endangered Americans and American democracy," said Pringle.
"In government and social studies classes, NEA members teach students about the Constitution and the duties of citizenship. They teach our elections depend not only on citizens to exercise the right to vote, but also willingness to accept the results.
"More fundamentally, we teach our children—even before they begin formal schooling—this basic concept of fair play: In any competition, someone wins and someone loses. Conveying this concept is challenging when our children are getting a lesson from some elected 'leaders' in what NOT to do: Throw a temper tantrum, discredit the process, attempt to delay the inevitable, and if none of that works, sow as much discord as possible before you exit the field."
Implicit in that statement was a blast at Trump's die-hard congressional supporters, led by Hawley and Cruz, as well as at Trump's constant caterwauling the election was "stolen" and his demands to Georgia's officials to, among other tactics, find or create, enough votes to give him the win.
When all that didn't work, Trump demanded, and right-wing hate sites on social media echoed, the call for the mob to march on the Capitol, which they then invaded.
Trumpites endangered airline passengers
As lawmakers voted this week, other repercussions from the Jan. 6 coup attempt included:
The nation's two big flight attendants unions, the Association of Flight Attendants-CWA, which represents United and Southwest workers, and the Association of Professional Flight Attendants, which represents those at American Airlines, demanded the federal Transportation Security Administration (TSA) put U.S. Capitol invaders on its "no-fly" list, joining foreign terrorists. So did House Homeland Security Chairman Bennie Thompson, D-Miss.
AFA-CWA President Sara Nelson and APFA President Julie Hedrick cited disruptions and threats emanating from Trumpites flying into Washington's National Airport on the way to the Jan. 6 invasion and out of it afterwards. "This is a new kind of threat in the air. We should keep problems on the ground," Nelson said.
Independent journalist Maranie Staub tweeted a description of one typical flight: "And so it begins. On a plane from TX—>DC flight attendants are struggling to control a plane full of Trump supporters as they display a pro-Trump projection and harass others passengers."
"Our first priority in aviation safety and security is to keep any problems on the ground. Some of the people who traveled in our planes yesterday participated in the insurrection at the Capitol. Their violent and seditious actions…create further concern…Acts against our democracy, our government, and the freedom we claim as Americans must disqualify these individuals from the freedom of flight," Nelson added.
"The mob mentality behavior that took place on several flights to the D.C. area was unacceptable and threatened the safety and security of every single person on board," Nelson continued. "There's a reason that there are strict penalties and fines for failing to comply with crewmember instructions. Enforcement keeps everyone safe."
"To say that I am worried about our flight attendants' safety is an understatement," added APFA's Hedrick. She described continuing threats by un-arrested Trumpites after the invasion.
"Racial epithets were hurled towards a Black Flight Attendant as they rode to the [Washington] DCA airport in the hotel shuttle. On another flight, a group of passengers removed their masks after takeoff and harassed the Flight Attendants and other passengers throughout the flight… These are just two examples of too many we have seen on flights this week. This behavior is dangerous and threatening."
The TSA's chief, a former airline pilot, said his screeners would take strong measures to prevent disruptions on planes, including removal of offenders and $35,000 fines. He did not mention the no-fly list.
The death toll rose to six. A second Capitol Police officer, Howard Liebengood, reportedly depressed over the force's failure to stop the invaders, committed suicide. After days of dithering, Trump on Jan. 10 finally ordered flags lowered to half-staff in memory of both Liebengood and the officer the mob killed, Brian Sicknick.
Besides the two officers, one Trumpite woman was fatally shot inside the Capitol as part of the mob trying to break down the doors of the U.S. House chamber. Three other Trumpites suffered unspecified "medical emergencies" and died.
Earlier, Pelosi, McConnell, and incoming Senate Majority Leader Chuck Schumer, D-N.Y., together fired the House and Senate sergeants at arms, who are Congress' top law enforcement officers, but also political appointees.
Capitol Police Chief Steve Sund, who previously said he would quit on Jan. 16—after Pelosi threatened to fire him—left on Jan. 10 instead. But on his way out, Sund told the Post the two sergeants at arms denied his initial request to mobilize the entire 1,100-person D.C. National Guard, in riot gear. The request reached Trump by other channels, but he refused, too. Pence finally stepped in to send the Guard, too late.