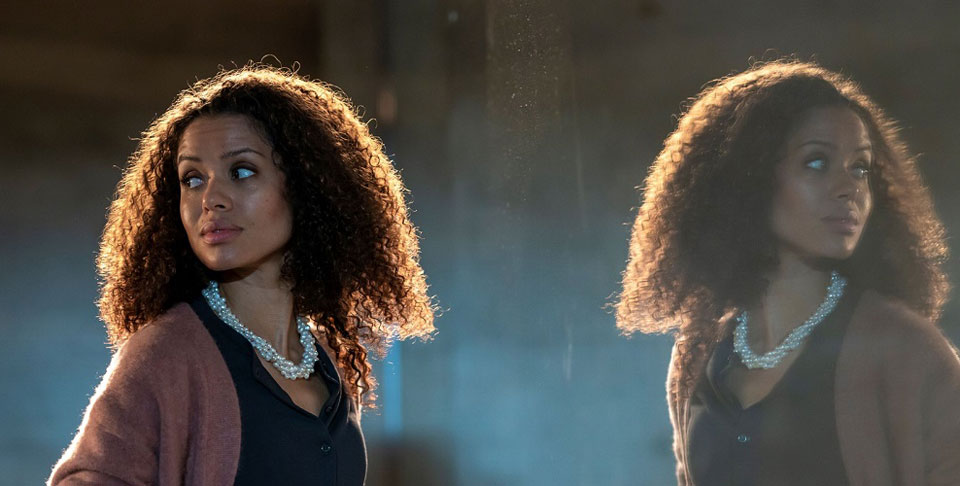 The latest works of South African-British actress Gugu Mbatha-Raw are notable. Investing her usual intelligence and sensitivity, Mbatha-Raw elevates two genres—the psychological thriller of The Girl Before and the science fiction superhero Fast Color.
The mysterious The Girl Before is an uneasy comparison of star architect Edward's (David Oyelowo) present relationship with Jane (Gugu) and his previous lover Emma (Jessica Plummer). There are many suspects in Emma's death, though clearly, Edward is the principal. Is he now threatening Jane?
Though a study in familial relationships, Fast Color wears its science fiction just as edgily as any mystery. The ever prickly Lorraine Toussaint, the ever laconic David Strathairn, and energetic newcomer Saniyya Sidney are all quite good at supporting the superpower-burdened Mbatha-Raw. These powers are not necessarily marvelous and certainly not to be brandished with irresponsible abandon. Yet in the right hands, they just may be a force for good!
Both films more than anything are uncanny studies in character that dispense with most of the shock and awe pandering of these two worn-to-exhaustion movie categories. Instead of attempting to overwhelm viewers by overlayering graphic violence, carnage, and pyrotechnics, both vehicles pare back the dope tropes. Instead of sacrificing production values, sets are minimalist yet still elegantly sleek. Dialogue is pointed, not hyperbolic, quickly framing character development. Plot progressions push the viewer to question values, to be an active participant in solving the mysteries in front of them rather than a sated overindulger at a sensory movie buffet.
Although neither Fast Color nor The Girl Before makes a separate statement on race, the principals in both films are Black. By not focusing on how the lead actors' backgrounds affect their actions, both works allow the viewer to draw their own conclusions…and celebrate two very well done pieces.
Also, well worth noting is the admirable non-thespian work of Ms. Gugulethu Sophia Mbatha-Raw. The daughter of a South African doctor and a British nurse, Gugulethu (the contraction of "igugu lethu"—"our pride" in Zulu) Sophia Mbatha-Raw has come a long way from winning British Independent Film Awards Most Promising Newcomer, National Youth Theater, a strong Shakespearean background (playing Juliet to Andrew Garfield's Romeo), Doctor Who and her breakthrough prize winning performance as Belle (2013), a strong mixed-race woman among the 18th-century British nobility as well as the current hidebound British film cognoscenti.
Gugu has been an outspoken proponent for immigrants and otherwise displaced peoples. She spoke at the U.N. Headquarters when Belle was screened in honor of International Day of Remembrance of the Victims of Slavery and the Transatlantic Slave Trade. Later she was appointed Member of the Order of the British Empire (MBE) in 2017 for her service. She has campaigned tirelessly around the globe for refugees, including Burundian and Congolese refugees in Rwanda and Uganda, sponsored a Refugee Paralympic Team, and was appointed in 2021 to be global Goodwill Ambassador for the United Nations High Commissioner for Refugees (UNHCR).
One can only hope that Gugu will continue to use her extraordinary gifts, gracing our screens to advance such causes and further our understanding and action. Meanwhile, Amazon has announced it will develop the Fast Color movie into a television series to be produced by Academy Award winning actress-producer Viola Davis.
Fast Color is available live streaming on Netflix and Hulu. The trailer can be viewed here.
The Girl Before is available live streaming on HBO Max. See the trailer here.