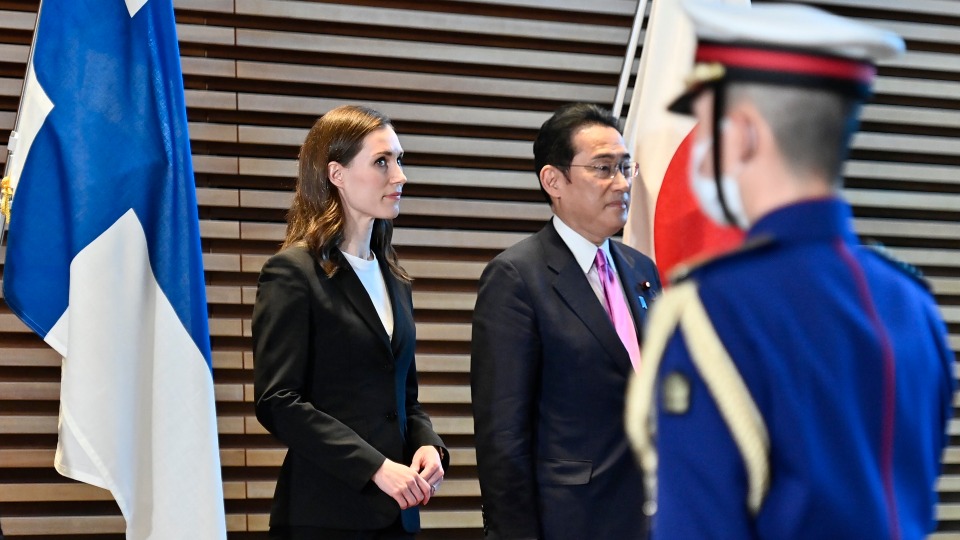 Finnish Prime Minister Sanna Marin said Thursday that her country should apply to join the NATO military alliance "without delay." Signing up with NATO, Marin said, was necessary to guarantee the security of Finland's citizens. She also called for the international community to step up sanctions against Russia.
Non-aligned Finland is set to announce their positions on NATO membership this week. During the long Cold War, Finland, along with Sweden, maintained a neutral military status, opting to join neither the U.S.-dominated NATO alliance nor the Warsaw Pact of the socialist countries of Eastern Europe.
Sticking to neutrality allowed for good relations with both the West and the Soviet Union and other socialist countries. It is a policy that enjoyed widespread popular support for decades, and earlier this year Marin said it was "very unlikely" that Finland would join NATO as long as she was prime minister. The Russian invasion of Ukraine has shifted public opinion, however.
"If Finland makes this historical step, it is for the security of our own citizens," Marin said at a news conference in Tokyo after meeting Japanese Prime Minister Fumio Kishida. "Joining NATO will strengthen the whole international community that stands for common values," she claimed.
The move to make Finland's NATO membership official would mark a codification of what has amounted to de-facto military integration for years. Finland concluded cooperation agreements with NATO in 1994 aimed at ensuring what the military pact calls "interoperable capabilities," meaning the Finnish armed forces are always structured and coordinated so as to be able to work seamlessly with those of NATO member countries.
Finland has also previously participated in NATO-led operations in the former Yugoslavia, Afghanistan, and Iraq. Becoming an official member of the alliance, however, opens the possibility that U.S. nuclear-capable weapons could be placed in Finland, as has happened in other NATO countries.
Predictably, the Russian government slammed Marin's announcement and said it would respond if Finland moves ahead with the plan. The Russian Foreign Ministry issued a statement saying, "Finland joining NATO is a radical change in the country's foreign policy." It said that Russia may take "retaliatory steps…of a military-technical and other nature." The ministry called the move part of a NATO effort to "continue expanding toward the borders of Russia," as it said was the case in Ukraine.
Finland shares an 830-mile land border with Russia. If it joins NATO, the length of border Russia shares with NATO territories would roughly double. It already has five NATO members on its border: Latvia, Estonia, Lithuania, Poland, and Norway.
As tensions escalated over NATO expansion, brutal fighting carried on in Ukraine while Russia and the West exchanged rhetorical attacks on one another.
Russian artillery barrages rained down on the last redoubt of Ukrainian resistance in the devastated port city of Mariupol. The neo-Nazi Azov Regiment said on social media Thursday that Russian forces carried out 38 air strikes in the last 24 hours on the Azovstal steelworks, where Azov troops are holed up. Scores of civilians were evacuated in recent days, but Ukrainian officials said on Tuesday that about 100 civilians could still be trapped there.
Near the city of Kharkiv, Ukrainian forces stepped up a counterattack, reportedly recapturing a number of towns and villages near the Russian border. Kharkiv was a site of heavy fighting shortly after the invasion, but the redeployment of Russian forces to the Donbass left an opening for a Ukrainian offensive.
Amid the ongoing combat, European Commission President Ursula von der Leyen branded Russia the "most direct threat" to the international order. Prior to taking up her EU post, von der Leyen was the German defense minister for five years. In that position, she led Germany's biggest military expansion in three decades. She has been widely discussed as a possible future NATO secretary-general.
Following von der Leyen's remarks, former Russian President Dmitry Medvedev said that the infusion of more weapons into Ukraine by Western countries would increase "the likelihood of a direct and open conflict between NATO and Russia instead of their 'war by proxy'."
As the current phase of the war in Ukraine concluded its 77th day, there were unfortunately no reports of peace overtures being made by any of the parties involved.