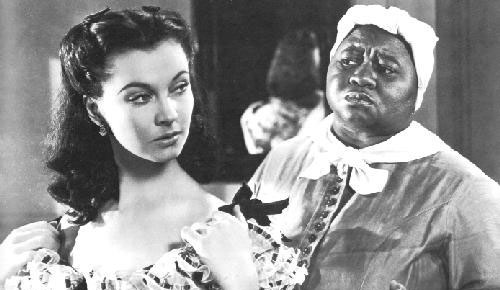 On a day that many would like to forget, this day in 1940 actor Hattie McDaniel won the best supporting actor Oscar for portraying Mammie in the film Gone With The Wind.
The film is based on the novel by the same name authored by Margaret Mitchell.
The role is credited as shaping stereotypical perceptions of African American women for decades. Both the film and the novel perpetuate racist 19th century views of black people.
McDaniel was a versatile performer and is credited with being the first black woman to sing on the radio.
She appeared in the 1920s in several minstrel shows and movies. In the film Showboat McDaniel sang alongside Paul Robeson.
Roles in film for African Americans at the time were almost exclusively as maids and servants. McDaniel excelled at appearing in such roles, for which she received wide criticism
Paul Robeson broke new ground in succeeding to win wider stage and screen roles.
McDaniel's appearance in Gone With The Wind became a major political event, with the NAACP campaigning to remove racist language from the movie and its celebration of the Ku Klux Klan as saviours of white women from rampaging black rapists.
The black actor herself was not allowed to appear at the film's Atlanta premier. At the Hollywood Oscar's she was forced to sit at a segregated table.
McDaniel was the only African American woman to receive an Oscar until Whoopie Goldberg's performance in Ghost in 1990.
This year actor Octavia Spencer also won best supporting actor for playing a very different type of maid in the The Help.
Notwithstanding Oscar wins in recent years by Denzel Washington, Halle Berry, Mo'Nique, Morgan Freeman, Jamie Foxx, Forest Whitaker, and Jennifer Hudson, roles for black actors are still quite limited.
The same can be said for other actors of color.
The Academy has also been criticized for not awarding Oscar prizes to Latino and Asian actors.
McDaniel died in 1952. In 2006, she became the first Academy Award winner to be honored with a U.S. postage stamp.
Photo: Still from Gone with the Wind.