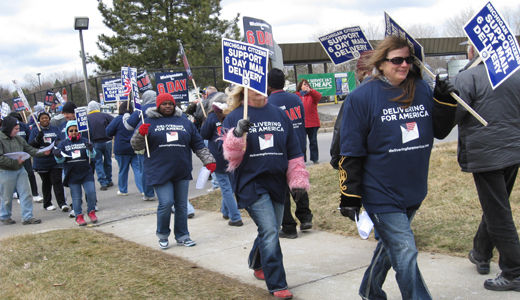 SOUTHFIELD, Mich – The chant came loud and clear: "Five day, no way." At the Post Office here and all across the nation, postal worker unions turned out in huge numbers on Sunday giving notice to the nation's elected officials that six-day mail delivery is here to stay and that the dismantling of the nation's postal service will not begin on their watch.
"It's a manufactured crisis" said Michael Sheridan, President of the South Macomb Letter Carriers Branch 4374, one of the nearly 800 people present at the very lively rally. He explained that over 80 percent of the Postal Service's red ink the last four years came from being forced to pre-fund retiree health care for 75 years. The extreme pre-funding was mandated by the Postal Accountability and Enhancement act of 2006.
The act requires the Postal Service to pay $5.5 billion a year into retiree health care, said Sheridan. "We currently have $46 billion dollars sitting in that fund, unusable until 2016."
Sandra Laemmel, pesident of Branch 1 NALC in Detroit, said the Postal Service is the "only organization that has to do that." We have to pre-fund for people who "aren't even born yet," she noted.
She also stated six-day delivery is every "American's tie to the world," saying many people do not have internet access and rely on critical Saturday deliveries like medical prescriptions.
Offering strong support to the postal workers was Michigan Rep. Gary Peters (D-14th) who promised to vote against pre-funding mandates and said he was "proud to stand" against Republican efforts to go after the labor movement both in Washington and Lansing.
Peters said we are going to send a "very clear message" that it was wrong for Republicans to turn Michigan into a right-to-work (for less) state. He also said though Governor Snyder initially said right-to-work (for less) was not on his agenda, we are going to let him know "defeating him is number one on our agenda." Snyder's term will end in 2014.
Roscoe Woods, president of the American Postal Workers Union, Local 480-481, said the mail unions have been incredibly innovative in trying to save the Postal Service money.
He mentioned 80,000 jobs have been shed through attrition and the unions have agreed to work rule changes.
But Woods said "it's just never enough. Once you do, it's always more. There are so many "private forces" out to snatch the work postal employees do, he said.
Royal Oak letter carrier John Dick put it another way "As out of date as they say we are, there are a lot of people that want to get their hands on this out of date system."
Photo: April Smith/PW