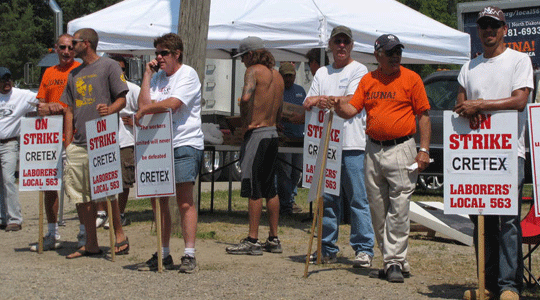 SHAKOPEE, Minn. – For 38 members of Laborers Local 563 forced to strike at the Cretex concrete manufacturing plant in Shakopee, Minn., preserving the promise of their hard-earned pension is the key issue.
Workers voted to go on strike June 19. When the Labor Review went to press July 19, they continued to walk their picket line — with no further negotiations scheduled, according to Steve Buck, Local 563 business agent.
A visit to the Cretex picket line mid-day July 10 took place as the morning picket shift of striking workers mingled with the afternoon picket shift and the union provided a dozen take-out pizzas for lunch for all.
"We've been out for three weeks," said Todd Mutch of Apple Valley, who has worked 29 years at Cretex and is Local 563's steward at the plant. "Out of the three weeks" of the strike, "they haven't made one day's worth of product."
Mutch summed up the reason for the strike. "We don't want to give up our pension," he said. "They've been trying to shove this 401(k) down our throats," he added – a scheme other workers nationwide have encountered in recent decades.
"They're trying to take money we allocated from our raises and put it in their pocket," Mutch added.
In place of the $4.07 per hour workers chose to allocate to their defined benefit Laborers pension fund, the company would contribute $1.19 per hour to a 401(k) plan.
The workers are pretty savvy — they know they're better off with the current defined benefit plan instead of the proposed 401(k), which is subject to the ups and downs of the stock market.
Plus, under the company proposal, workers with less than five years at Cretex and not fully vested in the pension would lose everything they've contributed.
One of those workers is Alex Ocampo of New Hope, who has worked three years there. "I've been putting into the pension," he said. "In the last three years I've put in close to $6,000. Now they want to keep the money. It's not their money. It's our money." Ocampo added: "There's a lot of guys like me."
The Laborers at Cretex also include many longtime workers like Rhonda Wellentin of Belle Plaine, who has worked 19 years at the plant and is one of three women among the strikers. "I want my pension and I don't think the corporation should be taking any money from us," she said. "That's mainly why I worked here for so long in a man's world."
"I'm a hard worker," Wellentin said. "That's one reason they've kept me on here."
"It doesn't sound good for me, when say I'm 80 years old, when I have no pension and my 401(k) runs out," she said. "What am I supposed to do? Go back to work? That's why I want the pension."
Dan Parkin of Lakeville has worked 10 years for Cretex at the company's Shakopee plant and five years at the company's Elk River plant. After years of physically demanding work at Cretex, he said, the promised pension is "your only light at the end of the tunnel."
"I've never stood up for anything in my life, whether it's 'Save the Whales' or anything," he said. "But this is too much to give up."
"We're all in it to win it," Local 563 steward Mutch said. "We're diverse. We've got Hispanics. We've got women. We're not going to give up. We all want our pension."
In addition to strike benefits, Local 563 is helping the workers by covering their COBRA payments to maintain their health insurance — which the company cut off the day they went on strike.
"There's not much we can do but stay together and try to win," Ocampo said.
Steve Share is edtior of the Minneapolis Labor Review.
Photo: Workers on strike at Cretex plant. Minneapolis Labor Review