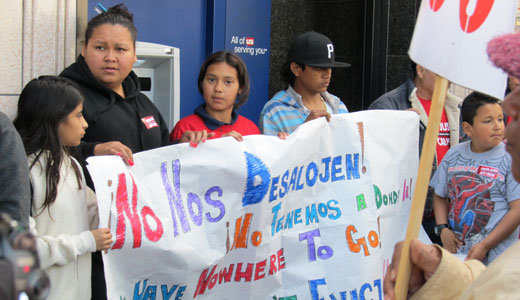 SAN FRANCISCO – A U.S. Bank branch in the Mission District was the site of a different kind of anti-foreclosure protest April 26, as three families who are tenants in a foreclosed building, accompanied by some 100 supporters, demanded the bank collect their rent and let them stay in their homes.
Though legal papers to evict them have yet to be filed, the bank, which now owns the building, is pressing the families to leave. The families – all single mothers with young children – say they don't have the resources to move, and have no place else to go.
The families and their supporters, including Causa Justa/Just Cause, a grassroots organization building community leadership among low-income people, are calling on U.S. Bank to "be a responsible landlord," collecting rents from the families and making needed repairs to the building.
They are also asking that Interim San Francisco Sheriff Vicki Hennessey not proceed with any eviction if the bank does go ahead and file paperwork with her office.
"I am here to ask the bank to acknowledge us as legitimate tenants," said Maria Mendoza, addressing the crowd in Spanish. "I am a single mother of two children who have disabilities, and I need to stay in my home."
Mendoza said the families took their children out of school for the day, so they could participate in the protest.
The young daughter of one of the families, speaking in both Spanish and English, told the crowd, "We don't want to leave this house. How would people from the U.S. Bank or people that are against us, feel if they were without a home? Please don't put us out; we are really worried."
Though attention is usually focused on owners of single-family homes whose mortgages have been foreclosed on, many foreclosures involve tenants who are current in their rents and often don't know the buildings they live in have been foreclosed on until they get an eviction notice.
In a statement, Supervisor John Avalos, who represents the district where the families live, said the families' plight "shows the urgent need for sweeping state and federal measures to attack the foreclosure crisis, and keep our families, whether homeowners or tenants, in their homes." He called on the bank to stop its eviction efforts.
When bank officers refused to receive their handwritten letter, the children of the three families posted it on the bank's front door, to cheers from the crowd. "We are giving you a chance to do the right thing," they wrote. "Please don't kick us out!"
Causa Justa said the action, which came on the heels of the massive San Francisco action against Wells Fargo, is a continuation of actions by the labor-community-environment-immigrant rights coalition 99% Power, now mobilizing actions across the country at other big banks and corporations.
Photo: Marilyn Bechtel/PW