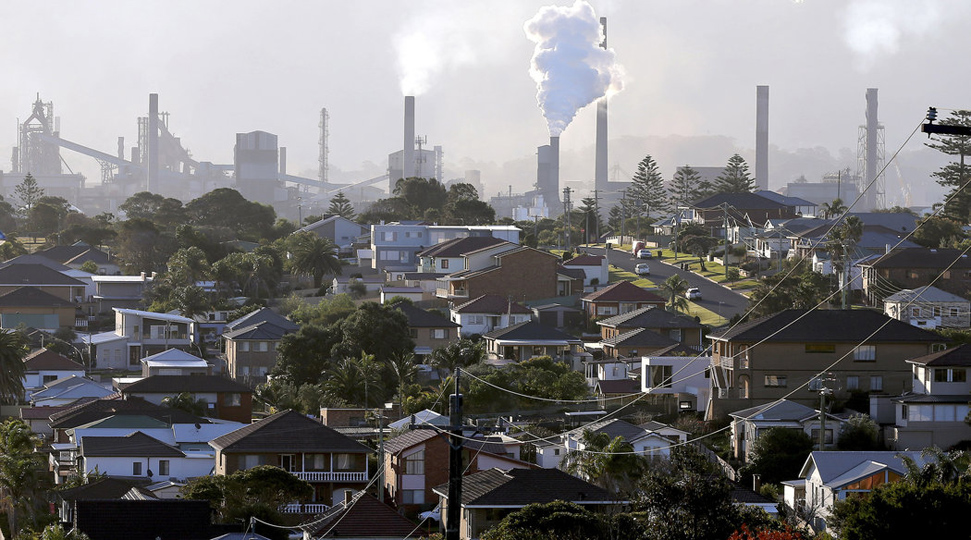 In many developed countries, wind farms and massed solar arrays are everywhere, and coal and gas power is being phased out. However, the government of Malcolm Turnbull in Australia is determined to inhibit renewable energy development while pretending to support it. Most of the gas from Australia's large gas reserves is exported, and now the government wants the states to lift their bans on coal seam gas (CSG) mining rather than move toward renewable power.
Adopting renewables as the main source of electrical energy and phasing out fossil fuel mining should be primary national objectives, but the Conservative coalition opposes that approach. The government has proved itself to be not just the servant of capital, but the servant of a particular sector of capital which is now threatening human life on the planet.
Last Wednesday, South Australian Premier Jay Wetherill of the Labor Party revealed plans to stabilize his state's renewable energy production by gaining back-up power from a privately-operated 100 Mw battery station and a 250 Megawatt government-operated gas-fired power plant.
The next day, Prime Minister Turnbull hastily announced his government's intention to introduce a "pumped hydro" energy storage scheme in the Snowy Mountains, which he claimed would save South Australia from having to build back-up facilities.
However, Turnbull's scheme has not been proved geologically, technically, or financially feasible, and his announcement was immediately eclipsed by an Adelaide press conference during which Wetherill and federal Energy Minister Josh Frydenberg clashed over energy policies.
When Frydenberg sneered at Wetherill's plan for a rapid transition to 50 percent renewable energy power generation, Wetherill replied that the federal government had "bagged" his energy policies repeatedly and that its treatment of South Australia was a disgrace.
As if to prove Wetherill's point, Frydenberg once again blamed him for recent blackouts in South Australia, even though they were actually caused by destruction of transmission towers and the failure of private power operators to transmit supplementary energy during violent weather.
The battle for energy domination
The federal conservative Coalition obsessively backs the fossil fuel industries. However, it cannot reject scientific evidence that carbon dioxide from fossil fuel power stations is the largest contributor to atmospheric carbon, and that high carbon levels are driving potentially catastrophic climate change.
The Turnbull government's recent endorsement of new coal-fired power stations has been rejected by private investors and the public. Consequently, the government is now claiming that because of the variability of wind and solar power, gas is the best means of delivering reliable power, and that renewable energy need provide only marginal assistance.
But South Australia is committed to gaining 50 percent of its power from renewable energy sources. The Turnbull government argues that the state should delay implementation of its renewable energy program until release of the federal Chief Scientist's energy report, but Wetherill refuses to do so.
Wetherill also wants farmers to accept coal seam gas mines (CSG) on their properties in return for 10 percent of the gas royalties. The Turnbull government supports him, but it's an extremely dangerous proposition. Methane gas almost always escapes from CSG mines, damages the local environment, and accelerates climate change. It's a far more potent greenhouse gas than carbon dioxide.
Wetherill's decision to pay for building the gas power station rather than the battery storage plant is a mistake. Nevertheless, with adequate battery storage and guaranteed access, the gas back-up generators would rarely if ever be used.
The state could then be converted to 100 percent renewable energy power generation, and other states would probably follow South Australia's lead. And that's something the Turnbull government will fight tooth and nail to prevent.
White elephant runs riot
Pumped hydro can regulate the flow of power derived from renewable energy sources, and create extra power for the national grid. During low demand periods water is pumped upstream from a low dam or reservoir for storage in high reservoirs, and is released to generate power during peak demand periods.
If the water is pumped using power from the existing turbines, no extra power is created. If coal or gas-fired power stations are used, extra power is created, but carbon is emitted and power is lost because of the transition from one form of energy to another.
Wind or solar energy should therefore power the pumps, but the Turnbull government is certain to insist on coal or gas-fired power stations.
Moreover, pumping water upstream during droughts may cause water shortages for farmers and rural communities downstream. Brisbane's Wivenho dam incorporates a pumped hydro system, but as the Brisbane floods demonstrated recently, keeping reservoirs topped up entails the risk of flooding during periods of extreme rainfall.
Turnbull's "ballpark" estimate of $2 billion and a four or five-year timeframe for building the pumped hydro scheme would undoubtedly be exceeded, and $2 billion could buy an awful lot of battery storage.
Turnbull also indicated that if NSW and Victoria don't agree with his Snowy Mountain scheme, the federal government would fund it themselves, and it's certain to be operated privately as part of the disastrous profit-driven national energy market.
If the scheme goes ahead, Australia is likely to be left with a massive $2 billion white elephant, a string of privately-operated power stations pumping carbon skywards for an anticipated 50 years.
The bigger picture
The government wholeheartedly supported privatization of electricity generation and distribution. That's been a nationwide financial disaster. Consumers are now paying 43 cents in every dollar as profits for the energy companies.
The massive foreign-owned, unprofitable Hazelwood power station will shut down on April 2, and the national grid may not be able to meet peak power demands next summer. The quickest and most enlightened solution would be to install government-owned renewable energy power plants with battery storage back up. But the Turnbull government stands in the way.
To meet the nation's power needs and play our part in mitigating climate change, we must pressure state governments to support renewable energy. And at the earliest opportunity we have to replace the Turnbull regime with a government that is not the slave of the fossil fuel industries and the private sector.
This is an edited version of an article which originally appeared in The Guardian (Australia).