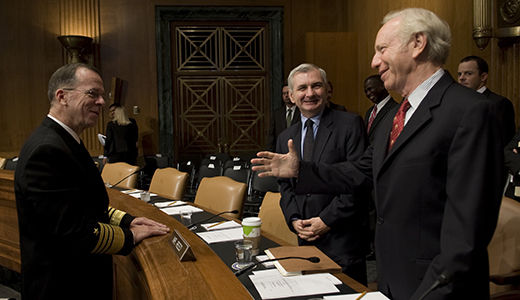 HARTFORD – Several dozen demonstrators gathered in front of Senator Joseph Lieberman's Hartford office at Constitution Plaza yesterday to question the Connecticut Senator's position on universal health care and the public option. Senator Lieberman has vowed to filibuster any health care bill that includes such a provision. The action was organized by "Mobilization for Health Care for All", a committee which includes students from Wesleyan University and the University of Connecticut.
The Constitution Plaza demonstration eventually resulted in four arrests.
The demonstrators arrived at Lieberman's office shortly after 10 am. A picket line was set up after the group was refused entry into the building. Several phone calls to the Senator's office were put on hold and then disconnected. A spokeswoman finally came outside to tell the group that " all views would be considered…" When asked if she would get Senator Lieberman on the phone to discuss their concerns with him, the staff person refused.
Two demonstrators noted that a 25 year old friend has had to resort to fundraisers to raise money for her cancer treatment, referring to her as "a victim of the private health insurance industry". The Lieberman spokeswoman offered no response (nor any constituent assistance).
Shortly afterwards, four demonstrators were arrested by Hartford police for staging a sit down at the building's entrance and refusing to leave until they heard from Lieberman.
A spokeswoman for the demonstrators said that they had been trying repeatedly without success to get Senator Lieberman to have a discussion, hold a meeting, or schedule a public forum on the health care issue. Among the protestors was one of nine persons arrested at a sit-in at Senator Lieberman's Washington, DC office last week.
Yesterday's demonstration followed several other health care protests held around Hartford in the last few months, as various organizations continue to mobilize in support of health care reform.
In 2009 about 28,000 Connecticut residents will lose their health insurance, bringing the total uninsured to over 300,000 by the end of this year. Roughly two thirds of the state's residents now support a "public option".
Seniors are also taking more aggressive steps to support health care reform and the public option. The Alliance for Retired Americans, affiliated with the AFL-CIO, and AARP have endorsed health care reform with the public option. The senior groups, in coalition with labor and others, have recently produced a video explaining the lies told by Fox News and the "tea-bagger" types regarding health care reform and the public option.