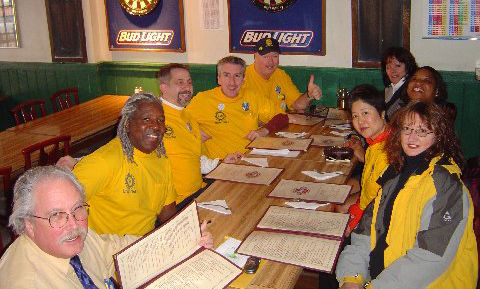 Mashantucket – After three years of organizing with the United Auto Workers (UAW), 2,500 casino workers at the Foxwoods Resort Casino and MGM Grand complex will vote on their first union contract tomorrow. It is the largest gaming complex in the country.
UAW Local 2121 said the "historic first union contract with Foxwoods" is the first in the country negotiated under tribal law. They hope that it will open possibilities across the country.
The table-game dealers had voted in favor of UAW representation in November 2007, but the company challenged the election on the basis that the casino is owned by the Mashantucket Pequot sovereign nation and not bound by National Labor Relations Board (NLRB) rulings. The U.S. Court of Appeals upheld the election, but the company was continuing its appeal.
A year later, when the tribe agreed to recognize the UAW as bargaining agent, the workers agreed to negotiate their first contract under tribal law instead of the NLRB.
"This is the first union contract to acknowledge tribal jurisdiction," said a Mashantucket Pequot statement, "which was the basis on which both parties expended extraordinary efforts to reach an agreement." The casino, which opened nearly 20 years ago, has become the largest private employer in the state with over 12,000 workers. It is a multi-racial workforce including many Asian, Haitian and Latino immigrants.
The two year contract includes a 12 percent wage increase and a system of pooling and dividing tips between the casino and MGM Grand, a high end facility opened in May, 2008.
Language for job safety is considered by the UAW to be "an industry model," with prevention for repetitive stress injuries, medical leave extended from six months to a year in the case of serious illness, and a smoke free area for workers and customers. The issue of banning smoking was brought to the state legislature last year by the workers.
The workers also won a seniority clause for job protection and promotion, and a grievance procedure including arbitration.
Denise Gladue, a baccarat dealer with 15 years seniority called the contract "a great victory." She said "This preserves our basic benefits during a tough economy, provides job security and contrct improvements in so many areas. We see this agreement as a win-win for employees and for the future success of the casino."