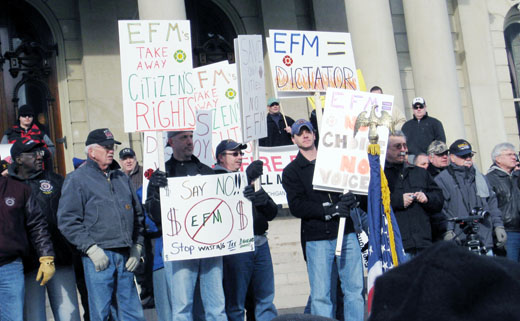 DETROIT – The appointment of emergency managers in Michigan cities of Benton Harbor, Flint, Pontiac and Ecorse prompted Congressmen John Conyers Jr., Hansen Clarke and Gary Peters, plus dozens of state and local officials to sign and send a letter to Governor Rick Snyder requesting a meeting to express "our concerns of Michigan's Emergency Financial Management law, its prior applications and its possible pending application to the city of Detroit."
The letter sent last week said, "Although we come to this matter from a variety of political perspectives and ideologies, we share in the belief that applications of the Emergency Manager Law have the potential to irreparably and irreversibly undermine both voting and collective bargaining rights."
The signers said they had a particular concern the law may be "disproportionately applied to disenfranchise persons of color."
The letter notes if the law is applied to Detroit, approximately 50% of African Americans in the state would be under the authority of unelected managers.
In addition, Conyers has called on Attorney General Eric Holder to review the constitutionality of Michigan's law, which appoints an emergency manager, who, according to the Kalamazoo Gazette Editorial Board, "could terminate contracts held by teachers and local government employees, strip local elected officials of most of their powers and, ultimately, vest authority in some appointee from outside the community."
A stark example of the power of emergency mangers emerged earlier this week when it was announced that Pontiac's emergency manager is selling city assets including five fire stations, two cemeteries, two landfills, 11 water-pumping stations, two community centers, the public library and a police station.
A state financial report released Dec. 21 purportedly showed Detroit's debt deeper than expected and heightened the danger of the state appointing an emergency manager.
An emergency manager for Detroit will result in severe cuts for those already living under harsh conditions.
A prevalent misconception is that Detroit's problems are the result of mismanagement. Whatever faults there may be, today's elected officials are doing a job that is certainly no worse than those who ran the city decades before.
What has changed is the downsizing of Detroit's auto dependent economy, and corporate decisions to move jobs out of the city, state and country.
In addition, a housing crisis, where blame lies with Wall Street not Detroit, has resulted in foreclosures, vacancies and a further erosion of the tax base.
It might be better to ask why many cities throughout the country are facing deficits. The nation is not poorer nation than it was 30 years ago. The problem is wealth is concentrated in the hands of the one percent.
What many are asking is if we could bail out Wall Street why not Detroit?
Photo: (PW/John Rummel)