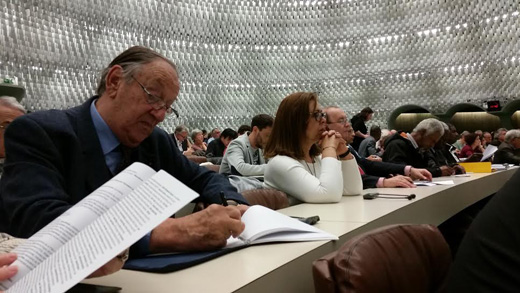 PARIS, France – More than a hundred delegates from organizations around the globe gathered here June 1 for the International Conference for World Peace and Progress convened by the Communist Party of France (PCF). "We have to build new forms of collective security and progress. We must stand together today and draw on our collective experiences," Lydia Samarbakhsh, international affairs coordinator for the PCF, said as she welcomed the assembled guests. "This is a starting point," she stated, "the beginning of a common construction of our shared struggle."
The 120,000-member strong PCF organized the meeting, which brought together over 125 international participants from 88 organizations and 56 countries, as well as hundreds of PCF leaders and French peace activists.
Samarbakhsh said the PCF called the conference due to the "deteriorating situation in international relations and the negative role of the French government" and the "over-bearing weight of financial inequality here and around the world." Inequality, she argued, was an essential part of the international peace agenda due to its potential to provoke violent conflict.
The conference's first panel discussion was chaired by Tobias Pfluger, a Member of European Parliament from 2004-09 and vice president of Germany's Die Linke, or Left Party (formerly the East German Socialist Unity Party).
Speaking of the ongoing refugee crisis in southern Europe, he stated critically that the "right to asylum is defacto no longer recognized" by many European states. "Tragically," he said, "military means are being used and deployed against refugees forced to leave their country as a direct consequence of European Union policy decisions."
Hundreds of thousands of refugees fleeing war-torn Syria and other locales have been flooding into Europe seeking asylum. Already more than 2,500 have died this year in the waters of the Mediterranean Sea in failed attempts to reach Europe's shores.
In addition to the logistical challenges of dealing with such a high number of asylum-seekers, there are credible arguments being made that racism has also played a large role in policy decisions that have exacerbated the refugee crisis.
Michel Billout, a PCF leader and member of France's Senate, highlighted the "new tools of economic war" designed to facilitate the "unbridled concentration of wealth" into fewer and fewer hands. He emphasized the ways that economic policy decisions can have a dramatic impact on living standards, wages, and benefits. In effect, he argued, they can amount to a war against workers.
"It's not only bullets that can kill," he added, urging conference participants to "imagine new types of internationalism based on cooperation and solidarity."
The fear of emerging right-wing extremism was also a major focus of the conference. Some participants expressed deep worries about the possibility of a Donald Trump presidency in the United States due to his chauvinist and militarist rhetoric, his encouragement of violence against protesters, and his complete lack of international political experience. A number even expressed fear of fascism.
"Israel is in the midst of a fascist transformation that is quite obvious," Adel Amer, secretary general of the Communist Party of Israel, said. The Israeli government, he told the conference, "practices the harshest kind of oppression and colonialism" against the Palestinian people. He went so far as to suggest it was a special type of "apartheid against non-Jews."
Amer was optimistic, though, and added that his party was "establishing a large Jewish-Arab Front to fight fascism and occupation, which go hand in hand." However, he was adamant that the conference "needs commitments, not just declarations."
Juan Carlos Marsan Aguilera, Cuban Ambassador to Austria, argued for efforts to protect and expand the achievements of the Cuban socialist revolution. He said peace activists need to "continue to defend independent, sovereign socialism in Cuba" and its contributions to world peace, education, and health. He told the conference that there are currently Cuban doctors in twenty-nine African nations providing free medical care and 30,000 African students are being educated and trained in Cuba, mostly as doctors.
Sexism and sexist oppression were also discussed as a form of economic and physical war against women. "Patriarchal domination prevents half of humankind from developing freely," Pierre Laurant, a French Senator and national secretary of the PCF, told participants.
He urged a "reinvented internationalism, an internationalism that can take stock of the diversity of our forces and make them converge. Different political currents need to work together."
"We have to place solidarity at the center of our political fights," he concluded, "especially the fight for peace."
Marriane Simon-Ekane, from the African Movement for New Independence and Democracy in Cameroon, expressed the sentiment of the conference when she said, "we must challenge a system that pushes the world to the brink of destruction."
Photo: Tony Pecinovsky/PW