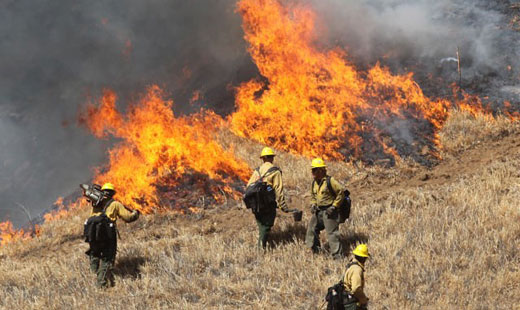 Wisconsin, on May 14, saw its largest wildfire since 1980. Its flames encouraged by strong winds, the blaze burned down 8,700 acres and destroyed 17 homes and 30 other structures.
Meanwhile, in California, another fire that began May 15 has blackened 3,800 acres in Ventura and Kern counties.
It would seem that this is the start of yet another year of numerous fires, as people throughout the U.S. struggle to adjust to the "new normal" in terms of natural disasters – an unfortunate result of climate change.
As it happens, the Wisconsin fire, which started 40 miles southeast of Duluth, Minnesota, was not so much caused by natural conditions as it was fueled by them. The low humidity and winds meant that the fire quickly grew and traveled, but it was logging equipment that was responsible for starting the blaze.
An operator noticed smoke emanating from the equipment while harvesting timber on May 14, and that soon developed into a full-on brushfire. Investigators confirmed that the fire was not intentionally set, and no criminal charges are expected. And despite the damage the fire has caused, there were no injuries reported. It is now 95 percent contained.
"The operator got out of the machine and made a concerted effort to put out the fire using a fire extinguisher located in the cab of the harvester," said Gary Bibow, a fire law enforcement specialist with the state's Department of Natural Resources. "Another operator on the crew immediately called 9-1-1 and DNR resources were on the scene in less than ten minutes."
Things were a little worse in California, where 1,400 firefighters are currently battling the fires that threaten the nearby Hungry Valley State Park and have already decimated parts of Los Padres National Forest. The fire is 25 percent contained, but workers are still struggling to gain an advantage over the blaze, which has also been spread by strong winds.
"The wind was pushing it from bush to bush to bush," said Sean Collins, spokesman for the Kern County Fire Department. "It was pushing pretty hard."
Though it can be argued that wildfires are normal for this time of year, it can also be said that global warming is providing ideal conditions for them to become fierce and difficult to contain.
Gov. Jerry Brown, D-Calif., maintains that climate change has made the state more susceptible to these kinds of disasters. "Our climate is changing," he remarked. "The weather is becoming more intense. Fire season has grown over the last four years. It's gotten longer and larger. The big issue: How do we adapt? Adapting is going to be very, very expensive."
Price matters here, because the U.S. Department of Agriculture's Forest Service literally ran out of money to pay for firefighters, fire trucks, and aircraft that dump retardant on flames. Coming up $400 million short this year, the USDA had to borrow money from other forest management programs – which were aimed at fighting big brushfires in the first place. Both the Forest Service and the Interior Department, however, criticized Congress for providing just half of the $1 billion that it cost to fight this year's fires so far. They argue that increasingly dangerous conditions caused by climate change call for greater funding.
Jim Hubbard, the Forest Service's deputy chief of state and private forestry, remarked, "With all that's facing us, how do we accommodate record fires with strained budgets? Based on predictive forecasts, we expect above-normal significant fire potential to result in [excessive] suppression costs."
The state of California has already spent $221 million fighting fires this year. The 50 planes and helicopters that belong to the California Department of Forestry and Fire Protection, most of which normally sit on the airfield this time of year, are already out battling wildfires. It's a bad sign, experts say. There have already been twice the number of wildfires in the state this year as there were in 2012.
Nationwide, moreover, there were 13,115 recorded brushfires as of May 3. That may be correlated to the lack of mountain snowpack in the Western U.S., where much of the burning has been concentrated. That, too, is a result of climate change.
These fires will have a ripple effect as they continue throughout the year, having a negative effect on insects (particularly butterflies), mammals, reptiles, and birds, not to mention plants. Roads, bridges, wastewater systems, and other facilities are also considered vulnerable, if caught in the path of the flames.
David Peterson, a Forest Service research biologist, said, "It's just unprecedented things happening. We're getting into extreme events that seem to be having more and more effects across broader landscapes. It's a difficult challenge. When a fire occurs, there's an expectation it's going to be put out. Can we manage it?"
Photo: A U.S. Forest Service crew fights the wildfire in California (Richard Lui/AP & The Desert Sun).