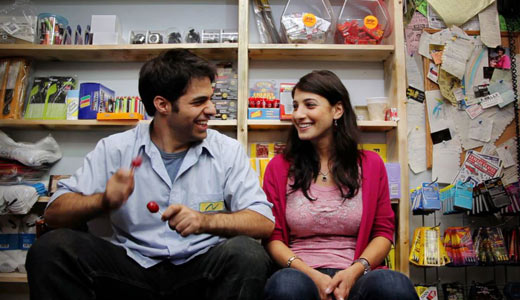 Part 3 of a series. See part 1 and part 2.
Here are a few more of the host of socially conscious films featured at the 2012 Toronto International Film Festival. Look for them in your area or on DVD.
As strongly as We Are Wisconsin is relevant to the upcoming presidential elections, Janeanne from Des Moines, a new political mockumentary that goes one step further, is also an effective piece of agit-prop. Docudramas usually have reenactments with actors interspersed with documentary footage, but this film actually mixes the two at the same time. Janeane, the conservative Midwest housewife is played by Jane Edith Wilson, a liberal. The real Jane, however, is experiencing many of the same life challenges as the character she's playing.
The actress attends candidate forums during the presidential primaries in Des Moines, Iowa. While pretending to seek advice from her conservative "heroes" like Mitt Romney, much is revealed about the true platform and personalities of the candidates. The character is never broken: everyone around actually believes she is an emotionally distraught conservative supporter who is facing the loss of her home, job and health insurance and wants to know what the candidates would do about health care. The real Jane is also facing these realities and one could ask if she is really acting. It's a tactic that could have backfired, but here, there is a sincerity in the quest for truth, and director Grace Lee has created a challenging variation on the docudrama.
Another winner comes from the embattled city of Detroit, with the Arab American production Detroit Unleaded. This charming film handles the harsh realities of an Arab-owned Detroit inner city gas station, in a loving manner. Trapped behind a bullet-proof shield, in a station where his father was killed, young Sammy finds a way to make his job enjoyable, sparring with his co-partner cousin on how to run the station, balancing a burgeoning love affair with a beautiful Arab girl who lives under the watchful eye of her overly protective brother, and handling all the crazy characters that come in and out of the station at regular intervals.
Detroit is mostly African American, and most of the gas stations are run by Arabs or Chaldeans. There has been a long history of distrust and resentment between the races, but this beautiful film finds the humanity in every person who comes on screen, young or old, black or white or Arab, smart or mentally challenged. Director Rola Nashef, a Detroit resident as are many of the actors, has created one of the most positive films about Arab Americans and the Detroit experience.
At least three films at this year's festival examine the lives of women struggling in war-torn countries. After the 1975 liberation of Mozambique, the rebels rounded up all the town's prostitutes and force them into a re-education camp deep in the jungle. Virgin Margarida examines the various forms of resistance the women give to this forced existence. One is strong and refuses the demands of the young woman captain, many are simply compliant, learning how to build straw shacks, pump well water and cook for large groups of women. One of the women is actually a virgin who was mistakenly gathered up with the rest, and becomes the symbol of hope of escape for the rest of the women. The militant female captain spouts all the familiar revolutionary platitudes but holds no sympathy for any of the women, until her own male superior is caught in a compromising situation and the captain begins to bond with the women. It's a lesson about the early years of struggle to overwrite the wrongs of the oppressor. We can all learn from each other.
In another African country, 12-year-old Komona lives in a small village attacked by a violent rebel group. Most all the villagers are killed but Komona is captured and forced to shoot her parents dead in order to win her life as a rebel in the group. Rebelle (War Witch) is Canada's entry in this year's best foreign-language Oscar race. It was filmed in the Congo and follows Komona's tragic life as she is raped by the rebel group leader, becomes pregnant, escapes with one of the young soldiers, tries to find solace and is captured again. The unbearably tragic existence of a girl who lost her youth to violence is brilliantly played by Rachel Mwanza who won Best Actress Award at the Berlin Film Festival.
And finally, in a small village decimated by constant war, a young Muslim woman lives to protect her comatose husband, victim of a shot in the throat. With two young children, she is constantly dodging bullets in a dwelling where she feeds her husband water through a tube in his mouth. The Patience Stone, based on the best-selling novel by Afghani Atiq Rahimi, refers to a legendary stone that people can talk to to free themselves from inner fears and tension. When they are eventually free of all pent up emotions, the stone is shattered and their lives are free.
After weeks of keeping her husband alive by the fragile tube, the young wife begins to express her fears and concerns. Gradually telling her secrets and dreams to her non-responsive husband who had never let her talk, restricted her life and essentially forced her to be his slave, she gains a newfound feeling for life and expression, while bombs are dropping all around her building and she is even raped by a young local soldier. She learns about true love and relates war to the horrors of male domination, concluding, "Those who don't know how to make love, make war." The cleverly written story about an oppressed woman gaining freedom through expression comes to a shocking conclusion, and is one of the greatest cinematic statements on true liberation of women in society.
For more information about the 2012 Toronto International Film Festival see the festival website.
Photo: Still from Detroit Unleaded.