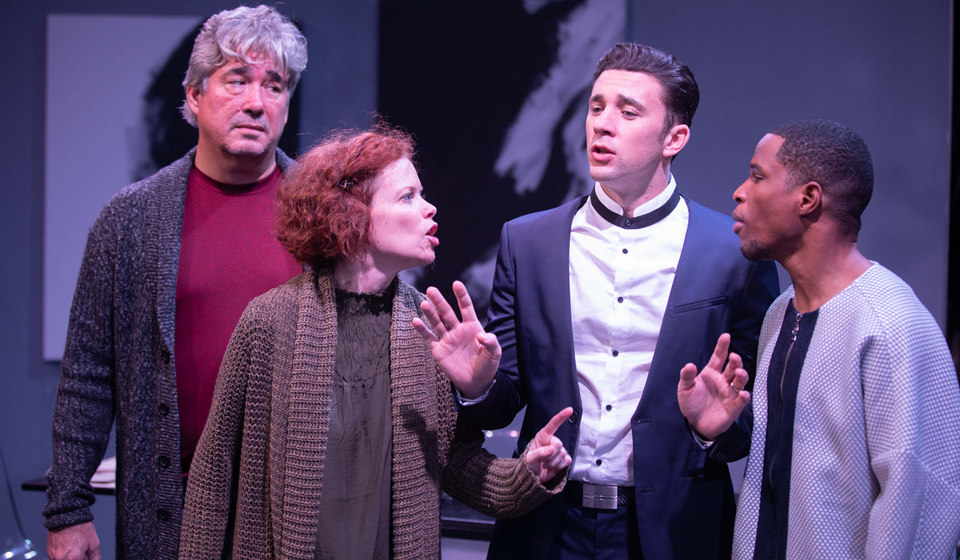 VENICE, Calif.—Rogue Machine's world premiere of Disposable Necessities contains plot points that could be dramatized in a Eugene O'Neill or Arthur Miller play about family and friend dynamics. But innovative playwright Neil McGowan has mixed things up by injecting sci fi elements plus a heavy dose of comedy into his two-acter so that Disposable's Tottens would not only be right at home with A Long Day's Journey into Night's Tyrones and Death of a Salesman's Lomans, but with Hanna-Barbera's loony cartoony Jetsons.
If that animated futuristic family was 1962's humorous prediction of what tomorrow may hold for us (hey! while I'm stuck in traffic on the 10 Freeway, I'm still waiting for my winged car, and while we're at it, for dogs like the pit bull mix named Babaloo to talk back to me!), set in 2095, Disposable has a more sophisticated scientific vision of, as H.G. Wells put it, The Shape of Things to Come.
In particular, the hi-tech conceit of McGowan's Brave New World (as Aldous Huxley entitled his somewhat similarly themed 1931 sci fi classic) is that 75 years from now a digitized version of the inner self of individuals can be downloaded into the bodies of recently deceased people called "modules." So theoretically, one's mind, spirit, etc., can be periodically transferred into younger, healthier sets of "meat and bones," as one character says, while the older, sicker cadaver is cashiered. In this manner—similar to downloading an app for a rideshare service—eternal youth is possible for Homo sapiens. Holy Jumanji: The Next Level!
And speaking of, uh, "homo," the imaginative McGowan—who I suspect is a bit of a slyly subversive prankster—tosses a merry monkey wrench into the mix. Because someone's last will and testament can include what type of host body they'll be transmogrified into, McGowan has heaps of fun by injecting gender into the eternity equation of his futuristic farce.
So middle-aged writer Daniel Totten's (Darrett Sanders) wife, Alice (classically handsome Billy Flynn, who acted in NBC's soap Days of Our Lives) chooses to be reborn as a male. However, although the Caucasian husband and born-again wife are now the same gender, they both consider themselves to be heterosexual. (Although the Tottens' daughter, Dee—played with angsty panache by Ann Noble, who has a Michelle Wolf-ish vibe—actually is gay.) This LGBTQ conundrum is amplified when Daniel's best buddy Phillip Fain (Claire Blackwelder, who looks like a younger, more voluptuous Keri Russell) shows up as a busty woman. Phillip is literally a straight male inside of a female's body. So enthralled is he by his new womanly attributes that Phil can't help but caress himself on- and offstage and, although now wearing a dress, still sits with habitual man spread. With all of this out-of-kilter gender role-playing, complications ensue.
But the clever McGowan is not content with sex switcheroos and befuddling which pronouns should be used when referring to folks in 2095. No, the diabolical bard has yet another card up his sleeve—and it's none other than the race card. When the aging Chadwick "falls" out of a chopper he comes back as a young Black man, and Disposable proceeds to dispense societal stereotypes of African-American males.
The dramedy makes some acerbic racial allusions: For instance, a character's quip equates "gentrification" with "apartheid."
The futuristic vibe of 2095's "designer genes" is enhanced by other whiz bang techno flourishes. These special effects are realized and rendered by projection designer Michelle Hanzelova, scenic designer/technical director David Mauer and sound designer Christopher Moscatiello, under the guidance of Rogue Machine Co-Artistic Director Guillermo Cienfuegos, who also directed the company's production Ready Steady Yeti Go!, as well as Eugene Ionesco's 1959 Rhinoceros in 2017 at Pacific Resident Theatre.
In addition to technology, Disposable has lots of fun upending and jabbing tropes of sexuality and ethnicity, plus aging, the notion of "having it all," mortality, eternity, the correlation between drinking and writing and more. I couldn't help but wonder if by naming Disposable's family "Totten" if McGowan was coyly referring to "Hottentots," an old racial term invoking ethnological study of "inferiors," that has fallen into disrepute and is today regarded as derogatory. And of course, Phillip's last name "Fain" presumably is a reference to "feign"—that is, to fake something.
Cienfuegos skillfully directs his ensemble with aplomb, as each cast member delivers finely etched performances with spot-on, expert comic timing and delivery designed to offer audiences food for thought peppered by loads of laughs.
Rogue Machine scores again with Disposable, which is in line with the venerable company's pursuit of new, quirky, envelope-pushing productions. If you have disposable income (although it's pay-what-you-want with a $10 minimum on Dec. 30, and $20 minimum on Jan. 20, at the door only), Disposable Necessities is a necessary thing to download into your mind.
Rogue Machine Theatre's world premiere production of Disposable Necessities plays through Feb. 3 at the Electric Lodge, 1416 Electric Ave., Venice 90291. For performance schedule and ticket info call (855) 585-5185 or go to the theatre website.
A preview video can be viewed here.