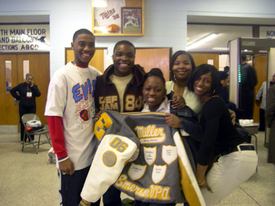 GARY, Ind. — An array of African American business, political, civic, labor and economic leaders met at Westside High School here March 9-12 for the National Black People's Unity Convention to discuss a long-term economic empowerment plan for the Black community nationwide. The theme was "Policies for Empowerment: A Struggle for a New Economic Order."
In 1972, more than 4,000 Black activists gathered here for the National Black Political Convention, one of the largest Black political conventions in U.S. history. It adopted a national strategy for political empowerment. At that time, only 16 African Americans were members of Congress and less than 900 were state and city officials. Today, there are more than 16,000 Black elected officials at every level, in almost every state.
The Rev. Jesse Jackson told the gathering, "This is the next stage of our struggle. The first stage was to end slavery. The second stage was to end legal Jim Crow. The third stage was the right to vote. The fourth stage is access to capital."
Bill Lucy, president of the Coalition of Black Trade Unionists, said in a statement, "The broad aim of this convention is to bring together the collective wisdom, creativity and resources in our community to map out a bold economic agenda that will unite us in communities of color across the nation. We must think nationally and act locally."
Former Gary Mayor Richard Hatcher, who co-chaired the 1972 convention, was also a co-chair this year. Hatcher was the city's first African American mayor. "The shocking disaster of Hurricane Katrina is a sobering reminder that poverty and racism still takes a deadly toll on our communities," Hatcher said in his opening. "Political power without economic power is almost no power at all."
A National Urban League report last year found that Black households have barely one-tenth the net worth of white households and that Black unemployment rates are more than twice those of whites.
A group of high school students was among the several hundred people in attendance. Nikita Matthews, 17, a student at Emerson High School for the Performing Arts, came with her classmates and teacher. Expressing pride in her city, she said Gary is "safe, very contrary to popular belief. A lot of people think Gary has a lot of violence but it's really a family-oriented city."
Lorenzo Stout, 18, wants more young people to get involved. "Go for it, start from somewhere," he said. We need to "start with youth."
Ragen Hatcher Matthews, 27, and Rachelle Hatcher, 22, were also there. They have a special connection to the meeting's history: they are the daughters of former Mayor Hatcher.
Ragen Hatcher Matthews said her father "is the reason why I'm a lawyer today."
Rachelle Hatcher told the World, "Growing up with my dad, I learned a lot about politics at a very early age." She was a candidate for City Council in 2003 because it was "a race that needed young voices."
Rachelle Hatcher said the convention was timely and essential. She said, "This kind of gets people thinking about the daily struggles for equality as one of the most important things, especially questions of race and economics."