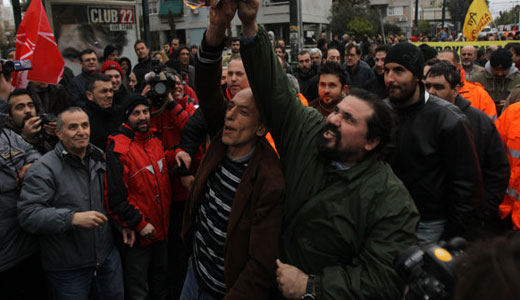 Tens of thousands of Greek workers walked off the job today and rallied in front of parliament in a huge protest against government plans to sack public-sector staff.
Over 30,000 demonstrators – including police and teachers facing the axe – beat drums and blew whistles in one of the biggest Greek anti-austerity protests this year.
Protesters chanted: "No more sacrifices" and waved banners that read, "Fire the troika."
Civil aviation unions staged a four-hour work stoppage and Athens' transport system was hit, with bus and trolleybus drivers walking out.
Trains stopped running and tax offices and municipal services remained shut.
Rubbish collectors, bus drivers, bank employees and journalists were among other groups that joined the walkout.
Public and private-sector unions ADEDY and GSEE called the strike and have brought workers to the streets many times since late 2009.
Greece's troika creditors, which have bailed it out twice with €240 billion (£209bn) of aid, are insisting on progress in hacking back the 600,000-strong public sector.
Athens has a list of 12,500 workers slated for a "mobility pool" in which they are given eight months to find work in another department or get sacked.
About 25,000 workers will be placed in the scheme by the end of the year, which is deeply unpopular at a time when unemployment stands at an all-time high of 27 per cent.
"The policy of mass layoffs, the dismantling of public institutions responsible and the demolition of any notion of labour rights inaugurate a new undemocratic governance of the country," the ADEDY public-sector union warned.
MPs voted today to indict former finance minister George Papaconstantinou over his handling of data on Greeks with Swiss bank accounts.
A panel of senior judges will determine whether Mr. Papaconstantinou should face trial over the fate of a list of about 2,000 alleged tax evaders provided by French authorities in 2010.
Greek authorities failed to investigate the data for potential tax evasion, and the names of three of Mr Papaconstantinou's relatives were allegedly removed from the list.
This article was reposted from Morning Star.
Photo: Workers protest in Athens. AP