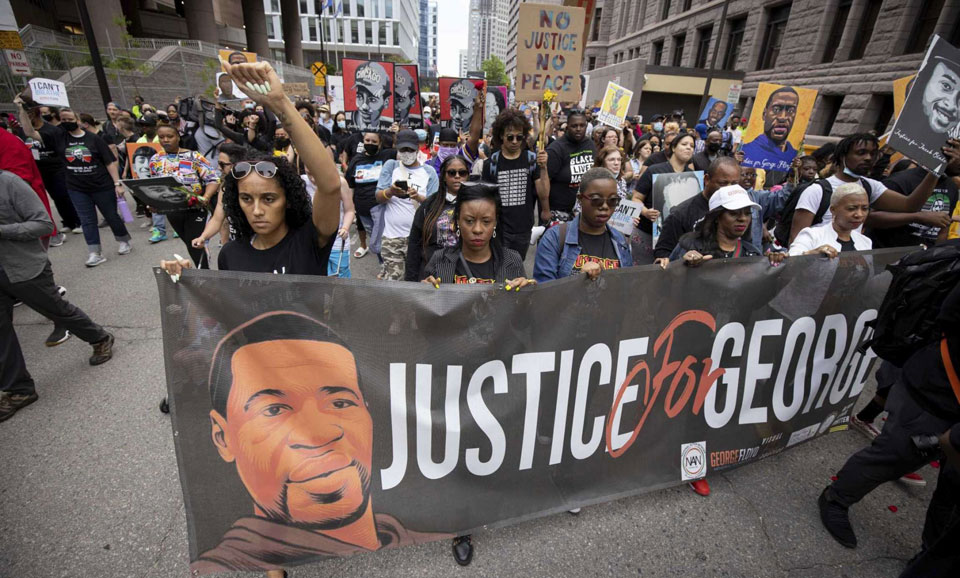 MINNEAPOLIS—Commemoration of the first anniversary of unarmed Black man George Floyd's murder last May 25 by then-Minneapolis cop Derek Chauvin features demands for comprehensive police reform to root out systemic law enforcement racism.
The Floyd family established a foundation to promote that cause, and it sponsored  three days of events in the Twin Cities. Calls to honor Floyd by attacking the racism  came from everyone from the families of victims on up to Democratic President Joe Biden. The one exception: Congressional Republicans.
"Convicting Chauvin is not enough. We need federal legislation," the Rev. Al Sharpton declared at an afternoon march on May 23. That legislation, named for Floyd, includes bans on chokeholds and creates other measures to control police violence and hold police accountable.
"I really thought my brother's death would be the last police brutality case, but as we can all see, they are at it again and again and again," added Bridgett Floyd, George's sister and the foundation's founder.
"We are human beings. We bleed the same way they bleed. The same breath God put in our body, he puts in their body."
The families of Floyd, Eric Garner, Daunte Wright and Trayvon Martin will highlight the panel discussion in Minneapolis on May 24. A candlelight vigil will end day-long events on May 25.
And to drive the point home that racism must be rooted out of policing, Minnesota Attorney General Keith Ellison (D), whose office successfully prosecuted Chauvin, announced May 21 that his office will prosecute Brooklyn Center officer Kim Potter for the killing of unarmed Black Daunte Wright, 20, during demonstrations outside the courthouse as Chauvin was tried.
"Prosecutors are ministers of justice. This means we must and will follow justice wherever it leads. I promise the Wright family and all Minnesotans I will handle this prosecution responsibly and consistent with the law, and that I will be guided by the values of accountability and transparency," Ellison said. But he also warned prosecuting Potter would be tough, as convictions of cops are rare.
A Twin Cities jury convicted Chauvin on one count of murder and two of manslaughter in April. His sentence is upcoming. The three other cops who stood by, ignored bystanders' demands to stop Chauvin, kept them away, refused to let an EMT aid Floyd and who—in one case—helped hold Floyd down, go on trial in August for aiding and abetting the murder.
But the commemoration of Floyd's life—a point of the day-long events—stretched and stretches far beyond the Twin Cities and its troubled history of cop racism against people of color.
Indeed, a culture rooted in systemic racism, with heavy corporate influence to encourage brutalizing of "the other," be they people of color, workers or women, pervades police departments and the criminal justice system, from coast to coast. Biden recognizes that. So does his Vice President, Kamala Harris, the first Black, first woman and first Asian-American elected to the nation's #2 political position.
The Floyd Act, which she co-authored while a California senator, is "not a panacea for every problem, but a start" on the solution, Harris said after Chauvin's conviction
"This work is long overdue.  America has a long history of systemic racism.  Black Americans—and Black men, in particular—have been treated, throughout the course of our history, as less than human."
House Democrats agreed. They passed the George Floyd Act on March 3 on a 220-212 virtual party-line vote. Two Democrats voted against it, One Republican voted for it.
But laws aren't enough, Biden said, even as he used the occasion of Chauvin's conviction to reiterate his strong support for the legislation. In his nationally televised address to lawmakers a month before, Biden urged them to send it to his desk by this anniversary. They won't. The Senate, tied 50-50 between the two parties, has yet to even hold a hearing on it, though behind-the-scene negotiations are occurring.
"It was a murder in the full light of day, and it ripped the blinders off for the whole world to see the systemic racism the Vice President referred to–the systemic racism that is a stain our nation's soul, the knee on the neck of justice for Black Americans, the profound fear and trauma, the pain, the exhaustion that Black and brown Americans experience every single day," Biden said after the Chauvin verdict.
"The murder of George Floyd launched a summer of protest we hadn't seen since the Civil Rights era in the '60s—protests that unified people of every race and generation in peace."
But after describing his conversations with, and lauding, the Floyd family's work in the cause, Biden touched on a problem no laws can tackle well: "The work we do every day to change hearts and minds as well as laws and policies—that's the work we have to do."
Republicans seem to be turning a deaf ear. Sen. Charles Grassley, R-Iowa, top Republican on the Judiciary Committee, which would handle the George Floyd Act, said May 11 he's more concerned about the cops.
"For the last year,  there has been a lot of hatred and vitriol directed at the police," he said in a floor speech, describing what he called "A war on cops." If a police officer uses excessive force, he or she should suffer the consequences. But it often seems like our national media would have us believe any use of force by police is unjustified. Even Members of Congress sometimes join this sort of demagoguery," he charged, calling out two members of the Squad by name: Reps. Rashida Tlaib, D-Mich., and Cori Bush, D-Mo., the first Black Lives Matter activist elected to Congress.
Bush's district includes Ferguson, Mo., where cops murdered Michael Brown several years ago, launching the BLM movement in response.