FORKS, Wash.—Hundreds of protesters are pouring into the streets of small towns and cities here on the Olympic Peninsula despite intimidation by gun-toting Trump supporters. A Time magazine survey reported street protests in at least 580 towns and cities, many in rural "red states," the majority of them organized by students and youth of all races as millions join worldwide in the enormous demonstrations.
The latest here was a vigil and "die-in" in the town of Forks in the West End of Clallam County, the "Logging Capital of the World," although the forest industry is much diminished from its glory days a century ago. Nearly 300 people, about half members of the Hoh, Quileute, Makah, and Lower Elwha tribes, chanted, "I can't breathe," "No justice, no peace," and "Black Lives Matter," as a stream of cars and trucks rolled through the downtown on U.S. Highway 101 with horns honking. Drivers and passengers greeted the protesters with thumbs-up salutes. Drummers pounded on their drums and sang a tribal song, while teenage girls performed a Native American dance. At least half the crowd were young people—Native American Indian and white.
At a signal, the protesters stretched out on the sidewalk in a "die-in" for 8 minutes, 46 seconds, equal to the time that Minneapolis police officer kneeled on George Floyd's neck, choking him to death. Four policemen have been charged with murdering Floyd, a crime recorded by someone with a cell phone.
Protesters held signs like "We Are the REAL Forks" and "What Kind of Forks do we want to create? STAND AGAINST RACISM." Several signs urged people to fight racism at the ballot box. One Native American woman held a sign, "Save Lives. Register, Vote Nov. 3."
The signs are a reaction by this community to a vicious act of racist abuse Wednesday, June 3, inflicted on an interracial couple, their 16-year-old daughter, and grandmother who had driven here from Spokane in their school bus converted to an RV. They were camping beside the Sol Duc River five miles east of Forks. They went into town to purchase groceries and were accosted by eight carloads of heavily armed vigilantes in the parking lot who demanded if they were members of "Antifa" here in Clallam County to break windows and set fires.
The family denied these accusations, but the gunmen followed the family back to their campground. As they prepared to sleep, the vigilantes in the distance fired their assault rifles in the air. Finally, the family decided to flee, but the vigilantes had cut down trees across the road blocking their escape. A call to 911 brought out the Clallam County Sheriff, Quileute Tribal Police, Fish & Game wardens, and Forks High School students to their rescue. The sheriff's deputies escorted the terrorized family out of the county.
The Clallam County Sheriff's Department has launched a criminal investigation. They are probing whether the Forks vigilantes were conspiring with Seth Larson, owner of Fred's Guns in Sequim. Sequim Police Chief Sheri Crain released a statement admonishing residents of Clallam County not to spread false, inflammatory rumors in this time of crisis. She wrote that a gun shop owner—Larson—sent out an alert on social media that "Busloads of Antifa activists were coming to Sequim" and that they had already arrived. Chief Crain added, "One gun shop owner posted that claim on social media and was calling for others to arm themselves and join him in protecting the city."
She continued, "We did have a meeting with Larson and he recognized that he may have contributed to the rumor and he has since gone on to post that people can cease and desist based on his information."
Larson and nine others, all carrying firearms, arrived at the peaceful, non-violent vigil on the four corners of the main intersection in downtown Sequim. They arrived late after most of the 500 protesters, 70 percent of them youth, had marched to the far west end of town. I too had left for home. Only a handful of the protesters were still there.
Courtney Thomas, the main organizer of the rally, told me the vigil keepers were alarmed to see the armed men walking toward them. "Many of the women with their children ran off. They did not want their kids exposed to violence if it should erupt," she said.
Thomas told the Peninsula Daily News (PDN) that Larson told her he had "heard on the Internet that Antifa would be going into rural areas to break windows. He said it's all over the Internet. He heard they would be busing Antifa into our area."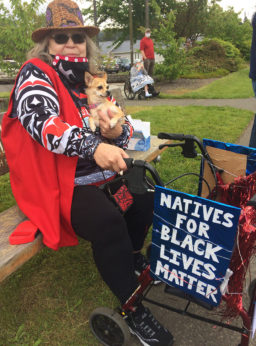 Larson has apologized for calling on gun owners to bring their weapons to Sequim, whipping up armed, mob hysteria against peaceful protesters.
PDN reports that the Sheriff's Department investigation has already determined that the Antifa rumor was concocted by a white supremacist group, Identity Evropa, posing as "Antifa" to spread the bogus social media message across the nation, especially in rural communities. Twitter suspended the accounts of the white nationalist hate group. Yet Donald Trump and white supremacists have continued to spread the false rumors.
Trump used the violence as a cover to "change the subject" from the murder of George Floyd to window-breaking. Some of that behavior was undoubtedly the work of white nationalists who infiltrated the huge protests posing as Antifa. That behavior has faded away and the demonstrations continue to grow, including here on the Peninsula with big, wholly peaceful vigils in Port Townsend, Port Angeles, and Sequim.
On Thursday, June 4, Sequim High School students, undaunted by Larson and the gun bullies, staged a vigil with about 200 protesters at the same intersection in Sequim. The next day, Voices for Health & Healing staged a "die-in" in the Sequim Civic Plaza, joined by 150 people to mourn all victims of racist genocide, including African Americans, Latinx, Native American Indians, and Asian Americans.
Next Saturday, June 13, protesters will demonstrate at the County Courthouse in Port Angeles, demanding the arrest and prosecution of the vigilantes for hate crimes against the Spokane family. Forks residents are invited.