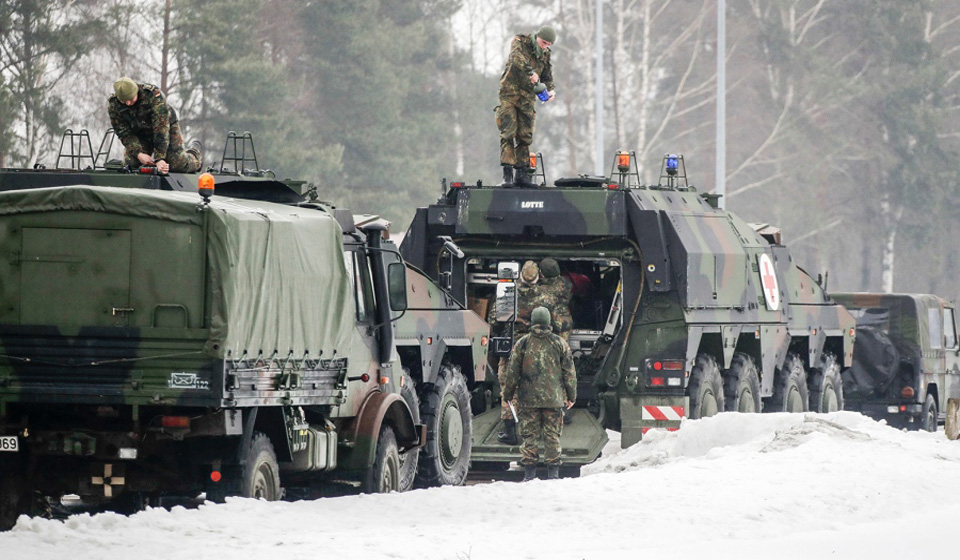 BERLIN – German troops and tanks are en route to central Lithuania as part of NATO's move to enhance its presence in the alliance's easternmost countries. The move continues NATO escalation of military presence in eastern Europe, supposedly to deter Russian "aggression" in the area. The alliance had agreed after the demise of the Soviet Union that it would never move into Eastern European territories that were once part of the Warsaw Pact.
Peace movement activists here are bitterly opposed to the sending of German troops abroad and say thse latest maneuvers are reminiscent of German militarism during the Nazi era.
The German military said Tuesday that 36 vehicles, including Boxer armored fighting vehicles, were being loaded on a train in Bavaria for the trip to Rukla.
Germany will be leading the NATO battlegroup in Lithuania. Its contingent also consists of some 450 troops and other equipment, including Leopard 2 main battle tanks and Marder infantry fighting vehicles.
The complete unit will consist of more than 1,000 soldiers, including troops from the Netherlands, Belgium, Norway and Luxembourg.
Battlegroups led by the U.S., Canada and Britain are also being stationed in Poland, Latvia and Estonia respectively as part of NATO's mission.
John Wojcik contributed to this article.