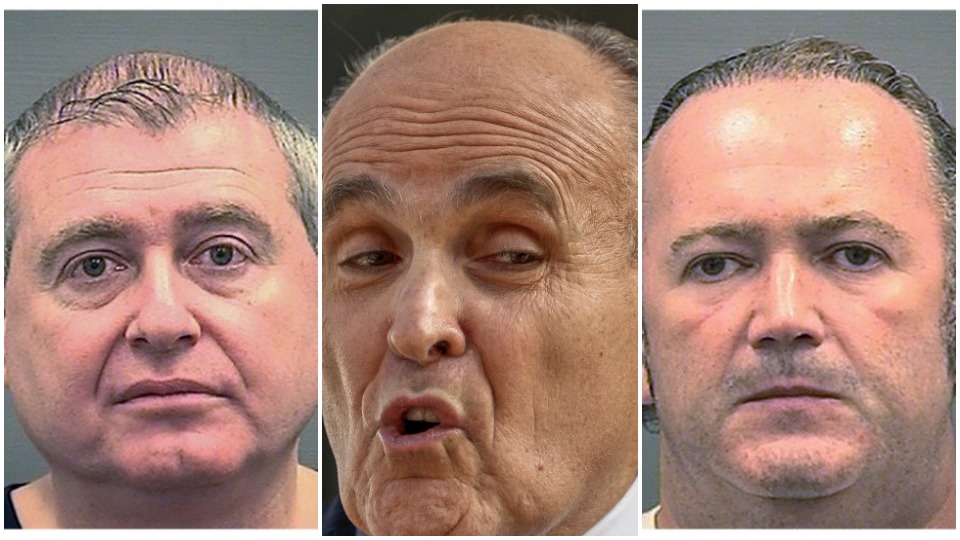 Two Florida-based mobsters who funneled hundreds of thousands of dollars into a Trump PAC and tens of thousands of additional dollars into the coffers of top Republican lawmakers were arrested Wednesday night as they were attempting to flee the country. They were nabbed only hours after having lunch with Rudy Giuliani, the president's personal attorney, at the Trump Hotel in Washington, D.C.
The U.S. attorney said that Lev Parnas and Igor Fruman were arrested at Dulles International Airport before they could get on a plane to Frankfurt, Germany. Their eventual destination, according to reports, was Vienna, Austria, where the famed international gangster Dmitry Firtash has been hunkered down for four years as he fights a supposed U.S. attempt to extradite him for crimes committed here in 2014.
It is believed that Firtash could be the unidentified "Russian national" named in the indictment as the source of the money the two Florida mobsters have been funneling to Trump and his GOP pals. He is the oligarch who Putin put in charge of the natural gas operation in Ukraine whereby Firtash made a fortune skimming off the top from gas that was shipped from Russia into Ukraine.
Firtash apparently had a special liking for Paul Manafort, Trump's now-jailed campaign manager, and, through Manafort, began funneling money into the first Trump campaign for the presidency. Manafort had hoped that his "in" with Trump would make Firtash and other oligarchs happy with him and that together the whole cabal would make lots of money. A side benefit of Manafort's campaign managership was, of course, the fact that it would keep oligarchs and gangsters to whom he owed money from coming after him.
The only thing Giuliani would say yesterday about the arrest of his mobster pals was that "the timing is suspicious."
Giuliani himself was scheduled to fly soon to Vienna and has shuttled to and from there earlier this year. The betting is he was there for reasons other than visits to museums and the city's wonderful pastry shops and cafés.
Firstash, the likely object of any Giuliani visitations to Vienna, apparently has little to fear from any extradition efforts by Attorney General William Barr. He has been making billions during his "exile" in Vienna.
The indictment of the two mobster associates of Giuliani and Trump yesterday says they "conspired to circumvent the federal laws against foreign influence by engaging in a scheme to funnel foreign money to candidates for federal and state office so that the defendants could buy potential influence with candidates, campaigns, and the candidates' governments."
The bottom line is that they set up a phony company, Global Energy Producers, through which they made $340,000 in contributions to Trump's political action committee, "America First Action," and tens of thousands more to GOP Rep. Pete Sessions who was defeated last year but wants to make a comeback. Sessions was identified in the indictment as "Congressman 1."
In exchange for the money, Sessions was supposed to help Trump get rid of the U.S. ambassador to Ukraine, Marie Yovanovitch. She is the one whom Trump referred to as "bad news" in the phone call to the Ukrainian president for which he is now facing an impeachment inquiry.
Sessions claims he is not guilty, but there are several meetings he had with the two mobsters that are on the record.
The two have also been involved in digging up dirt on Joe Biden and his son Hunter. For that activity, they have already been subpoenaed by Congress as part of the impeachment inquiry. Since they had one-way plane tickets when they were arrested, it is assumed they were planning to ignore the subpoenas.
Trump claimed he did not know the "gentlemen," as he called them, who were arrested.
When pictures emerged of them dining with him, Vice President Mike Pence, and Giuliani at the White House in May 2018, he said it was "possible I have a picture with them because I have a picture with everyone."