LOS ANGELES—With its third production of the season at the Dorothy Chandler Pavilion LA Opera remains on a roll. Giuseppe Verdi's Nabucco is another eye-popping extravaganza, with director and designer Thaddeus Strassberger's opulent sets that not only recreate and evoke ancient Jerusalem and Babylon during biblical times (as D.W. Griffith did for his 1916 masterpiece about man's inhumanity to man, Intolerance), as well as simultaneously suggesting 19th-century Italy. In particular, Milan's famed Teatro alla Scala, where Nabucco premiered in 1842. It was the composer's first artistically and commercially successful hit.
This is significant because Nabucco (the splendid Spanish/Mexican Plácido Domingo plays the title character as a bearded baritone) is an explicitly political piece: Librettist Temistocle Solera presented the Babylonian oppression of the Hebrews as a very obvious metaphor for the Austro-Hungarian Empire's domination of the north of Italy, where Milano is located. Although there are evident religious overtones in this three and a half hour-plus spectacle with two intermissions, Verdi and Solera clearly had the unification of Italy—called the Risorgimento, or "resurgence"—on the brain in creating this rabblerousing opera. Indeed, this patriotic work can be seen as a rallying cry not only for the downtrodden Israelites but for all national liberation struggles from Catalonia to, ironically, today's Palestinians.
Verdi had a most fortuitous name for his time. Just as he was gaining renown as a composer, the revolutionary nationalist slogan was launched, "Viva VERDI." Protestors against Austrian occupation could legitimately claim their fandom for the popular young composer, but in fact they were saying, "Viva (long live) Vittorio Emanuele Re D'Italia," plumping for Victor Emanuel to be appointed king of a united and free Italy.
With the title character's narcissistic, megalomaniacal view of power, claiming that he is not only king but God, Nabucco is reminiscent of the nascent Nazi-wannabe currently inhabiting the White House ((but not for long!—it seems he's headed for a downfall similar to Nabucco's). Nabucco, of course, was Nebuchadnezzar (605-562 BCE), king of Assyria, who rebuilt Babylon (located in present-day Iraq). In terms of acting and vocalizing, our beloved treasure Plácido Domingo remains in fine form at 76 (!) and a delight to behold.
Morris Robinson is attention-grabbing as Zaccaria, spiritual leader of the Hebrews—an interesting stage transition as he previously portrayed the Islamic zealot Osmin in LA Opera's 2017 production of Mozart's The Abduction from the Seraglio. Having the Atlanta-born Robinson portray an Israelite seer lends new meaning to the much-vaunted Black-Jewish alliance (America's two most liberal ethnic voting blocs). Robinson's rendition of "Sperate, o figli," exhorting his people to remain resolute in their resistance, is inspiring.
Other dramatis personae include Nancy Fabiolo Herrera from Canary Islands, Spain, who portrays Nabucco's younger daughter Fenena. Liudmyla Monastyrska from Kiev, Ukraine, makes her LA Opera debut as Fenena's older sister Abigaille, a punishing role that she carries off convincingly. Guatemalan tenor Mario Chang portrays the love interest Ismaele, and Romanian Gabriel Vamvulescu depicts the High Priest of Baal.
Aside from national determination, perhaps part of Nabucco's theme deals with paganism versus monotheism: Whose illusion is the superior one? In addition to stellar scenery, Mattie Ullrich's glorious costumes help transport us back in time.
Verdi's rich music, of course, is thumpingly sonorous, with conductor James Conlon and chorus director Grant Gershon eliciting bravura performances from what seems like a Cecil B. DeMille-like cast of thousands in this Biblical epic. Especially melodious and pleasing to the ear and heart is Verdi's "Va, Pensiero." This Chorus of the Hebrew Slaves became an anthem of the Italian struggle for independence, similar to how John Lennon's "Give Peace a Chance" was the signature song of the anti-Vietnam War movement.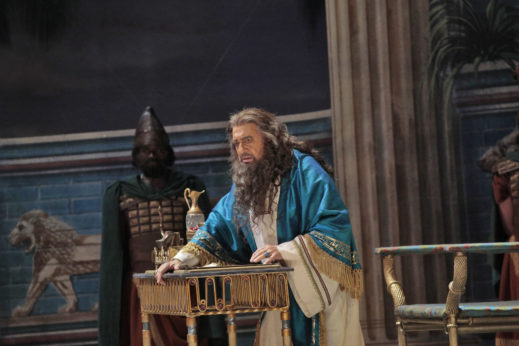 Here's a tip to opera goers: Don't leave your seats until the final curtain closes! There's a special follow-the-bouncing-ball treat as a bonus added feature for the grand finale. All in all, Nabucco is "Exhibit A" as to how artists can set a saga far away and long ago and still say something relevant to their own time and place. In the case of this Verdi spectacle, it remains thematically and politically pertinent 175 years later. Viva Catalonia libre!
Conductor James Conlon's pre-show talk is viewable here.
Nabucco will be performed Nov. 11 at 7:30 pm and Nov. 19 at 2:00 pm at L.A. Opera at the Dorothy Chandler Pavilion, 135 N. Grand Ave., Los Angeles 90012. See: https://www.laopera.org/season/1718-Season/Nabucco/.