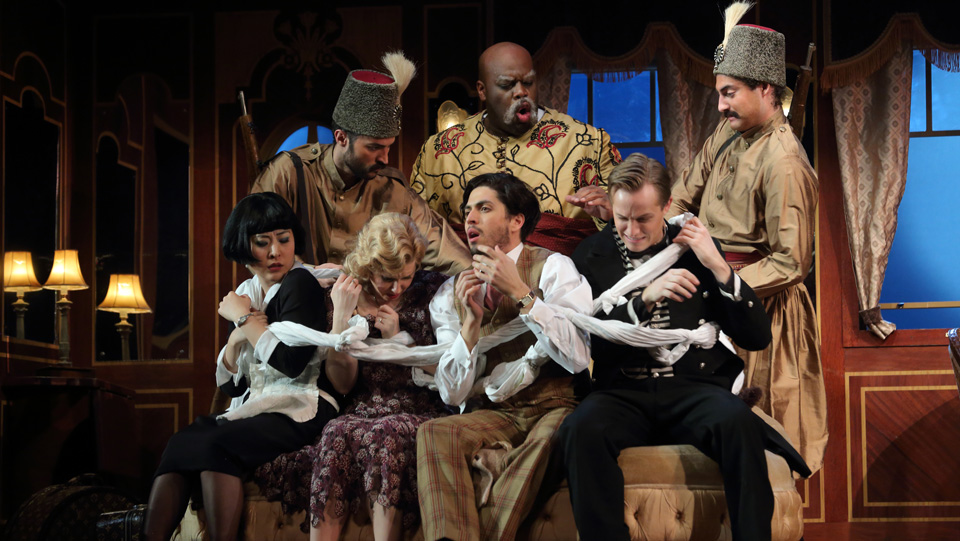 LOS ANGELES — Wolfgang Amadeus Mozart's The Abduction from the Seraglio, which premiered in Vienna in 1782 as Die Entführung aus dem Serail, is set in the Ottoman Empire, where a pasha (a person of high rank, such as a governor) presides over his seraglio, which could refer to a Turkish palace or more precisely the harem within. LA Opera's madcap version takes great liberty with this libretto about libertines.
Director James Robinson has reset Mozart's 18th-century Singspiel — lyrics, spoken dialogue and story by Christoph Friedrich Bretzner, adapted and enlarged by Johann Gottlieb Stephanie — in the Roaring Twenties. The action has been moved from the pasha's palatial quarters in what's now Turkey to the Orient Express. The opera's current incarnation invokes a whiff of the romance and mystery Agatha Christie and Graham Greene bestowed upon the posh long distance passenger train while retaining Mozart's exoticism.
(Good thing this production doesn't involve a trans-Atlantic passage: Trump's executive order wouldn't have allowed Pasha Selim (actor Hamish Linklater), Osmin (bass Morris Robinson) and most of their burka-clad harem into America. Case in point: Iranian director Asghar Farhadi, whose movie The Salesman is Oscar-nominated for Best Foreign Film, won't be attending the Feb. 24 Academy Awards ceremony in Hollywood.)
The curtain — adorned by a charming period map, with mostly French names for the various destinations en route — lifts at a station in Istanbul (not Constantinople), as the much-vaunted Orient Express heads out toward Paris. The Dorothy Chandler Pavilion audience greeted Allen Moyer's intricately designed set with applause, as it evokes the luxurious interiors of the two cars wherein all of Seraglio's action takes place. The train actually moves a bit across the stage, the coaches seeming to steam across Europe with the help of rear projections of scenery and a landmark or two.
On the surface, the story is simple: Offstage and before the comedy actually begins, Turkish pirates raided a yacht in the Mediterranean, abducting the Spanish noblewoman Konstanze (soprano Sally Matthews), her English maidservant Blonde (soprano So Young Park) and Pedrillo (tenor Brenton Ryan), personal valet of Belmonte (tenor Joel Prieto), a Spanish nobleman engaged to Konstanze. Attracted to Belmonte's fiancée, the polygamous Pasha Selim has bought the three Europeans from the Turkish buccaneers, intending to make the unwilling Konstanze part of his harem.
For reasons never quite explained in this rendering, Selim (a speaking role) takes his entourage onto his private car aboard the Orient Express, where Belmonte, yearning and burning to be reunited with his true love, has tracked Konstanze down. There he enlists the faithful if fearful Pedrillo in his scheme to abduct and free the kidnapped Konstanze and Blonde, whom Pedrillo loves.
However, there's one tiny hitch in their master plan: The gargantuan, suspicious Osmin, overseer of the Pasha's harem. Clad in a fez, harem pants and genie shoes, Morris Robinson portrays the Turk with the panache of a silent screen slapstick star of the Fatty Arbuckle type.
Osmin breaches Islamic codes by hypocritically drinking alcohol and clumsily attempting to seduce Blonde, but dutifully seeks to foil any escape attempts by the Pasha's pretty prisoners. As the harem's watchdog, Robinson abducts every scene he's in like a theatrical kleptomaniac. Like his character, the actor only meets his match onstage in Blonde, as Park's loyal servant thwarts Osmin's bumbling bawdiness. The Korean soprano is sheer delight as she outwits and outsmarts Osmin, and delivers delightful arias, including Act II's "What delight, what freedom!"
Matthews likewise has a wonderful scene, singing Konstanze's witty aria "Tortures Unabating," wherein Selim tries "torturing" her into sexual submission by offering the Spaniard a bounty of luxuries. Seraglio opens with ebullient, frothy flourishes of transcendent blissful beauty that can transport the listener to a realm of absolute joyousness. Mozart's overture captures in amber and gives form to joie de vivre – the joy of life itself. Sitting close up, I was able to observe James Conlon in the orchestra pit, twirling, swirling and whirling his baton like a musical magic wand, or as if swinging a swizzle stick, whipping up an ecstatic elixir over the course of three acts (with two intermissions).
Racial, religious, and sexual politics
In Seraglio Mozart expresses a number of themes that recur in his operas, such as his obsessions with adultery, fidelity and unfaithfulness in his three greatest works, Così fan tutte, Don Giovanni, and The Marriage of Figaro. There is also the anxiety caused by the aristocratic pulling of rank and insisting upon sexual privilege, which are active elements in the latter two.
A man of the Enlightenment, the composer embodied ideas and ideals of the Age of Reason in his operas. Indeed, as a 12-year-old, Wolfgang's first stab at the operatic art form was an adaptation of Jean-Jacques Rousseau's Village Prophet. Rousseau may have famously written that "Man is born free, but everywhere he is in chains."
But Mozart daringly extends this concept into the domain of gender equality. In Seraglio, the captives Konstanze and Blonde resist being coerced into concubinage and sexual slavery. They insist on their rights to control their own bodies and affections. True love, not coercion, will win their hearts and sexual favors. Konstanze even berates Belmonte for doubting her loyalty. (Alas, we do not hear from those burka-clad women in the background.)
Mozart also depicts class struggle, in particular, as the servants Blonde and Pedrillo clash with their social "betters." This, of course, was a central part of the character of the barber-turned-servant Figaro (albeit somewhat undercut once his actual origins are revealed).
LA Opera often has nontraditional casting. It is refreshing to see an Asian woman cast as an Englishwoman named "Blonde," and Park does not wear a blonde wig. Such wouldn't have been the case 50 years ago. To further ethnically complicate matters, the opera is sung in German with English supertitles, although the spoken dialogue in this production of the Singspiel — a genre where speaking and singing alternate — is recited in English.
On a matter of even greater sensitivity, Pasha Selim and Osmin are both Muslims. With his insistence on severe punishment, Osmin may be a prototype of the so-called "Islamic extremist." He is no 18th-century "jihadist," however, for he is not calling for torturing and executing the four Westerners on religious grounds or quoting from the Koran when he does so. In any case, Robinson has such a beguiling comic presence that his mirthful manner greatly undermines his exhortations to brutality. In Act III, Robinson huffed and puffed so much he almost literally blew his wispy Ben Turpin-esque mustache off. It's all largely played for laughs, although Osmin does touch upon the era's stereotype of the non-Christian barbarian.
If Osmin could be seen as an archetype or caricature of the extremist zealot, Pasha Selim represents the so-called "moderate Muslim," who believes in Allah the merciful. Which vision of Islam shall prevail in this operatic romp — the brutal beheader or the munificent mercy-giver?
Theatergoers will love this life-affirming, buoyant, breezy production that will abduct their hearts.
The Abduction from the Seraglio will be performed Feb. 4, 8 and 16 at 7:30 pm and on Sundays Feb. 12 and 19 at 2:00 pm, at the Dorothy Chandler Pavilion, 135 N. Grand Ave., Los Angeles, CA 90012. See here for more information. You can find video and audio clips, including the Turkish finale in the movie Amadeus; a video/audio trailer; and an interview with Morris Robinson here.
L.A.-based critic and film historian Ed Rampell is the presenter and programmer of "10 Films That Shook the World," a cinematic centennial celebration of the Russian Revolution, premiering 7:00 pm, Feb. 24 at the Los Angeles Workers Center, 1251 S. St. Andrews Place, L.A. 90019.