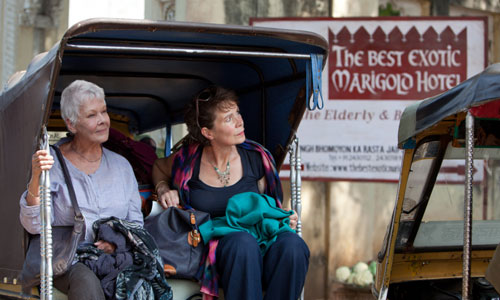 Moviegoers can take their pick of several good light-hearted films as the summer season begins. They may not be as profound as we might like, but each of these four has something to say and says it well. None of them insults us.
"Bernie" stars madcap comedian Jack Black as the nicest assistant funeral director who ever lived in Carthage, Texas. His octogenarian girlfriend is played by Shirley Maclaine, in another of a long list of extra wonderful performances. She'd have easily stolen the movie from almost anybody else, but Black more than holds his own. It's a true story. Bernie Tiede really did murder his mean old girlfriend, confessed to it, and is in prison today.
Some viewers might object to the patronizing portrayal of East Texans as wildly eccentric and unbelievably provincial. I saw the movie in Dallas, two hours drive from Carthage, and I think some of the people in the audience laughed a little extra loudly so that people would know that we're "more sophisticated" here in the big city. But most of us know very well that East Texans use some of the most colorful, clever, and razor sharp metaphors in the English language. Well-known political figures such as Jim Hightower make it their trademark when they say, "There's nothing in the middle of the road but yellow stripes and dead armadilloes," or "You can't clear up the creek until you get the hogs out of it!" East Texans' vernacular is wondrous, and it's a special treat to hear them talk.
Besides, nobody in the film or in the audience really minded when Shirley Maclaine's character was shot down. She was mean as a snake and crooked as a dog's leg!
"The Best Exotic Marigold Hotel," too, might be accused of patronizing its subjects: a stereotypical young Indian couple in love and a half dozen far-gone retirees from straight-backed England. The retirees are hoping for an inexpensive life in a luxury hotel, but what they find in India is choked with dust and almost falling down. Even if the hotel had been great, moving from England to India would have been quite an adjustment.
Their stories, while a bit predictable, are lovingly and tenderly told. Predictability isn't such a vice in movies, and it's a small price to pay for an uplifting and thoughtful movie experience!
"Hysteria" is the funniest movie in this quartet. It's about the invention of the hand-held vibrator in Victorian England. It's funny just thinking about it!
Star Maggie Gyllenhaal, as a forward-thinking suffragist, makes everybody in the film and in the audience uncomfortable. When we watched it, the men viewers chuckled, but the women, especially after one of them trilled "wu-wu-wu" at the first sight of the device, roared out loud! Remember in "When Harry Met Sally," when Sally fakes an orgasm in a crowded restaurant?
Even though it's scads of fun, the movie also makes some really important points about the treatment of women through what we usually think of as civilization.
My movie buddy and I agree that the best of the four movies being considered was probably "Moonrise Kingdom," though we're not sure why. There's no effort at realism in this tale of the romantic elopement of two 12-year-olds. They outsmart all the grownups, fall off buildings, and get hit by lightning without any effort to make it seem plausible.
But even though it's told as pure whimsy, there are some really important truths to consider about relations among adults, among kids, and among kids and adults. Of this group, "Moonrise Kingdom" actually has the weightiest message, and it's delivered beautifully.
Summarizing the early summer film experience, please take note of the fact that we are now living through the most challenging period of the last several generations. Every step we take is perilous. Every decision we make is critical. At least part of the time, if we can, we need to lighten up and go to the movies!
Photo: Scene from The Best Exotic Marigold Hotel. Ishike Mohan/AP & Fox Searchlight Films
Movie information:
"Bernie"
Starring Jack Black and Shirley Maclaine
Directed and written by Richard Linklater
PG-13, 104 min.
The Best Exotic Marigold Hotel"
Starring Judi Dench, Maggie Smith, Tom Wilkinson and more
Directed by John Madden
Written by Deborah Moggach
PG-13, 123 min.
"Hysteria"
Starring Maggie Gyllenhaal, Hugh Dancy, Jonathan Pryce, Felicity Jones, Rupert Everett
Directed by Tanya Wexler
R, 95 min.
"Moonrise Kingdom"
Directed by Wes Anderson
PG-13, 93 min.