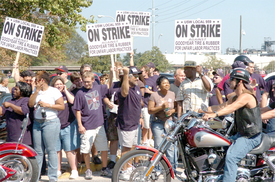 Refusing further concessions, this is where rubber workers meet the road
PITTSBURGH — "How would you feel if you worked a lifetime to build a great company, made sacrifices to save the company and now are being told that the company, after paying millions in bonuses to top management and investing in low-wage countries, needs to close more American plants? Goodyear workers and retirees say 'Enough's enough!" This is the text of a United Steelworkers union (USW) radio ad that hit the airwaves as 14,000 rubber workers at 12 U.S. Goodyear Rubber and Tire plants hit the picket lines, Oct. 5.
Analysts say the strike could cost Goodyear $2 million a day.
The union is reaching out to entire communities to halt the multinational corporation's demands to close two U.S. plants and slash pension and health care benefits.
"There's no sense continuing these talks if Goodyear is intent on gutting our contract and closing our plants," said Ron Hoover, president of the USW Rubber and Plastics Conference. "The company left us no option. It's a sad situation and a poor reflection on this company that we are forced to take this action after all we have done for them. We cannot allow additional plant closures after the sacrifices we made three years ago to help this company survive."
Goodyear did more than survive. It has thrived since the last contract was negotiated in 2003. That agreement allowed the closure of the Huntsville, Ala., facility as well as wage, pension and health care cuts.
Last year, the Akron-based corporation did $19.7 billion in sales, increasing profits by 7 percent to $337 million, and paid its CEO Robert Keegan a $2.6 million bonus. For the second quarter of this year, Goodyear's workers generated a record-setting $5.1 billion in sales, increasing profits per tire by 7 percent, according to the corporation's web site.
Goodyear has more than 100 plants in 29 countries. So far this year Goodyear has closed one plant in the United Kingdom and announced the closing of another in New Zealand.
Goodyear ranks 112 on the Fortune 500. It is the largest tire and rubber corporation in North America, with a 50 percent market share, and is in second place in Europe.
"All this is in the context of 2003 negotiations," said USW spokesman Wayne Renick. "We took cuts and concessions and it's turned around. Other stakeholders have been rewarded while we're seeing cuts. In addition to saving two plants, the union is fighting to hold the line on health care coverage, including prescription drugs."
The strike and Goodyear's demand to close plants is devastating to communities. The corporation wants to close the 1,300-worker plant in Gadsden, Ala., and the 1,100-worker plant in Tyler, Texas.
According to Gadsden Finance Director Lisa Rosser, Goodyear's payroll in that city is $80 million annually and accounts for $1.6 million of the $12.2 million the city receives in occupational license fees. Goodyear pays no real estate or sales taxes to the city. "It's a major deal," said Gadsden Mayor Sherman Guyton.
Goodyear workers are a mainstay at the 278 Restaurant where Lisa Williams is dining-room manager. Williams told the Gadsden Times that her business dropped on the first day of the strike. "I think the whole Gadsden area will feel the crunch. Everybody will start to watch their purse strings," she said.
Support for rubber workers is reaching across borders. The International Federation of Chemical, Energy, Mine and General Workers union (ICEM), representing 20 million workers in 123 countries, immediately issued a call for its affiliated trade unions to send messages of support to the USW, ICEM General Secretary Fred Higgs said. "We also call on trade unions in the rubber industry, particularly at Goodyear plants in Central and South America, to monitor their inventories and production to ensure that they are not undermining the USW's strike action."
dwinebr696@aol.com
Roberta Wood contributed to this story.