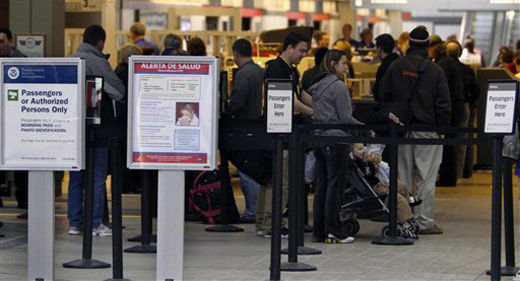 A bunch of right-wing Republicans led by Sen. Jim DeMint of South Carolina are trying to resuscitate the old idea that Democrats are weak on national security and, at the same time, blame the labor movement for airport security weaknesses.
As part of that plan they are obstructing President Obama's nomination of long-time counter-terrorism expert Erroll Strouthers to head the Transportation Security Administration (TSA).
The failed attempt on Christmas Day to blow up a trans-Atlantic flight has given them the excuse they were waiting for.
DeMint characterized the attempt as "a perfect example of why the Obama administration should not unionize the TSA" and has demanded that Strouthers "clarify" his stand on unionizing the agency, a move most Democrats support.
"Without collective bargaining," DeMint said, "the TSA has flexibility to make real-time decisions that allowed it to quickly improve security measures in response to this attempted attack. If organized labor got involved, union bosses would have the power to veto or delay future security improvements at our airports."
He embellished his claims with a suggestion that unionization could result in "terrorists clothed in plastic explosive-laden underwear, shoes or ball-caps" getting by and "blasting airplanes out of the sky on a regular basis."
On the delayed Strouthers nomination, Senate Majority Leader Harry Reid announced today that he will move forward by seeking a cloture vote when the Senate returns this month. Reid's office issued a statement describing DeMint's opposition to allowing a nomination vote "disgraceful."
Leaders in the security field, among them union members, have challenged DeMint's claims about the impact of unions on airport safety.
"My union card doesn't sit between my bulletproof vest and my willingness to put my life on the line," said Marshall McLain, president of the Los Angeles Airport Security Officers Association. McLain works on a canine unit scooping out contraband chemicals and drugs carried by would-be passengers.
McLain says that he and his co-workers do whatever is needed to protect the public. "Right-wing claims that workers would insist on following petty union rules that thwart effectiveness are false."
"For instance," McLain noted, "in just the last few days at the Los Angeles anirport, all vacations were canceled and a full contingent of officers was put on duty. Management has the discretion to change the days of our shifts and maximize deployment. There was no process or meeting or a conference about this. The chief just said, 'vacations are cancelled and this is going to happen.' DeMint's claims about unionization and homeland security have no validity."
Bill Fletcher, the American Federation of Government Employees' field services director, said, "It's a completely baseless argument. Republicans are playing to basic fears, and obstructing the appointment of a TSA administrator to make it nearly impossible for TSA to recognize and address problems in any kind of systematic way. It's all obstruction to make an anti-union point – and to disrupt the administration's ability to function in any way they can."
Many see DeMint's "hold" on Obama's nominee as damaging to the ability of the TSA to implement long overdue improvements that could save lives.
Douglas Laird, the former chief of airport security for Northwest Airlines, and president of Laird and Associates security consultants, said, "It's critical to appoint a strong leader to move the bureaucracy forward on reforms, and it's a disservice to the American public not to move forward because of opposition to unions."
Laird points to an array of problems that need fixing, among them numerous GAO reports on agency failings during the Bush administration, mismanagement of 'no fly' lists that kept the late Sen. Edward Kennedy off planes while allowing terrorist suspects onto them and a variety of difficulties with body scanners.
The AFGE's Fletcher argues that low worker morale is an issue that needs to be addressed and that unionization can solve both that problem and improve security.
"In truth," he said, "Collective bargaining brings with it improved security for passengers. It's precisely on issues of morale and training of workers where what you have now is a completely unstable situation."
The AFL-CIO has been pushing for restoration of collective bargaining rights for TSA workers, who actually had those rights when the agency was established in 2001 when its workers were allowed to be represented by the AFGE. The Bush administration, however, quickly barred collective bargaining rights for agency workers.
A bill to restore collective bargaining rights and grant stronger whistleblower protection for TSA workers passed a House committee in September, but has been stalled since.
The biggest, if sometimes unspoken, concern in circles much broader than just the labor movement, however, is that if DeMint's union-busting hold on TSA leadership continues and were to combine with another massive intelligence failure, the likelihood of a future successful terrorist strike would be that much greater.
Photo: AP Photo/Keith Srakocic Travelers wait in line to get through the security checkpoints at the Pittsburgh International Airport in Imperial, Pa., Wednesday, Dec. 30, 2009.