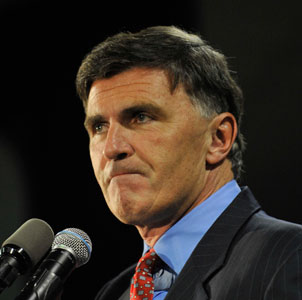 BALTIMORE – Former Maryland Governor Robert Ehrlich's campaign manager, Paul Schurick, was convicted of "fraud" Dec. 6 for his role in a racist robocall seeking to suppress the Black vote as Ehrlich desperately attempted to stave off defeat in the 2010 race for governor.
The robocall, targeting African Americans, urged them to "relax," assuring them that Ehrlich's Democratic rival, Martin O'Malley , was assured of reelection and that they needn't bother to vote even though polls were still open.
The fraudulent call even mentioned that "O'Malley and President Obama" had been "successful," although Obama's name was not on the ballot.
Despite the dirty tricks, O'Malley won a resounding reelection victory, defeating Ehrlich for a second time.
Ehrlich had been a rising star in the Republican Party for winning election in a predominantly Democratic state in 2002. But he was a one-term governor despised for vicious cutbacks in programs that serve the people and giveaways to the corporate rich.
Ehrlich and GOP National Chairman, Michael Steele, who had served as Lt. Governor in Ehrlich's term in office, took the stand to vouch for Schurick's honesty and to proclaim that the Ehrlich campaign's strategy was to encourage a "cross over" by Black voters, not a suppression of Black votes.
The jury found Schurick guilty on all four counts including election fraud and failing to include an Ehrlich authorization line on the robot calls.
Schurick's attorney vowed to appeal the verdict on grounds that the fraudulent, racist call is "political speech" protected by the First Amendment.
Susan Wichmann, executive director of Maryland Common Cause hailed the verdict. "Political operatives in Maryland take note," she said. "Suppressing the vote is not just 'dirty tricks,' it is a crime and it will not be tolerated."
The obvious question is: Did Ehrlich, himself, authorize the racist robocalls?
During the trial before the Baltimore Circuit Court, the prosecutor presented evidence that political consultant Julius Henson cooked up the robocall plan aimed at Democratic voters in Baltimore City and Prince Georges County, both a majority Black jurisdictions.
Henson urged the Ehrlich campaign to adopt his scheme at a cost of $600,000. The draft of Henson's plan stated, "The first and most desired outcome is voter suppression" to convince "African American voters to stay home." Henson called it the "Schurick doctrine" designed to "promote confusion, emotionalism and frustration among African American Democrats."
Schurick claims he rejected the plan but the Ehrlich campaign continued to pay Henson $16,000 monthly for a total of $112,000 plus promising a $30,000 bonus if Ehrlich won.
Henson goes on trial in February for his role in the racist vote suppression scheme.
The obvious question is "what did Ehrlich know? When did he know it? Did he sign off on the racist vote suppression scheme?"
Outside the Clarence M. Mitchell courthouse, State Prosecutor Emmett C. Davitt said the conviction is the first under a 2006 statute outlawing deceptive messaging to influence voters' decisions. The courts have made clear, Davitt said, "the First Amendment does not protect fraudulent speech. Clearly, that was the case here. It wasn't just political speech, it was fraudulent speech."
Photo: Republican candidate for governor Robert Ehrlich after conceding the election to Democratic Governor Martin O'Malley Nov. 2, 2010 in Timonium, Md. (Gail Burton/AP)