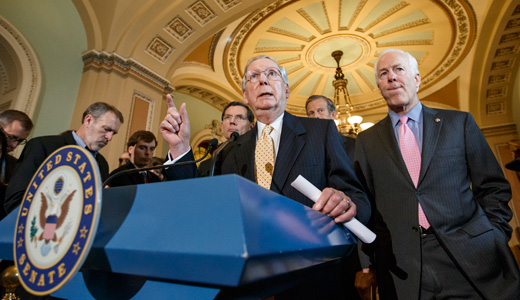 WASHINGTON (PAI) — For the second time this year, a Senate Republican filibuster defeated the Paycheck Fairness Act. The legislation was designed to help women get equal pay for equal work by strengthening protections for workers who discuss their paychecks with each other and by requiring employers to prove their pay discrimination is based on a factor other than gender.
Fifty-one Senate Democrats – male and female – and Vermont Independent Bernie Sanders voted to halt the Republican talkathon. But supporters needed 60 votes to succeed.
Female Republican Sens. Kelly Ayotte (N.H.) and Susan Collins (Maine) and 37 of their GOP male colleagues toed the party line and voted to keep the filibuster going. Independent Angus King (Maine) joined them, making the minimum 40 needed to sustain the filibuster and kill the bill. Six Republicans and two Democrats, all men, did not vote.
Senators killed the bill two days before the Labor Department officially released proposed regulations to order federal contractors to provide pay data breakdowns by gender and race, among other factors. The proposals, opened for public comment on Sept. 17, would put into effect an Obama administration executive order six months ago, telling DOL to develop such standards.
The lawmakers killed the Paycheck Fairness Act despite lobbying from the AFL-CIO, AFSCME, the Coalition of Labor Union Women and the National Partnership for Women and Families, among others.
AFL-CIO Legislative Director Bill Samuel, in a letter to all senators, called the Paycheck Fairness Act "a long overdue measure that would strengthen the Equal Pay Act's ban on workplace discrimination against women." That 51-year-old law lacks teeth.
"Wage disparities between women and men are evident today in both the private and public sectors and at every educational level. The Paycheck Fairness Act responds to the shortcomings of the Equal Pay Act and provides targeted remedies designed to update the provisions of that historic law," Samuel added. Women's' groups calculate the median female worker loses $11,600 yearly to the discriminatory wage gap.
Besides protecting workers who discuss pay and forcing employers to prove they do not discriminate against woman workers, the Paycheck Fairness Act also would let wronged woman workers file class action suits, he noted. And it would "strengthen the government's ability to identify and remedy systematic wage discrimination," Samuel said."More than 50 years ago, the Equal Pay Act was signed into law. Yet 50 years later, women are still paid 77 cents to the dollar compared to men. And the pay gap is even worse for women of color," AFSCME President Lee Saunders and Secretary-Treasurer Laura Reyes said in urging their members to call their lawmakers. "That's why Sen. (Barbara) Mikulski introduced the Paycheck Fairness Act: Because equal work deserves equal pay.
"Earlier this year, Senate leaders tried to pass the Paycheck Fairness Act, but Right-Wing senators blocked the bill," the two AFSCME leaders added.
This vote's outcome disappointed Debra Ness, director of the National Partnership on Women and Families, which led women's' groups in lobbying for the legislation. She called it "a painful example of partisanship and baseless lies being used to justify blocking legislation that America's women and families badly need.
"The vote makes painfully clear that, despite claims to the contrary, many lawmakers are not serious about ensuring women and men are paid equally in this country. It is shameful," Ness said. "America's women and families are fed up with elected officials who claim to care about their economic well-being but refuse to advance measures that would help.
"Any lawmaker who cares about fair pay and economic security should support the Paycheck Fairness Act. It is not a partisan issue to voters…and it should not be a partisan issue in Congress."
Photo: Senate Minority Leader Mitch McConnell, R-Ky., center, joined at right by Senate Minority Whip John Cornyn, R-Texas, speaks with reporters at the Capitol in Washington. J. Scott Applewhite/AP.