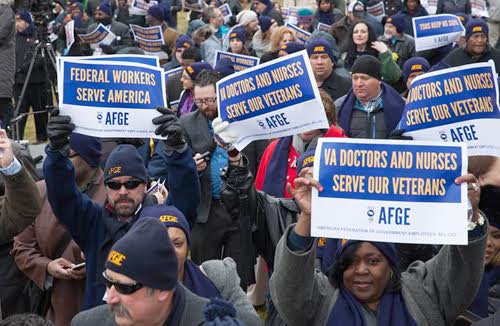 WASHINGTON (PAI) – The Obama administration is blasting a Republican-authored money bill for the National Labor Relations Board, the Labor Department and other agencies, saying the cuts would force the NLRB to lay off one-third of its staff.
In an eight-page letter to Senate Appropriations Committee Chairman Thad Cochran, R-Miss., Obama's Office of Management and Budget Director Jack Lew detailed dozens of objections to the money bill, which also covers the Labor, Education and Health and Human Services Departments.
"The board would be forced to reduce its staffing levels by over one-third, hampering its ability to investigate and litigate unfair labor practices and conduct secret ballot elections around the nation," Lew told Cochran.
But Lew stopped short of saying Obama would veto the Senate bill. And his letter did not compare the Senate's bill to the more-draconian House GOP money bill for the NLRB and the other agencies. That measure has the same cut and the same bans on NLRB action.
"We have a number of serious concerns about this legislation, which would underfund these important investments" in health care, public health, job training and education "and (which) includes highly problematic ideologically motivated provisions," Lew wrote to Cochran.
"The cuts would result in tens of thousands of the nation's most vulnerable children losing access to Head Start, millions of fewer workers receiving job training and employment services, and drastic cuts to scientific research awards and grants, along with other impacts that would hurt the economy, the middle class, and Americans working hard to reach the middle class," Lew added. He also objected to cutbacks in student aid grants and oversight.
One of the most-drastic cuts, Lew said, is to the NLRB. It's so large, he added, that the agency might have trouble doing its job of overseeing and ruling on labor-management relations for most of the private sector, plus the Postal Service.
The Senate's planned money bill would "slash funding for the National Labor Relations Board by more than $30 million, or 11 percent, below both the president's budget and below even the 2013 post-sequester levels, crippling its ability to protect workers from unlawful treatment on the job for taking action to improve their working conditions," Lew said.
Lew also objected to two ideological "riders" senators included, hampering the agency's ability to enforce labor law. The House version of the measure has those riders, too.
"Other riders in the bill would harm workers. For example, the bill blocks a (Labor Department) regulation that would protect retirement savers by ensuring that investment advisors are acting in the best interest of their clients. This is a commonsense rule that protects those saving for retirement from being steered into investments that are in their advisors' financial interest, but not theirs," Lew said.
And it "blocks NLRB's rules to level the playing field for workers who want to vote on whether to have a voice in the workplace and interferes with the NLRB's adjudicatory function by prohibiting it from deciding cases regarding joint-employer standards or the appropriate size of a bargaining unit," he said. But job safety agencies get hurt by GOP cuts, too, Lew added.
"The bill also prevents the Occupational Safety and Health Administration from moving ahead to update 40-year-old exposure limits for respirable silica, which can cause cancer and silicosis-an incurable and sometimes fatal lung disease.
"The administration believes that the Congress should consider appropriations bills free of ideological provisions," Lew said right after that.
The anti-OSHA rider is on top of cuts in OSHA's funding and funding for the Mine Safety and Health Administration. The administration objects to those slashes, totaling $106 million (11 percent) below Obama's budget request.
Such cuts "would lead to fewer inspections of dangerous workplaces, a slower response to fatalities and serious injuries, and diminished protections for workers who report unsafe and unscrupulous behavior," Lew said.
"This would result in weaker protections for low-wage workers deprived of fair pay, parents who seek to take legally protected leave after their children are born, and underage workers who are put in harm's way. As a result, almost $80 million less in back wages would be recovered-money that would make a real difference for these workers and their families.
The Senate bill "underfunds enforcement of minimum wage, child labor, family leave, and other wage and hour laws by $67 million, or 24 percent, below the president's budget," Lew said. And he objected to the Senate's plan totally ax $35 million in grants to states to encourage them to enact paid family leave laws.
"Millions of families cannot afford to use unpaid leave," which is now law. "The United States is the only advanced economy that does not offer paid maternity leave and one of only two advanced countries that do not offer paid sick leave," he said.
That's why Obama's Labor Department is using the grants to encourage the states to act. Left unsaid: Federal family leave legislation, supported by unions and pushed by women's groups, is going nowhere in the anti-worker Republican-run Congress.
Lew also said the Labor-HHS bill "fails to protect the quality of service at the Social Security Administration (SSA)," cutting the money by $892 million. Cutting funding for SSA concerns both their union, AFGE, and the elderly whom Social Security serves.
AFGE has launched rallies and lobbying in Congress to push for full funding, with increases, not cuts, in Social Security administration and staffing. Its members tell lawmakers of the jammed phone lines, closed offices, long wait times for information and SSA's scheme to force everyone to sign up for benefits online – a method that, without guidance, leads to non-reversible errors which cost retirees money. Lew's letter repeated most of those arguments.
Photo: AFGE, We are the doctors, border patrol agents, scientists, and food inspectors that keep America healthy and safe. We are AFGE.