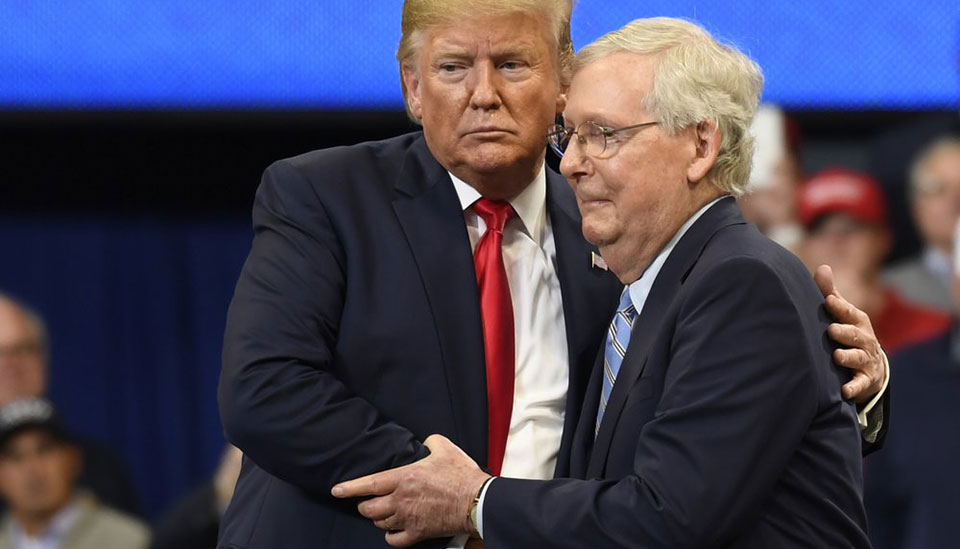 WASHINGTON — Unless Congress acts, acts fast, and acts the way the Democratic-run U.S. House wants it to act, millions of people will fall off a cliff—financially and otherwise—after Friday, July 31.
But Senate Republicans and GOP President Donald Trump are standing in the way.
July 31 is the date of the last $600 weekly federal unemployment check for the 13.18 million people—farm workers, household help, actors, musicians, freelancers, "gig economy" workers, and so-called "independent contractors" among them. After then, they get zip.
And since those workers aren't part of the regular state-run jobless benefits system, that effectively means no income at all.
Those workers and their families "bought the groceries and paid the rent" with those checks, AFL-CIO Policy Director and chief economist Bill Spriggs said in a roundtable zoom discussion with reporters in early July. "Remove them, and it would be a catastrophe."
Those $600 checks also top off the states' jobless benefits, and in many cases—especially in GOP-run and Sunbelt states—it's a big "top." At least 17.189 million people get those top-off checks, too, the latest Labor Department report shows.
The House rode to the rescue, or so it thought, by passing the $3 trillion Health and Economic Recovery Omnibus Emergency Solutions (Heroes) Act, HR6800, months ago. One key provision would extend those checks through January 31.
But Senate Majority Leader Mitch McConnell, R-Ky., has deep-sixed HR6800 and GOP President Donald Trump's Office of Management and Budget demands he veto it. OMB alleges the bill "is more concerned with delivering on long-standing and partisan ideological wish lists" than fighting the virus.
The reality is that failure to pass the Heroes Act as is would make the curtailment of income only one of the problems facing most Americans. Homelessness, even more rapid spread of the coronavirus, an end to countless essential social services, skyrocketing bills for everything from water to electricity and gas, the collapse of state economies, shuttering of hospitals, collapse of the public education systems, an election in November that has nothing in common with what one should see in a democracy and more could become part of the new reality in America if the Heroes Act is not passed.
The Trump Republican schemes talked about today would leave millions of people in the lurch, including, the Economic Policy Institute calculates, 5.1 million people who would be thrown out on the streets—some of them anew–as economic demand slides and workers are let go when the checks end and spending by recipients stop. The Census Bureau reports recipients spend 70% of each check on household expenses.
Wait, there's more. Some of the other impacts of Senate GOP and Trump proposals would include:
Hunger at levels unseen since the 1930s. "Many of your neighbors may not know if they will get to eat today," warns Elizabeth Nielsen, senior vice president of Feeding America, an umbrella organization of community food banks.
"The sobering reality is that one in seven children in the U.S. are already facing hunger and that number is escalating. Their families are struggling to feed them the healthy food they need to learn and grow. It is the most unfair thing I can think of," her appeal for donations adds.
The Letter Carriers had to cancel their annual "Stamp Out Hunger" actual food drive this year because of the risks due to the coronavirus pandemic. So the USPS's 1,900 local branches are working with state food bank coordinators to identify local food banks that can take direct cash donations and use all the money coming in to feed the hungry. Details on how and whom to donate to are at www.nalc.org/food.
"This isn't our normal food drive, of course, but these aren't normal times," union President Fredric Rolando says. "As Letter Carriers in every neighborhood six and seven days a week, we see the need and we cannot wait while food banks struggle, demand grows and people remain hungry."
"There may be a silver lining to this approach born of necessity," he mused. "Rather than a one-day event, this effort will continue as needed. And food banks can purchase more food than a resident could buy and donate with the same resources…But for individuals and families across the United States able to have a meal because of the generosity of others, the nourishment—and gratitude—will be exactly the same as before."
Rolando and Nielsen may be understating how many people are hungry.
The Census Bureau's new Household Pulse Survey of 72,435 households reported that of the 249.5 million U.S. adults, in data extrapolated from that survey, 17.62 million said "they sometimes did not have enough to eat": and another 4.44 million said they "often did not have enough to eat." Of those, 21.2 million said they lacked food because "they couldn't afford it." That's not counting the kids.
Expiring rent moratoriums in states and cities could lead to evictions. An eviction moratorium from Trump's Housing and Urban Development Department kept Section 8 Housing voucher recipients in their dwellings, also expires July 31. HUD programs cover 30% of U.S. renters.
The Household Pulse Survey reports one in four renters with children were behind or had skipped rent payments because they lost jobs due to the pandemic. One in six homeowners with kids were in the same boat. Total, including children: 24.7 million people. Of those, 1.3 million kids live in houses and apartments where the rent or mortgage payment was late and the kids didn't have enough food.
Evictions have already begun, warns Diane Yentel, president of the National Low-Income Housing Coalition and "Congress must act before the wave becomes a tsunami."
"Even before the pandemic, 10 million extremely low-income and very-low-income households were…spending more than half their income on rent," a coalition fact sheet says. "Temporary declines of income and even unreimbursed medical bills can send (them) down the spiral of housing instability, eviction, and even homelessness." The coalition held a 1-day zoom lobbying day, targeting senators, on July 20.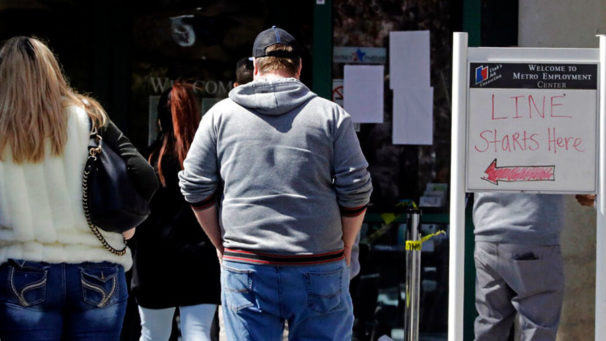 Many Republicans want to extend only an inadequate amount of unemployment benefits while unemployment benefits in any amount don't reach millions affected by the many concurrent crises.
The Heroes Act includes $100 billion for emergency rental aid, "$11.5 billion to prevent and respond to (coronavirus) outbreaks among people experiencing homelessness, and a national, uniform moratorium on evictions for all renters." It also has 100,000 new emergency housing vouchers, $300 million for rural rental assistance, "and additional funding for HUD to distribute to local public housing and HUD housing providers to help cover increased costs and adjust rental assistance for households with decreased incomes."
But eviction moratoriums, which existed in 29 states, are already expiring and people are getting eviction notices now. States and cities have alternated between trying to aid renters and letting landlords throw them out with a month's notice, the coalition says.
For example, Houston is evicting 2,000 people a week. But it set up a housing assistance program—and funds "were depleted in 90 minutes." Los Angeles enacted a one-month assistance program for 50,000 renters, with a one-week signup, only to see 100,000 apply the first day. And there have been so many eviction notices in Columbus, Ohio, the city had to turn its convention center into a giant housing court.
Some 19-23 million people could get evicted starting August 1, Yentel says. A disproportionate number will be Black or brown, and their homelessness would harm efforts to stop the "community spread" of the virus.
Loss of jobs means lost medical care. A Health Management Associates study in April predicted 35-40 million people would lose employer-provided health insurance coverage when they lost their jobs to forced closures to try to stop the community spread of the coronavirus.
So far, the Household Pulse Survey calculates, 23.74 million people have lost health insurance since the pandemic began, 198 million still have it and 27.38 million didn't know or didn't answer.
The lost insurance may be the tip of the iceberg. The federal survey, which has issued new findings every Wednesday for 11 weeks, reports between 40% and 42% of households have had to cut back on medical spending due to lost income. It did not say how large the cutbacks were. And that data may never be available. HPS is running for only 12 weeks. Its last report is scheduled for July 29.
Some 604,000 people, most of them women, people of color, veterans or combinations of those characteristics, would lose their jobs when—not if—the U.S. Postal Service shuts down. Without $25 billion earmarked for it in the Heroes Act, the USPS would run out of money by Sept. 30, at the latest.
Trump opposes that funding, too. OMB's veto demand specifically calls it "a $25 billion bailout without providing much-needed long-term reforms"—code words for firing workers, cutting pay and benefits, slowing delivery and eliminating postal union contracts. Trump's OMB ideologues also slam the USPS section of HR6800 for funding "vote-by-mail, same-day registration and other mandates that invite voter fraud," a Republican lie.
Since the pandemic, and the accompanying economic depression, began, some 50 million workers have sought jobless benefits. While waiting…and waiting….and waiting…some have been rehired. Others were never let go, but a survey by the University of Chicago revealed at least four million of those saw their pay cut.
Wait, it could get worse
"There's another round of layoffs that are likely to occur as big organizations retrench and then are likely to cut back" when the coronavirus pandemic again increases, says Spriggs.
Bellwethers of that slide, he warns, will be state and local governments. They sought $1 trillion from the Heroes Act, and got it in the House, over GOP screams. McConnell wants to give them nothing, and let the cities and states go broke.
That's particularly harmful to Black and brown people, who make up a disproportionate number of those state and local workers, along with their higher share of USPS workers. And some two million state and local workers have already lost their jobs.
The AFL-CIO, congressional Democrats, and anti-hunger and social welfare organizations are using all this data to argue the Senate must stop dithering and approve the entire $3 trillion Heroes Act, not the $1 trillion version—with smaller checks to people if any at all, no aid to state and local governments, and $100 billion for schools to reopen—McConnell favors.
"Working people need safe jobs, economic security, and freedom from systemic racism. Delivering on economic essentials included in the Heroes Act is an absolute minimum requirement for stopping the free fall into even deeper and deadly racial inequality," the federation said, while also providing a mass petition and call-in mechanism to reach senators via www.actionnetwork.org/forms/heroesact.
Besides money for people, housing, the Postal Service and state and local governments and schools, the House-passed Heroes Act mandates Trump's Occupational Safety and Health Administration order businesses to draft and implement protection plans for workers and customers, "keeps workers on payrolls to avoid mass layoffs, extends unemployment insurance, provides more direct payments to working people, extends health care coverage, provides housing and food benefits, and much more," the federation said.
"Working people are desperate for our leaders to put partisanship aside and do what is right for our health, our economy, and our country. The Heroes Act is a major step forward," it declares.
"This crisis won't be over until the public health crisis is over," House Majority Whip James Clyburn, D-S.C., who also chairs a select committee on the coronavirus crisis said during that roundtable with Spriggs. "Now is not the time to pull supports out from under our fragile economy. The Senate needs to support the people who are being crushed by this crisis."
Like free stuff? So do we. Here at People's World, we believe strongly in the mission of keeping the labor and democratic movements informed so they are prepared for the struggle. But we need your help. While our content is free for readers (something we are proud of) it takes money — a lot of it — to produce and cover the stories you see in our pages. Only you, our readers and supporters, can keep us going. Only you can make sure we keep the news that matters free of paywalls and advertisements. If you enjoy reading People's World and the stories we bring you, support our work by becoming a $5 monthly sustainer today.